From Hampton Court to your new shower screen, Edition meets the family business with a varied repertoire.
A family firm established in 1978, Go Glass still has family values at its core. Based at a small showroom and workshop on Cherry Hinton Road, Go Glass is headed up by Clive Sparkes, whose parents opened the shop in Cambridge, offering a friendly, local service for all manner of household and business projects.
"The work is so, so varied," explains Clive. "Sometimes a client will come in having done their own sketch for a Victorian-style door panel and the next might just say: 'I'm looking for something a bit different on my new shower door… I like Peacocks'."
From glass doors to decorative sculptures, Go Glass is always up for a challenge. When Edition visited the workshop some weeks back, the space was dominated by a larger-than-life-sized glass athlete, which Clive had finished at 3am the previous morning ready for its unveiling. He hopes to sell it for charity.
"We are in talks with CLIC Sargent at the moment to find a suitable place to exhibit the runner but I have already had an offer from a client who hadn't even seen it, but knew of my other work," says Clive.
The impressive, two-dimensional runner – depicted in a traditional-style running vest and trainers – took over 100 hours of work, using carving and sandblasting techniques to create different textures and shapes. There's no eraser, so if anything had gone wrong, Clive would have had to start over.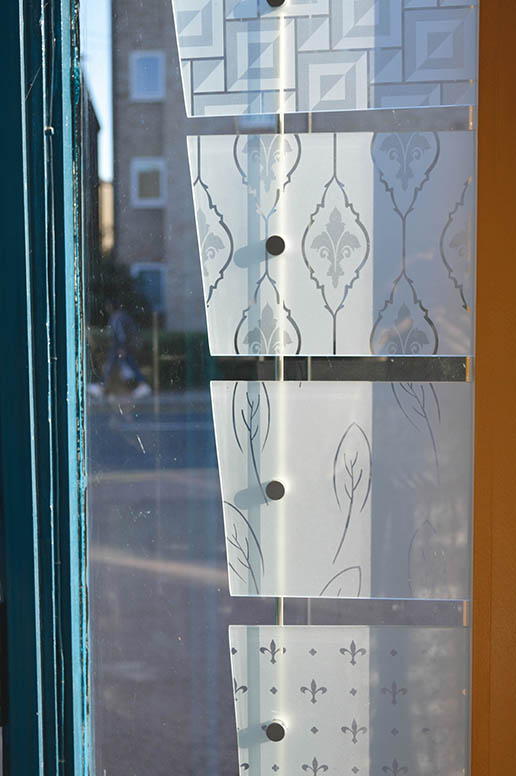 Says Clive: "My first task was to find a suitable image that didn't have extended arms or legs, as these would have exploded in the kiln as the glass was heated. I then made a computer file of the outline of the runner so that the glass could be cut to shape."
Clive honed his interest in glasswork while helping out his parents as a child.
"I was etching pieces of glass with a hand engraver from about the age of 12, making coasters and mirrors for friends at school," he explains. "I have been very lucky to have worked on some fantastic projects. We were asked to design and etch an image of Hampton Court to go in a reception area, on four 50kg glass panels bolted to the wall. That job was the closest that I've come to throwing in the towel. At Hampton Court, the chimneys all have elaborate brick patterns, and to meet the deadline I had to work through the night. By the end my fingers were a little sore, to say the least, from cutting and removing pieces of stencil!"
Clive works alongside sisters Tracy and Emma, and the rest of the staff are like an extended family. Meeting some of their young apprentices, the enthusiasm and pride they have for their work is wonderful.
"Our production team are multi-skilled and continuously learning; nobody wants to do the same thing all day long, every day," says Clive. "We're very lucky in that we have different challenges all the time. We use the latest computer-aided designs alongside traditional glass-cutting and etching techniques – I don't think it's just about passing on skills, as the world is continually turning, and the way I did something 20 years ago isn't necessarily the best way now. So we need the young ones with fresh ideas and designs."
Go Glass can lend their expertise and enthusiasm to all kinds of projects, offering advice and inspiration and working with only ethically sourced materials.
Go Glass, 127 Cherry Hinton Road, Cambridge.