In the spotlight this month is a recent arrival that feels like it's been in Cambridge for decades
North Shoes may be a fairly new arrival in Cambridge, but it's a business with a long and fascinating history. The first shop was established in 1876 in Bourne, Lincolnshire, and has remained in the North family ever since. James North, the current owner, is the fifth generation to have owned and run the company, which now consists of four stores, in Bourne, Stamford, Peterborough and Cambridge.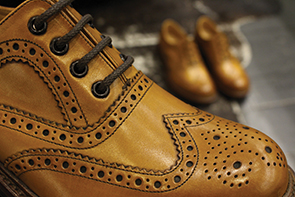 "My wife and I have always loved Cambridge, and visit all the time," says James. "It's been a dream of ours to open a store here for a long time, but it was a question of waiting and hoping for the right location to come along."
The perfect spot finally emerged in Rose Crescent, a charmingly old-fashioned street just off the historic market square, lined with striking buildings and paved with traditional stone slabs. "It took a stroke of luck for us to find this location," says James.
"We'd registered our interest with various agents, and loved the Rose Crescent store, but it had gone to someone else and we gave up on the idea. Then one day I happened to be speaking to one of the agents and he mentioned that the other party had pulled out that very day, right at the last minute. We secured it there and then, and haven't looked back."
---
"A beautiful old building fits the ethos of our business"
---
Being an independent that aims to provide great service and quality, James was keen for the new North Shoes to be slightly off the beaten track, away from the chain stores. "Rose Crescent is wonderfully central, but just that little bit away from the main thoroughfare," he explains. "It has the exact feel we were looking for."
And the fact that the buildings on the street are all Grade II listed was an advantage for the business, not a barrier. "All our shops are in beautiful, listed buildings. Some retailers might find the restrictions off-putting – and don't get me wrong, it is complicated and time consuming – but we embrace it. The sense that we are preserving a beautiful old building for future generations fits with the whole ethos of our business and our focus on both history and heritage."
North Shoes finally opened the doors of their Cambridge store on 15 October last year. "This store is quite unique for us, as we are only selling two brands of shoes; the high-quality Loake brand, which is made in Kettering, for men and a handmade Austrian brand called Paul Green for women. We've shopped in Cambridge ourselves for years, and we felt that the city needed something slightly different, so we decided to focus on our highest quality brands exclusively."
James and Clare have found the people of Cambridge to be incredibly welcoming, and have slotted into life in the Crescent very easily. "Everyone on the street works brilliantly together," says James, "and there's a great sense of community."
The ethos of North's is to provide a quality service and great products, so the store attracts a particular type of customer.
"We're all about fit, and all our staff are shoe-fitter trained. They undergo a full year of training, covering everything from anatomy to gait," explains James. "Our shoes are made on individual lasts, and they all have special characteristics – it's our job to find the right shoe for each customer."
---
"We want to fit the perfect shoe for each person"
---
Those who like a bespoke, considered approach appreciate the time and effort of the North's staff. "We like to build up relationships with our customers. We've been doing this for 140 years, and we're not about making a quick buck; we want to find the perfect shoe for each person that visits our store, so that they will come back time and time again."
Walking down Rose Crescent, it's hard to believe that North Shoes has been open for such a short time – it looks as if it's always been here. "Opening a new store is a challenge, as it can take people a while to understand the service that we are offering," says James. "But we find that people respect our honesty and integrity, and we've been overwhelmed by how quickly our Cambridge customers have taken us to their hearts."
We have a feeling that the Cambridge chapter of the North Shoes story may be the most successful yet.