Alex Rushmer gets creative in the kitchen with fruity July fare
July's sweet bounty is such a pleasure to eat. The languid warmth of the long days ensures such an abundance of soft fruits that it can sometimes be a little overwhelming to know what to do with it all. There are only so many summer puddings or fools or Eton messes that can be consumed before it all starts to taste a little saccharine and with sugar consumption now coming increasingly under the microscope I thought it might be a good time to look at alternative uses for the surfeit of berries and stone fruits that are available to us at this time of year.
Something I've been increasingly interested in is the use of summer fruits in less than traditional savoury applications. Of course, I still adore a bowl of granola heaped with blueberries and raspberries, strawberries with a heavy dollop of vanilla-specked Chantilly cream or a ripe peach poached in white wine and rosemary, but what really excites me is the surprise of these popping up on the menu at The Hole in the Wall in less than obvious places.
Strawberries have an incredible affinity with black pepper, basil and balsamic vinegar which makes them a natural choice to use as a base for a refreshing gazpacho soup alongside a few other less surprising ingredients such as red peppers, tomatoes and cucumbers to make a simple no-cook and impressive starter for the height of summer.
---
"Rhubarb is one flavour I associate perhaps more than any other with the long days of high summer"
---
With orchard fruits still a little way off, peaches are a great alternative to apples if you are cooking pork. Roast them with the meat so they absorb and meld with the salty and savoury flavours to create an easy accompaniment, or peel and cook them down into a compote to replace the traditional apple sauce, or if you are feeling even more adventurous cook them down into a chutney to eat with cured meats and cheese.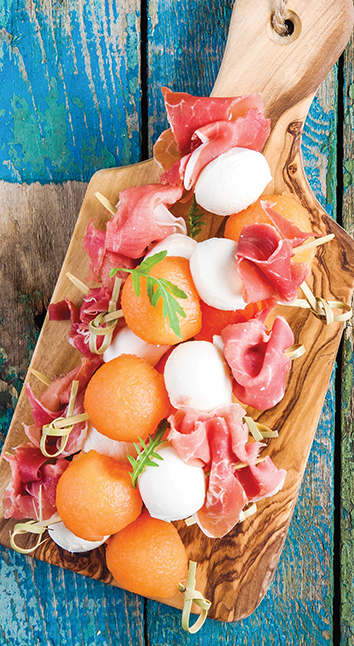 Small fruits such as cherries and blueberries can add little pockets of sweetness and texture to salads and help to create a more interesting dish than the standard bowl of leaves. They can even be lightly pickled to create little sweet-and-sour bursts, which are perfect for serving as a counterpoint to thick slices of cooked ham.
I have fond memories of picking rhubarb from a profuse patch in a friend's garden when I was a lot younger. We would dip the taut stems into sugar and eat them raw, faces puckering from their intense acidity. It is one flavour that I associate perhaps more than any other with the long days of high summer. Of course, it makes a wonderful fool and a superlative crumble but can also work well with fatty meats and oily fish, notably pork and mackerel. Temper the acidity with a little sugar but not so much as to create a jam, the sharpness is the whole point.
Finally, there are few better simple desserts than a slice of fresh, ripe melon at this time of year but don't forget that it can taste even better when it is served at the start of the meal with a decadent number of slices of prosciutto crudo or jamon Iberico – yet another thing to thank our European friends for.