The Gog has become an award winner on the local food scene in a short time
In 1919, after the end of the First World War, Charles and Marcus Bradford's great grandfather bought a small farm on the outskirts of Cambridge. Two generations later his grandson, surprised to discover a large quantity of mushrooms growing in a field where he'd planted potatoes, set up an honesty box selling the surprise produce to locals. Over time this evolved into a proper farm shop, known locally as Bradford's, selling a range of fruit and vegetables and, eventually, with its own meat counter.
By the early noughties, though, times were becoming hard for farmers, and Charles' parents were faced with daily anxiety over how to make ends meet. Charles left his job in London in 2004, and he and his brother Marcus, who had just graduated from university, sat down together to come up with a plan to turn things around so their parents could retire.
"We've always reared turkeys here," he explains, "really good quality KellyBronzes, which were starting to become better known thanks to the likes of Delia Smith and Jamie Oliver singing their praises. So that was the cornerstone of the business, and we felt that if people were prepared to buy good quality turkeys they would buy other good meat too."
Charles and Marcus spent months travelling around local farmers' markets talking to customers and finding out what people wanted. They were helped by the fact that food, and in particular quality, locally sourced food, was becoming more fashionable, with customers prepared to travel to source produce.
Early on, Charles looked at the name of the shop. "Bradford's didn't really mean much to anyone but us," he explains. "But we're right opposite the famous Gog Magog Hills and whenever you tell people their name they're completely fascinated. So we became the Gog Magog Hills Farm Shop and Delicatessen – now thankfully shortened to The Gog!"
In 2009, Charles opened a café and deli in one of the farm's barns. "The idea was that you could come in and buy some cheese and have a coffee at the same time. Needless to say it didn't work brilliantly, it was far too small; so in 2011 we opened the café as it is now in what used to be an old chicken shed. It's fantastic, but to be honest, it's so busy, we could still do with more space. But that's a nice problem to have!"
Charles's belief that the people of Cambridge would embrace a business that sold great quality, carefully sourced food turned out to be spot on. "I can understand why people sometimes go for the convenience and ease of pre-packed supermarket cheese and meat," he says. "But there's so much amazing food out there, and a lot of people want it, they just need a bit of guidance and advice. That's what we want to offer our customers."
"When I lived in London," he continues, "there were loads of amazing food shops right round the corner – a butcher, an artisan baker, a deli… But I never went into any of them because I was worried that I didn't know enough about food, and I felt intimidated. I want The Gog to be the opposite of that.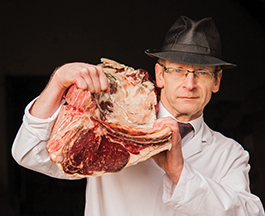 "You can come in and try a bit of cheese, have a chat about what you want and what the best options are. You can talk to our butchers about what kind of meat you're looking for, what you're planning on cooking, and no one is going to make you feel that you're not enough of an expert or talk you into something that you don't really want."
The proof of Charles' approach is most definitely in the pudding: The Gog has won a raft of food awards this year alone. "We started off with a Cambridge Business Excellence award for Best Independent Retailer," explains Charles, "following that up with the crown for Rural Food and Drink Champion at the CA Awards, and then we won six Great Taste Awards, taking our total to 16.
"They're like the Oscars of the food world, and we won them for the food that we produce ourselves on site."
The Gog has also been named the Best Farm Shop at the Butchers' Shop of the Year Awards, which is the icing on the cake for Charles and the team. "That's huge for us, because meat has always been such an important part of our business. It really reflects the hard work that everyone puts in behind the scenes."
---
'They're like the Oscars of the food world – and we won'
---
The summer Sundowner events hosted by The Gog have also become a firm fixture in the local Cambridgeshire social calendar. "It's such a lovely night," says Charles, "it's just the ultimate pub garden experience. We work alongside some great local chefs and have the firepits burning – really the only problem is trying to get rid of people at the end of the night!"
The fact that Charles' parents struggled for many years makes their current success all the more rewarding. "My parents still talk about those days, about how they would lay awake at night dreading the meetings with bank managers," he says. "Which makes the fact that we're doing so well now even sweeter. They're still involved, you'll see them around the place whenever you pop in – life at The Gog is far too much fun for them to want to retire now!"
The Gog, Heath Farm, Shelford Bottom, Cambridge CB22 3AD 01223 248352