Foodie fair returns to Burwash Manor
Burwash Manor in Barton will welcome back its annual celebration of gastronomic delights this month with Love Food, a foodie fair bursting with delicious delicacies to try and buy from a range of great suppliers.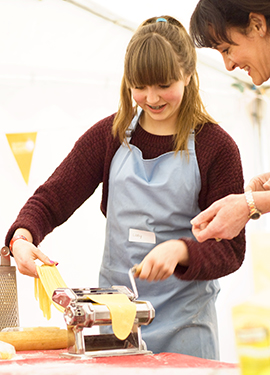 Among their number will be delectable sweet treats from the legendary Gourmet Brownie Company, coffee from local faves Hot Numbers, and authentic Indian cuisine from Inder's Kitchen. Hibiscus Lily, Sloemotion, The Pergola from The Wheatsheaf and Yau's Sauces will also be sharing their wares at the fair, which takes place on 11 and 12 February and features more than 40 food and drink producers in total.
In addition to tasty treats at every turn, there will be a host of cookery demos and competitions throughout the day, as well as lots of activities for kids.
If you've got little people to entertain, The Larder at Burwash will also once again be running their half-term cookery classes for kids from 13-17 February.
Suitable for ages four to 14 years old, the classes range from bread making to creating curries, taking place in both the mornings and afternoons and hosted by a different chef each day (call The Larder on 01223 264600 for more information).
Burwash will also host a special Valentine's Funk & Soul Disco on the 11th – a perfect chance to dance off some of those calories!