The Virtual Dementia Tour allows people to recognise and understand the issues faced by people with dementia
Cherry Hinton Care Home, based in Cambridge, will be hosting an Open Day on Saturday 21 January from 11am-4pm with a unique opportunity to experience the Virtual Dementia Tour, which allows you to understand how a person living with dementia can feel. The Virtual Dementia Tour is the only scientifically proven method of giving a person an experience of what dementia might be like.
By the end of the experience, you will be able to recognise the issues faced by people with dementia and start to think about the correct provision of services to meet their needs.
"It is fantastic that we have the Virtual Dementia Tour visiting our home for our Open Day," says Amber Christou, business development manager at Cherry Hinton Care Home. "We always highlight the outstanding care we provide to all our residents, but this experience will take it to another level, you will get to have an insight and step into the shoes of someone with dementia. It's an opportunity you don't want to miss!"
The Open Day will also allow you to find out more about the outstanding care and wide range of activities provided by the care home, meet the team and take a tour of the site.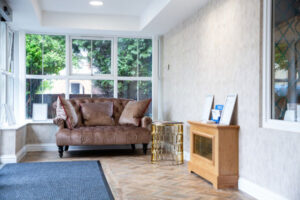 Cherry Hinton Care Home provides excellent dementia care, as well as outstanding nursing and residential care to residents in beautiful surroundings. The home aims to support residents to live their life in a luxury setting with first-class facilities, whilst being part of TLC Care's award-winning and welcoming care home. 
If you would like to attend the Open Day and experience the ground-breaking Virtual Dementia Tour, please contact Amber Christou, Business Development Manager.
Call 01223 633915 or email [email protected]