Nicola Foley sits down with the fitness and wellbeing warriors creating unique communities around the cityin Cambridge's health clubs 
Mikkeller Running Club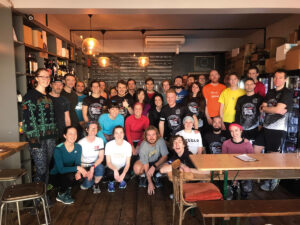 Predicated on a love of two things – beer and running – this group meets monthly for a friendly jog around town, followed by a few pints. Part of a global movement which has chapters everywhere from San Diego to Singapore, the Cambridge arm of Mikkeller Running Club (MRC) was founded by Gregory Barker, who simply 'wanted someone to celebrate with after a run!' 
"I was doing all of these events by myself, and loved the run, but then I used to feel a bit deflated afterwards," he explains. "Basically, I wanted to create a community of people wanting to make more running friends."
The Cambridge group has been going strong for four years, but the original MRC began life eight years ago in Denmark, where the Mikkeller brewery is based. "The two brewers there decided they were getting a bit chubby from all the beer they were drinking," laughs Gregory. "So they started a running club which brought people together with running and beer!" 
Since then, it's grown to more than 200 active chapters, catering to some 25,000 runners around the world, becoming a cornerstone of Cambridge's health clubs. The group meets on the first Saturday of the month (at a very agreeable-to-a-lie-in 3pm), at Thirsty on Chesterton Road. It heads out on a 5k around Midsummer Common and Jesus Green, with co-captains leading the way and running at the back of the pack to make sure nobody gets left behind. It's a sociable event, encouraging runners of all abilities: "We've had people just coming for a walk, with their dogs or buggies – you don't even have to run. We typically get around 20 per run – and there's a real range of paces." 
Post-run, the group sets up camp at Thirsty, enjoys some drinks and catches up. "It's a real community. At this point, they're not just people I run with – they're my best friends," says Gregory. "I love that whatever country you're in, you can turn up and say 'I'm a Mikkeller runner' and they'll accept you, take you on a run, show you around and have a couple of beers with you. The community is welcoming, inclusive – and global!"
Take a look at mikkeller.com.
Serotonin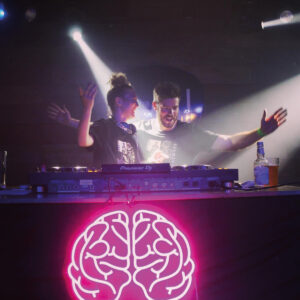 A school PE teacher by day, Will Brocklebank spends his free time persuading grown-ups to get active too, via his burgeoning wellbeing platform Serotonin. The idea for this multifaceted project first came about in 2019, beginning as a platform focused on fitness tips. Since then, it has grown to encompass a podcast, football sessions, club nights and more.  
"It expands off in all sorts of directions, but at its core it's about supporting the wellbeing of as many people as possible through a variety of mediums," summarises Will. "The initial focus was on the physical side, but – partly because of lockdowns and the toll that took – the mental health side of it has evolved a lot more. Lockdowns gave me time to think, too, about what I could do to support the community."
Will takes a broad view of wellbeing – shining a spotlight on feelgood stories and local champions he believes we can all learn from and be inspired by. On his podcast, for example, he's chatted with charities, business figures, musicians and fitness professionals, united by the fact that 'all of them have either done something amazing for their community, or they are a positive energy in whatever space they're part of'.
He's a firm believer in the power of face-to-face connection, bringing people together not just through sports sessions, but also events such as 'Boogie Nights' – a funk, soul and disco party. "I'm a big lover of all music but especially funk, soul and disco. I grew up listening to it and just know it can bring people of all ages and backgrounds together into a very inclusive space," he explains. "Really, my goal is to run nights where all people want to come into the space and have a boogie!" He's had events at Stolen, The Portland Arms and the Grain & Hop Store so far, with further plans afoot, spanning different genres, live bands and more. 
The other prong of Serotonin is group exercise, with Will hosting men's 'football for wellbeing' sessions at The Netherhall School, women's sessions in Bottisham, three more locations on the way and ambitions for basketball, badminton and other classes in the new year. He believes that many of us have been scarred by experiences of physical education in school – sometimes leading to a lifetime aversion to exercise – and wants to undo that, using his knowledge of education and passion for fitness to inspire people from all walks of life to get active and reap the rewards that brings.
"The sad reality is that there's a real lack of money when it comes to supporting wellbeing. So we need to help facilitate these things – I'm fortunate, in that I can offer the football sessions for free. This takes away a barrier, but even when I do have to charge for things, I want these to present an opportunity to meet new people and give you something to look forward to… an inclusive, comfortable space. I believe in community and building a sense of togetherness. That is the long-term vision with Serotonin, a new version of a community centre, really!" 
View the Serotonin Facebook page.
Lets' Run Girls
Founded in 2016 by running enthusiast Danielle Guy, Let's Run Girls began with the goal of inspiring women to lead healthier, happier and more connected lives. Dani loved the idea of camaraderie and accountability that came with a running club, but couldn't find one which she felt catered for her level and approach to the sport. "I was trying to find a group to join, so, for example, I had a look at the university running club," she recalls. "I remember it made me laugh, as they called their 'easy' run an eight-minute mile pace… that's definitely not easy for me!" 
She was put off the idea for a while, but returned to it a couple of years later, realising there are plenty of people who aren't looking to race competitively, and who aren't prize-winningly fast – but still wanted to experience the benefits of an organised running club. "I think a lot of people struggle with the motivation side of running and holding themselves to account – so that's what we can help with. And it's not about how fast you can run, or whatever you might be training for, it's about getting out there, having a run and a chat, and feeling better for it afterwards. Our mission is to support women to be healthier, active and connect with each other. The last couple of years have really compounded that for us."
Let's Run Girls began with a Chesterton-based ten-week programme made to support women getting into the sport for the first time, coaching them towards a goal of running for 30 solid minutes. It was a great success, but when it ended, the handful of new runners taking part wanted to carry on meeting. 
"So we set up what we call our 'steady run', which is half an hour, week in week out," says Dani. "But we also found that there were new people who wanted to start running with us, so we thought: 'OK, we'll need to do another beginners' course as well'. We soon needed more leaders to support that… and it's kind of grown organically from there!" 
Today, Let's Run Girls is a thriving community, with 15 groups across Cambridgeshire catering for some 700 individual runners, once of the best of Cambridge's health clubs. Dani wants the group to feel as inclusive as possible, providing a welcoming, supportive environment for women of all abilities, at any stage of their fitness journey. 
The group's membership ranges from absolute beginners to ultramarathoners – and plenty of members began by going through the beginners' course, meaning there's always someone around who knows exactly how the newbies are feeling. "Everybody is so supportive," stresses Dani. "You build these great relationships that you'd never have done otherwise. I think that's really important, because making friends can be challenging as an adult.
"Then there are the physical benefits, which are obviously hugely important," she continues. "But maybe more important are the mental and social benefits. With Let's Run Girls or any kind of community, you feel part of something bigger than you, and we know that has massive benefits for an individual."
As for the future, Dani hopes LRG will keep growing – the organisation (now officially a social enterprise) is dipping a toe into Essex and there are rumblings in the Fenlands, too. "My long-term goal is that if anyone across the UK liked our ethos and wanted to support women to get into running, they could be part of Let's Run Girls – and we could support them to train up as leaders and set up their own group. We want to support women to support other women. We're looking county-wide first – and then the rest of the country, who knows!" 
Get running via letsrungirls.com.
The Karma Klub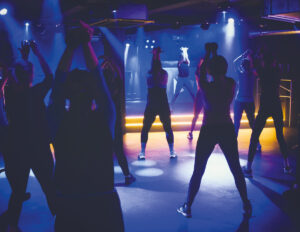 It's 7pm on a Friday at city-centre nightclub Mash. The bass is pumping, the lights are pulsing and the hazer smoke is swirling. But this is no ordinary night on the tiles. This is The Karma Klub: the Cambridge-famous 'movement and mindfulness' class where workout meets night out. 
Attracting dozens of devoted fans each month, the event is the brainchild of Amy Holly, a local fitness fanatic on a mission to capture the communal joy of a night out dancing, in a way that feels truly inclusive.  
"I teach barre, and trained as a professional dancer and choreographer. More importantly than any of that though, I'm an old raver!" she laughs. "I absolutely loved going out clubbing; but now there's nothing that I want to do in town. 
"Dance is about much more than exercise," she continues. "That feeling of getting out on a dance floor and letting go. It's quite a yoga idea – to work through your stuff and then let it go. It's catharsis."
The whole clubbing experience is recreated, from the barriers out front to the darkened room and live DJ; setting the scene for Amy to lead attendees through a set of rhythmic, easy-to-follow movements and breathwork exercises. "People moving together can be really powerful," she muses. "By the end of the session, everybody is feeling pretty euphoric with their hands in the air, and can't wait to come again!"
One thing you won't find at The Karma Klub is alcohol, though Amy's relaxed about people having a drink beforehand if they choose. "It's whatever people want it to be, but going out dancing doesn't have to be about alcohol," she stresses. "A lot of people are worried they will feel self-conscious without the comfort blanket of alcohol, but it doesn't have to be like that. By focusing your mind on me, the music and the lights, you can lose yourself in it really quickly – and just have a good time."
Another clear difference from your typical night out clubbing is the crowd, which contains a noticeable mix of ages – something which Amy has been pleased to observe. "It's a really good environment because there are so many different people – men, women, old, young – and nobody looking around judging anyone else," enthuses Amy. "You're so focused on what the next move is and where we're going as a group, that you almost stop being an individual – that's a powerful experience."  
 "It doesn't matter how old you are, it doesn't matter what you look like, or what your background is," she smiles "Everybody loves you in the club!" 
Get dancing at The Karma Klub.
Fit to suit you
Parkrun
Parkrun is a weekly 5k run taking place on Saturday mornings at 9am. A growing global movement, events take place locally at Coldham's Common, Eddington and the Wimpole Estate. They're free and 100% volunteer-run. 
Move Your Frame
If you'd rather work out at home, try Frame. Based around the belief that getting fit shouldn't feel like a chore, this London-based outfit puts the fun in fitness! Online classes include dance cardio, 80s aerobics and more. 
Roller Derby
Fancy trying a fun, full-contact game on roller skates? Check out Cambridge Rollerbillies, our city's roller derby team. Founded in 2008, the group welcomes all ages, shapes and sizes to join in: they'll teach you the skills you need to skate with confidence, then you can start playing the game itself – and the chaotic fun really begins! 
Yoga with Adriene
Adriene Mishler, who has an online community of around 11 million subscribers, is on a mission to make wellbeing tools accessible. Her yoga videos are free, unpretentious and absolutely joyful.