Cambridge Vintage Bridal's founder, Siobhan Mulholland-Cox, talks us through the last century's bridal trends (photo: Thyme Lane Photography)
1920s
Think The Great Gatsby and Downton Abbey. Shin-skimming dresses were popular, with dropped waists or tubular shapes. The dresses would usually feature opulent decorative detailing, sometimes with fringing and intricate pleats, and often in peachy or pastel coloured silks and laces.
1930s
Dresses were elegant and long, in champagne and cream satins, with a mix of long and short sleeves. Many featured low back bows, or low backs in general, long trains, and were occasionally sheer and quite daring (although always worn with an undergarment!)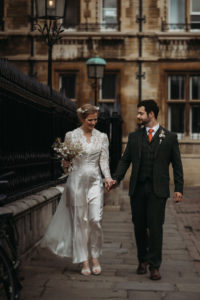 1940s
A more structured and tailored appearance came into fashion in the 40s; peplum skirts, sculpted shoulders, high necks and cute collars. And in the post-war climate, materials such as parachute silk and luxury curtains were used to fashion gowns.
1950s
Tea length (shins) and ballerina length (ankles) were very popular in the 50s. Big skirts, pinched waists and three-quarter length sleeves were all in vogue. Think Dior's 'new look' silhouette in lace or silk brocade fabrics.
1960s
1960s wedding dresses were often very white, with flowers being a prevalent theme on sheer trains, both as appliques and as edging. Metallics, bouclé, short and longer hemlines were all in abundance, as was the empire line, sleeves and white gloves.
1970s
The 70s were an ethereal boho heaven – think crochet, chiffon, bell sleeves, ruffles, floaty fabrics and frills. It was also the decade of more unorthodox wedding day options, such as jumpsuits, shift dresses and capes.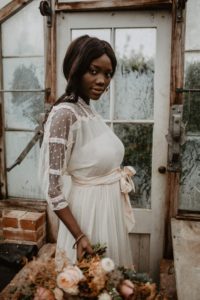 1980s
Aside from big fairy-tale gowns with puffy sleeves, the 80s borrowed heavily from the past. It revived the Edwardian style: high ruffled necks, long sleeves, bustles, bows, tiering (think Helena Bonham Carter in Room with a View). The 80s also gave way to shoulder pads and a more masculine style, as well as tailored dresses.
Cambridge Vintage Bridal stocks a wide variety of wedding dresses from across the decades. You can browse the collection online or by appointment at the studio.  cambridgevintagebridal.co.uk