Set aside some time to unwind with a candle from this charming local business
The Candle Company Cambridge is a Girton-based business venture founded by Joelle Bouttell, offering hand-poured soy candles that are kosher, vegan and non-toxic. Joelle has been pouring soy candles and reed diffusers for over six years, bringing calm to the community through her selection of bespoke scents.
Made with 100% soya beans, The Candle Company Cambridge's soy candles are incredibly slow-burning – lasting twice as long as standard paraffin candles – and are a cleaner option for your home, as they produce little soot and release no carcinogens. Soy is also a biodegradable, renewable resource, so the candles only have a tiny carbon footprint. "My soy wax is grown and processed in the UK,  and my candles and reed diffusers are made here in Girton, Cambridge," explains Joelle. "I also love to recycle, so you are always welcome to bring your vessel back to me for a refill at a discounted price."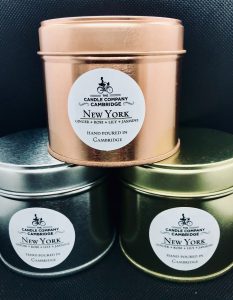 For a sense of serenity during these crazy times, Joelle recommends her Lavender Essential Oil soy candle. "It has many benefits including helping anxiety, depression, high blood pressure and insomnia," explains Joelle. "I also pour the same candle in a slightly weaker formula to aid dogs who suffer from the same conditions, which is particularly popular around Fireworks Night." The candle is made from first-grade lavender essential oil with pure soy wax, and makes for a truly relaxing aromatherapy experience.
I adore being creative; it's like therapy for me.
Joelle is also passionate about her packaging. "I mostly use aluminium tins to house my soy candles," says Joelle. "I offer them in silver, gold and rose gold, but I do also have a selection of new and recycled glasses that I am happy to pour into." The Candle Company Cambridge offers a label personalisation service, so your candles will truly be one-of-a-kind: "if I have the time (not usually at Christmas!), I am always happy to personalise labels free of charge. I adore being creative; it's like therapy for me."
The Candle Company Cambridge currently has over 20 blended fragrances on offer, including Black Pomegranate, Prosecco and Parma Violet, as well as some city-inspired scents. "The most popular by a country mile is New York," adds Joelle, "I am yet to find anyone who doesn't like it." The New York candle is a blend of ginger flower, rose, lily and jasmine, combining to create a sumptuous floral scent.
You can find The Candle Company Cambridge over on Facebook and Instagram, and keep an eye out for the website, which will be launching soon. Joelle is offering 20% off her existing stock at the moment, with contactless delivery – email [email protected] or call 07432 421900 to get in touch.
facebook.com/TheCandleCompanyCambridge
MORE LIKE THIS: