From coastal getaways to grand manor houses, Norfolk Bound's portfolio of luxury properties promises a restorative retreat in Nelson's county 
As visitors to the area for the past 25 years, the myriad of wonders of North Norfolk are not lost on the family behind Norfolk Bound. From idyllic summer holidays spent with friends to watching their children grow up against the unspoilt backdrop of over 90 miles of coastline: "It's an extremely special place for us," introduces founder Simon Graham, who has been operating holiday lets in the area for the past 12 years. 
Comprising a varied selection of luxury holiday rental properties, Norfolk Bound was formed to create a brand dedicated to revitalising accommodation experiences through a common ethos – relax, restore and renew. "Our intention is to make a difference to people, especially when mental and physical health has never been more important," says Simon. 
Aside from its emphasis on wellbeing, a personal touch remains a key differentiator for Norfolk Bound. "I manage every booking myself, so I get to know each guest personally," he continues. "A significant amount of our business comes from repeat customers because they can trust us to create the best experience for them." 
The brand's barn conversions and its flagship property of Little Massingham Manor encapsulate the spirit of restoration – and this is precisely what guests should expect from a Norfolk Bound getaway. Each location has a bespoke feel, having been either built or restored with contentment in mind. 
Throughout its accommodations, Norfolk Bound demonstrates a commitment to environmental sustainability without compromising on comfort. For instance, the exclusive guest lodges at Little Massingham Manor have each been built using reclaimed wood and other materials sourced from the grounds, while luxury facilities such as private hot tubs are entirely wood-fired. 
The aforementioned jewel in the Norfolk Bound crown is a historic haven found far from the madding crowd, amid a lush 63-acre private estate. The original Arts and Crafts mansion preserves a rich heritage which has seen it function as a family home, an officer's mess during World War II and a retreat for nuns.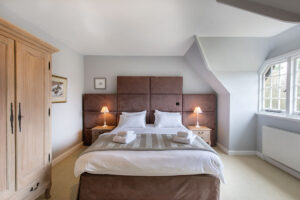 Today, it represents the ultimate private break destination in a tranquil setting: paradise for nature lovers. 
Guests can indulge in the on-site woodland spa, amble through acres of parkland, rich with local wildlife, and choose from a selection of wellbeing treatments delivered by local experts. Elements at the Manor specialises in everything from deep-tissue massage to Pilates. Meanwhile, a new resident chef is on hand to cater to a vegan or vegetarian culinary experience. 
Little Massingham Manor boasts a whole wealth of facilities, including six bedrooms in the manor itself, four private lodges, a fitness gym and studio, a wellness centre and boardroom facilities for corporate guests. It's ideal for exclusive stays, professional minibreaks and social events such as yoga retreats or workshops run by local craftspeople. 
As the brand's portfolio grows, so too does the public awakening to the wonders of North Norfolk – a convenient destination rivalling the far-flung wonders of Cornwall, just an hour and a half from Cambridge and two and a half hours from London. 
"In the last ten years, we have seen the area go from strength to strength, with some exceptional independent shops, pubs and restaurants now firmly established. There are so many new local businesses with really talented people," Simon continues.
Norfolk Bound leverages these close connections to deliver bespoke guest experiences that offer a taste of the best in the area, through collaborations with nearby attractions including gin distilleries, chocolate makers and Houghton Hall. 
Looking ahead, Norfolk Bound will continue to introduce events, retreats and properties while maintaining an unrelenting focus on high-quality accommodation – all delivered through a personal, tailored service guaranteed to keep guests coming back for more.