Not everyone remembers history lessons with great fondness – all those dry dates, indistinguishable kings and endless wars… But there's more to history than names and numbers, as Lucy Worsley well knows.
Presenter of Harlots, Housewives and Heroines and Tales from the Royal Bedchamber, she's also joint chief curator at Historic Royal Palaces and enjoys nothing more than rifling through the knicker drawer of history to uncover its more intimate secrets.
She's currently planning celebrations to mark the 500th anniversary of Hampton Court Palace and is excited about a recent acquisition: not a jewel-encrusted crown or a Holbein painting but a Tudor potty.
"It was excavated at Hampton Court and it's still got traces of genuine Tudor piss in it. Isn't that fantastic? It's such an everyday object and they wouldn't have looked at it twice at the time, but 500 years later it's just a great thing to hold in your hands."
Since her first programme for BBC4, If Walls Could Talk, in 2011, Worsley – with her trademark bob and twinkling eye – has taken viewers by the hand through 17th century childbirth, royal illnesses and Tudor wardrobes: domestic details which furnish the facts with something relatable.
"It's always been what's interested me and it's what interests the people who visit us at Hampton Court and Kensington Palace," she explains. "They're interested in kings and queens and great events, but they also want to know what they ate, what the servants were like, how they went to the toilet… Seeing them as real human beings, just like us if we'd lived hundreds of years ago."
It's by piquing people's interest this way, she explains, that might see them delve further into the subject.
"I'm the thin end of the wedge," she reflects. "If somebody watches a one-hour programme on history maybe that'll encourage them to read a book, do an evening class or a university degree, then get a job as a curator. You've got to start somewhere."
This month Worsley is in Cambridge to discuss her favourite monarch, Queen Caroline. Wife of George II, hers was a life of drama, glamour and tragedy, though it has been largely overlooked by history, eclipsed by the bickerings of her male relatives.
"She was the cleverest, funniest and fattest Queen," says Worsley. "She was born in Germany and completely by chance ended up living in London. She was friends with Isaac Newton and Leibnitz the German philosopher, and just made a really lovely job of being our Queen."
The talk ties in with Worsley's series, The First Georgians, which exposed the secrets of the Georgian court. On the night, she says, "I'll introduce people to Queen Caroline and her world of the Georgian court, which consisted of beautiful dresses, parties and lots of jolly stuff, but also grief. There are family quarrels, kidnappings and another queen getting locked up in a remote German castle for adultery. So there's some high drama going on there."
Like many clever women on TV, Worsley has her critics. In 2009, David Starkey accused his female peers of presenting a 'feminised' history, adding that female presenters were 'usually quite pretty'. Worsley responded by pointing out that Starkey himself resembles a 'cross owl'. The pair have since buried the hatchet and joined forces to present A Night at Hampton Court together over Christmas.
"We had a great time," confirms Worsley, who has upgraded her description of Starkey to 'a giant brain on legs'.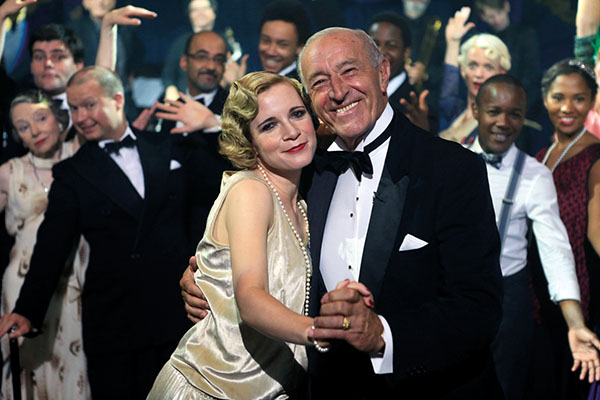 Happily, she has no plans to cease her playful approach to history or shy away from so-called 'girly' subjects.
"As curator of, amongst other things, a collection of historic fashion, I think clothes express a lot of information about who you are. Particularly women's clothing, which mirrors women's emancipation. Take a Tudor woman: she's wearing a farthingale, she's tightly laced into stays, the clothes are heavy and cumbersome and designed to look magnificent… but she can't really do anything. Contrast that with the flappers of the 20s: these are women who've got the vote and the clothes have become skimpy and light and loose."
Worsley, never one to miss an opportunity to dress up, had a taste of the flapper lifestyle in Dancing Cheek to Cheek: An Intimate History of Dancing, in which she joined Strictly's Len Goodman to explore the dances of the past.
"It was brilliant and Len is a delightful gentleman," she grins. "I thought I'd be good at the Charleston because I have the right hair for it. But it was harder than I thought – all the dances were."
But it isn't likely we'll see her on the Strictly line-up any time soon – she tells me why:
"I got married three years ago and my husband to be made me sign a pre-nuptial contract. It only had one clause: that I would never appear on Strictly Come Dancing. He knew that secretly I quite wanted to, but didn't think it would be a very good idea!" she laughs.
"So to get round this, I thought 'history come dancing' would be the answer. So I got to dance with head judge Len and had my little taste of Strictly, but it was all proper, sensible history."
Next up, viewers can expect to see Worsley riding a horse for a new programme on King Charles. "Better than that, I'm going to learn about horse dancing, which the Cavaliers in 17th century England were very good at. I'm told that what really matters is that the horse knows what it's doing…"
:: An Audience With Lucy Worsley, 15 March, 7.45pm; tickets from £12.50