I've struggled a bit, adjusting to being back," admits Rhys Lawrey. "I still hadn't unpacked until recently."
Adds Kevin: "We've made him keep his boots outside though; they're a bit smelly!"
Says Rhys: "It's true. I wore one pair the whole way."
Rhys has just returned from a gap year that blows all others clean out the water. A motorbike enthusiast from a young age (his dad, Kevin, runs adventure bike touring company, GlobeBusters, near Cambridge), Rhys set off in 2013, aged 22, on a solo round-the-world tour, becoming the youngest person to circumnavigate the globe by motorcycle. He also earned a Guinness World Record for visiting the most consecutive capital cities by bike.
I've joined father and son in their offices on Ely Road. Rhys is now 24, healthy, tanned and visibly restless, and tells me how his 56,854-mile journey began.
"It was a 15-month trip around the world. I left with a GlobeBuster tour, we rode to Thailand, then I went on to Australia, New Zealand, Los Angeles and down to the bottom of America. Then I started the capital cities record."
The existing record was five; Rhys clocked up 51. "I could only stop to refuel the bike or at a border crossing. You can sleep, but only inside a capital city. It was like a board game, hopping from capital to capital."
Rhys has partnered with The Prince's Trust to help inspire young people. During his trip, he raised nearly £3,000 for the charity – find out more here.
I'm introduced to his bike, a Triumph Tiger, still with mud on the wheels. "Her name's Tigger and she hasn't missed a beat," beams Rhys. "She didn't even get a puncture. You become so dependent because if she fails, I can't go anywhere. She's like my wife. I look after her and she looks after me.
"With all my luggage loaded she weighs 286kg. I dropped her six times – though that's not bad for 56,000 miles."
Travelling light is key. Rhys shows me how to pack for a long-distance bike trek: "Clothes, tent, sleeping bag, laptop… I took four undies, four socks, four shirts, one pair of jeans, one pair of trousers that turn into shorts, one pair of swimming shorts and one pair of off-the-bike shoes. Oh, and one smart Barbour polo shirt for dates!"
Says Kevin: "There were lots of photos going on Facebook taken with young ladies…" Is he still in touch with any of them? Rhys grins: "Yeah, a few."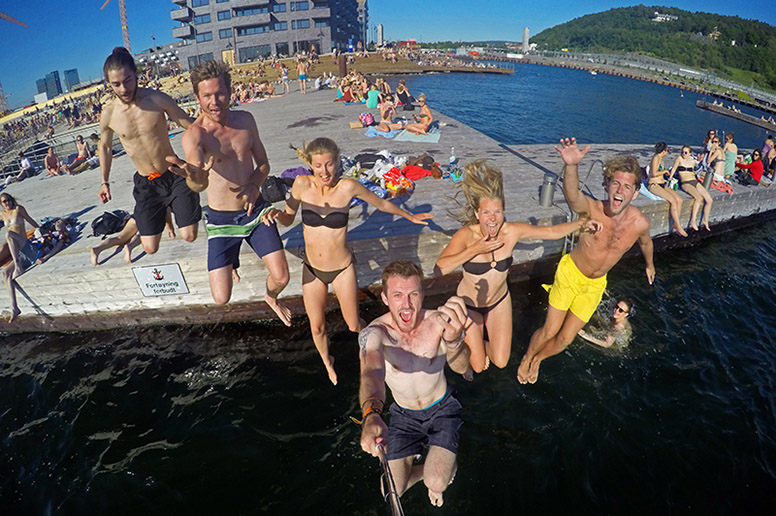 Kevin himself has two Guinness World Records: the first for the fastest motorcycle ride around the world, the second for the fastest trans-America motorcycle ride. Naturally, he was called on to advise Charlie Boorman and Ewan McGregor for their Long Way Round series. "They're nice guys, and Charlie has become a great ambassador for biking."
Kevin adds: "I've always ridden bikes and enjoyed travelling. I remember picking up Rhys from school and the other parents looking a bit worried; he had a little leather jacket and helmet. I waited til Rhys was older, about 16, to do our first big trip, which was five weeks riding round Argentina, Bolivia, Chile… so that gave him his first insight into being on a bike and seeing different places."
What qualities does it take to make this sort of journey?
"You've got to be open to a bit of chaos," says Kevin. "In China, for instance, they have road rules but not many people stick to them. You've got to leave your Western mentality behind and quickly adapt to how the locals do things. Some people question it too much.
"And it's not just the riding, it's the borders too. Central Asia has probably got the worst borders in the world. You can be there for ten hours, and there's no nice coffee shop where you can wait, there are guys with guns."
Adds Rhys: "It opens you up to a lot more, compared to backpacking or taking busses. With motorcycling, you can go to places no tourists go. Biking through Central Asia and China, we'd go through towns where we were the only Westerners that some people had ever seen in the flesh. You stop for water and suddenly there are ten people round you. Locals see you in all the gear and think 'this guy's interesting'. I've been called spaceman, Robocop…"
Kevin adds: "In many places they have their own, smaller bikes, but they're riding around in flip-flops with about four or five people and a couple of chickens on one moped. They haven't seen bikes like this before."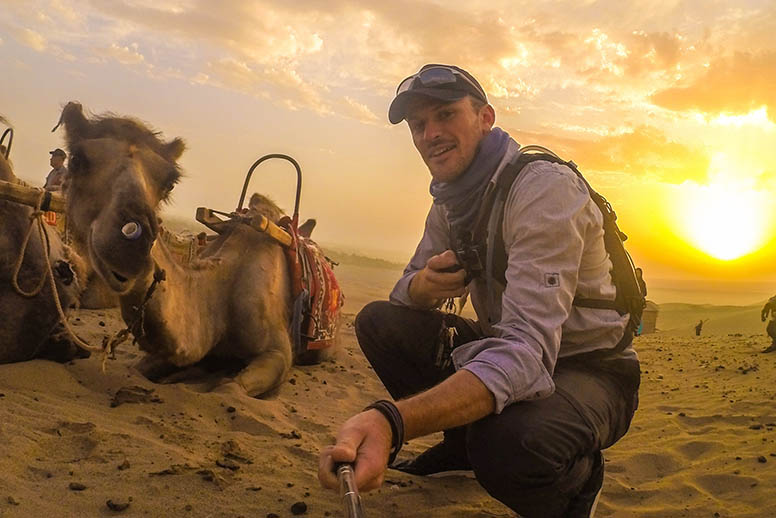 Asked to pick a favourite destination, Rhys answers: "Mbabane, Swaziland, was a highlight because that's the city I broke the record in. But there were some beautiful places in Eastern Europe: Vilnius in Lithuania is stunning, and Olso. Columbia is meant to be dangerous, but in fact it's the most beautiful, friendly place. All the drug lords have left – you can go round Pablo Escobar's house as a day trip."
Of course, Rhys' adventure wasn't all sightseeing and selfies in the sunshine. "There were moments I felt like throwing in the towel," he tells me. "On the bike you feel the cold, the heat, everything. There was one day in South Chile where I, stupidly, went over the Carretera Austral [a remote but picturesque mountain pass]. The weather when I left was fine, but south it was all thunderstorms and landslides, so when I went over I hit it. It was a complete whitewash. I got half way, going through mud, torrential rain, with trees falling down around me. I couldn't feel my hands it was so cold. I thought, 'What the hell am I doing?'.
But I realised if I turned back, I'd run out of fuel, so the only thing I could do was push forwards and get to the next town. And I did. I arrived in this little village with a population of 50, knocked on a door and this 100-year-old woman answered the door. I asked if I could stay, we put the bike in the woodshed and she held up a chicken, saying, 'Pollo?'. And we had chicken and chips for dinner. It was fantastic. I woke up the next day, the sky was crystal clear and I got one of the best pictures of the trip."
Rhys reflects: "You definitely get a wider vision of life. Mum said I've completely changed in maturity from 22 to 24 because I've been exposed to scenarios where I've had to dig deep and push myself. That's why I'm trying to inspire people to get out there, on a bike or not, and experience things for themselves. You learn far more on the road than you would reading a book, in a classroom or watching TV."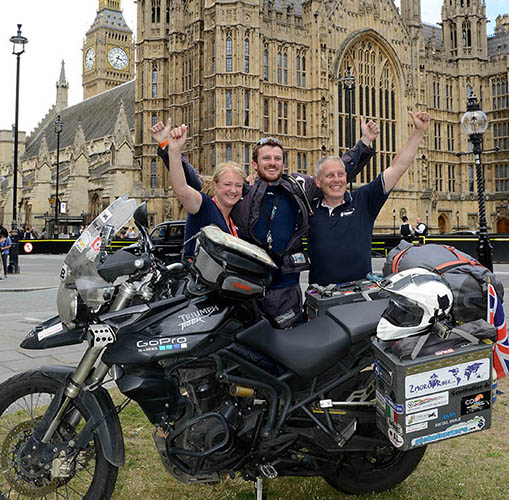 Kevin agrees. "All travelling means you come back to the UK and appreciate what you've got. It's easy to forget how good life is here. You always hear people whingeing about Addenbrooke's or the NHS, but we can drink the water, there are no bugs that bite you and give you diseases, you can go to the supermarket and buy whatever you want. People need to see how others live."
Rhys ended his adventure on 17 June 2015 by meeting his dad, who he hadn't seen for over a year, and riding up to the Houses of Parliament together.
"That day," remembers Rhys, "goes down as one of the greatest of my life."
Follow Rhys @2mororider and check out his website to find out about his next adventure: www.2mororider.com
Feeling inspired? Find out about embarking on your own two-wheel adventure at www.globebusters.com