When a new neighbour moves in next door, you might stop to say hello over the front gate; you might even pop round with cake if you're that kind of person.
Amy and James went that bit further. When the new vessel moored beside their 1930s narrowboat in Cambridge became untied and drifted off early one morning, they launched a rescue mission to return their neighbour's craft safely to the bank.
"We saw it drift off into the distance so we leapt out of bed, rescued it and put it back," recalls Amy. "There had been some bad flooding. Every time there's a flood there are lots of boats to rescue."
The boat adrift was Emma and Laura's narrowboat, Rebecca. Neither were on board at the time: the boat needed some work doing so they hadn't yet moved in. Now, however, they're happily settled in as part of a unique community in Cambridge – and triple-check their knots every night.
"This has been our first year; I think we're the newest on the river," says Laura (pictured below). "It wasn't my dream to live on a boat – that was Emma's. I had a few misgivings, if I'm honest. Winter was… interesting," she laughs. "Every day we'd figure out where a different draught was coming from. Again, our neighbour James helped us sort out the heating so we'll be ready for it next year."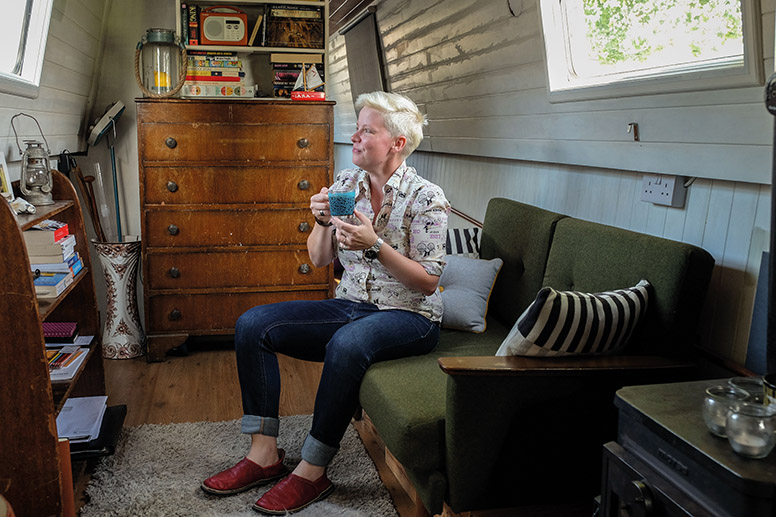 Having lived by the river for some years, I was curious about the boat community along this picturesque stretch of the Cam. Who lived there and why? How spacious were the boats? What's it like to empty your own loo?
"People always ask whether it gets cold in winter," says Amy. "It does – if you don't turn the heating on. But a house gets cold in winter if you don't heat it! Mostly it's quite cosy because it's quite a small space."
She and James, a young couple working and studying in Cambridge, have invited me on board their historic narrowboat – not barge – Willow. At 72ft long it's one of the largest on the river, and quite splendid.
"Originally it would have been horse drawn, carrying cargo between Gloucester and Birmingham," she shows me a black & white photo from the 1940s. "It's really exciting to live on a boat with so much history. We feel like custodians, not owners."
Adds James: "Willow was a very good find. We'd looked for a while for a historic boat like this. We prefer them; plus, they have lots more space."
Down in the hull, the wood-panelled walls are lined with antique maps (and LOTS of books), the bathroom has an antique free-standing porcelain sink, while in the bedroom a 1920s wardrobe and folding bed have been perfectly customised to fit the space. It's romantic: like college digs from Porterhouse Blue, only floating.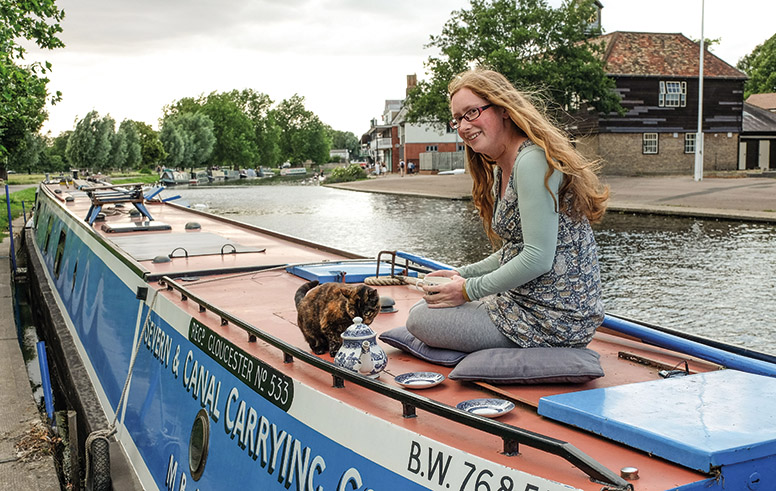 It's a diverse community, says Amy (pictured above): "There's a real mix of careers among us. People think we're just a bunch of hippies and dropouts, but we've got an architect, PhD students, people in marketing… even a tree surgeon."
This is Nick, who lives aboard the neighbourhood's smallest craft with Beckee (who keeps her going-out shoes under the sink) and 22-month old son Teddy. They've lived there over three years, drawn by the freedom and simplicity of the lifestyle.
"On a boat you're more in touch with everything," says Nick. "Living on a 40ft tube, with big windows either side, your life really is governed by the seasons. Winters are spent inside making sure the burner doesn't go out – we're already stocking up on wood for this year. Then in summer our solar panels give us loads of electricity and you don't need the burner, and everyone's out and about. It is such a beautiful spot. You've got that avenue of lime trees that takes you right into the centre of town… We're very lucky."
"From our mooring you can just about see the top of King's College Chapel," adds James. "And when you consider there are houses around here that fetch over £1 million…"
Is it cheap to live on a boat? "It's ridiculously cheap," Amy admits. "We pay a licence to moor on City Council land and a licence to be on the river, but we don't pay council tax." (The mooring fee is roughly the same as council tax). "If you're burning wood that you can get for free then winter can be quite cheap – though coal will cost you several hundred pounds per winter."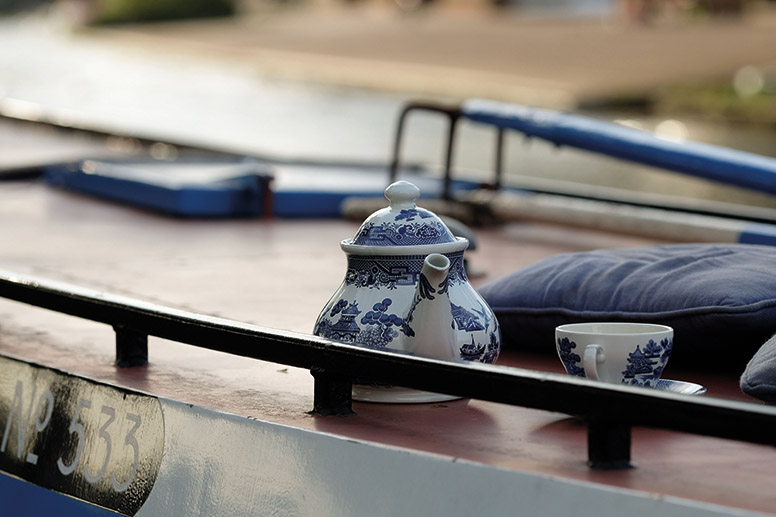 But before you all rush out and buy a vintage narrowboat, there's more news.
"Cambridge is probably the only place I know of that has a waiting list," Amy explains. "It's closed now, but it used to be about three years. Because it's such an affordable place to live, right in the city centre. By living on a boat I've had the freedom of having my own place from a younger age than if I'd wanted my own flat. And I'll be mortgage free next year."
Laura moved from a three-bedroom house ("with lots of amazing Scandinavian furniture – now in storage!") and says she's learning as she goes. "What I've found about living on a boat is that you can't do something unless you've got the money for it upfront. In a house, you can run a tap for a week if you want and the bill won't come in for a month. On a boat, you can't have a shower if you haven't got any gas. And the water always runs out when you're in the middle of something. Mine ran out when I was dyeing my hair, and once while we were eating Christmas dinner."
Sophie, a teacher, lives on perhaps the most uniquely beautiful boat of the lot. "I wanted my boat not to look like a boat, but like a little flat," she explains, and she's succeeded. From the bright, cosy living area (wood-burning stove, Farrow & Ball walls and ditsy bird-print curtains), it leads on to a modern, colourful kitchen, bathroom, bedroom with beautiful patchwork quilt bedspread and even a separate dressing room with gorgeous chest of drawers upcycled with chalk paint. There's just one thing missing: a television.
"It's amazing how much time you have when you don't have a TV," says Sophie. "I don't miss it at all. I download the programmes I want to watch to my laptop."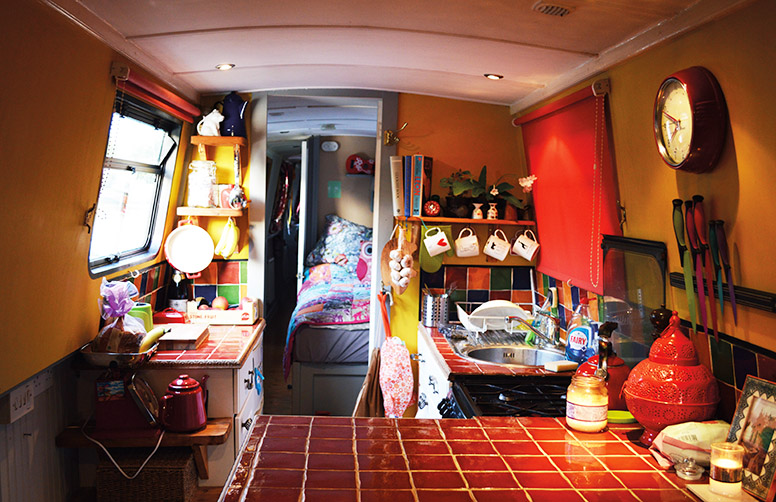 Because the boats have flat bottoms, and sit stoutly in the water, there isn't much movement on board. But there is tilting.
"When I first moved in I hated the fact that it tilted," says Sophie. "I kept putting a bit of chalk on the side and watching it roll, fuming. I must have had everything balanced wrong."
"If you put a five litre bottle of something on the wrong side of our boat, it tilts," laughs Beckee.
Amy adds: "On our old boat, I knew when the water tank needed filling because I'd have to walk uphill to bed. And cakes always come out the oven a bit thicker at one side than the other."
One topic of conversation that's guaranteed to come up amongst boaters, I discover, is poo. Says Beckee: "We empty out our toilet once a week, but it depends on the size of your septic tank."
"I miss porcelain toilets," Quinn reflects, who lives with Melissa on Lucky Duck, moored the other side of Nick and Beckee.
"It is THE single most talked-about topic of conversation among boaters," says James, with a grin.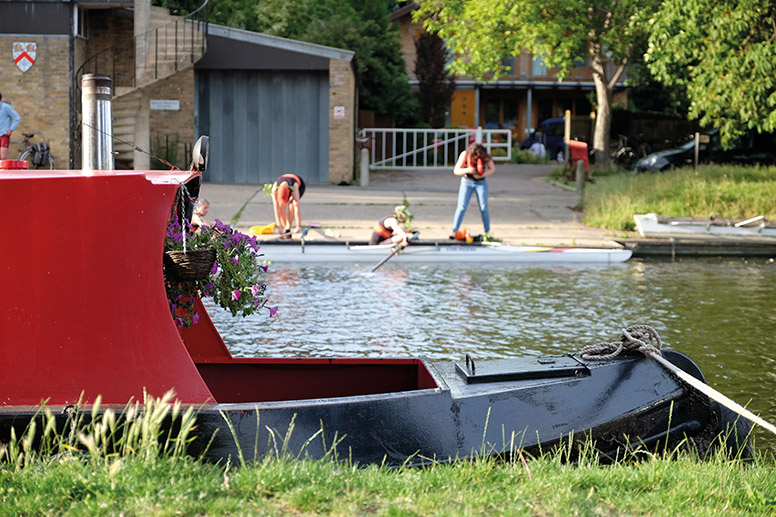 The boaters recently set up a Neighbourhood Watch group to discuss any issues affecting their community. Do they get much trouble from the public?
"We have had one or two idiots untying the boats," admits Amy. "It's rare, but it does happen. And most of us move away for Midsummer Fair."
What about the rowers – are relations between the two communities as frosty as is often reported?
Says Amy: "They do hit us, but you learn to live with it. Plus we've had loads of rowers move onto the boats, so there is a lot of crossover – James and I both row."
"The worst time of year is October when the students are back and there are novices on the river – and they're all a bit rubbish," laughs James. "You get about two months of being woken up early in the morning, but they're only around for eight-week terms."
"It's the busiest stretch of water probably in the country except some parts of London," Amy concedes: "You wouldn't move next to the M25 and then complain about the traffic."
"But the traffic wouldn't be ram-raiding your house…" Nick points out.
Adds Laura: "At the moment, all you can hear is this [she taps rapidly on the table]. The first time I heard it I was like, 'What is that?!' – it's the ducks nibbling at the weed on the bottom of your boat."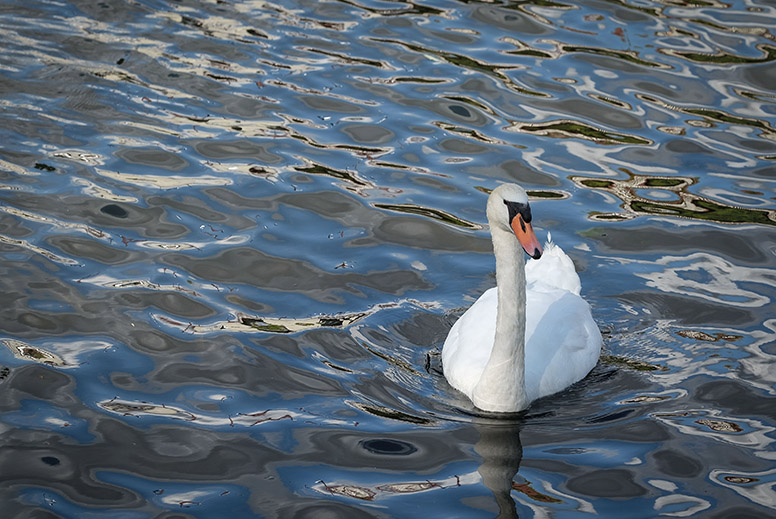 Says James: "We've had cows eating the flowers off the top of people's boats before. Sometimes you're washing up and you look up and see one right in your window."
And Beckee was able to introduce her little boy to a sight not many get to see: "We were having dinner one night and heard a noise, looked out and saw a cow swimming past. It was so funny watching the men from the council trying to get it out…"
Nick laughs and explains the rescue operation: "There's a shallow part where the bank is lower, so they managed to manoeuvre it out that way."
If intermittent hot water, nosey wildlife and floods weren't enough to keep you on your toes, Nick and Beckee have the added challenge of raising a toddler on board. They're admirably phlegmatic about it. Says Beckee: "Ted doesn't know any different. And we've never lived with a baby in a house, so neither do we.
"When he was born, he slept in a little hammock above our bed – until he crawled out one night, and now Quinn's building him a bed. Everyone helps each other out. He started swimming lessons at nine months and he can swim now, and he's not scared of the water."
Adds Amy: "It's funny you should say that, as I can't swim." It turns out many can't. "But the Cam isn't very deep – you can stand up in it in most places."
Is falling in an issue? "Beckee fell in at nine months pregnant," answers Nick, "when we were moored up near Lode."
Beckee explains: "It was dark and we had no neighbours there and I came home one afternoon having lost my phone, and I fell in. I was in there for 20 minutes: my bump was so big I couldn't get out. I was crying my eyes out! In the end, I managed to climb out but I couldn't call Nick to tell him what had happened. Luckily it was August, so it wasn't too cold. And Teddy was still two weeks late!"
Despite its occasional pitfalls, it's clear these guys are on to something. Says Laura, simply: "It's changed my life. I've even become vegetarian because you've got the cows right there and the ducks… now it feels wrong to have a burger. But it's brilliant, I love it; especially in summer."
"Because people who live on boats love living on boats," says Quinn, "you've got that in common. Everyone looks out for each other. For me, it was a boyhood dream; I wanted a different lifestyle, and to feel closer to 'life'."
Says Melissa: "There's also a sense of freedom. We wanted to live somewhere where we could move, but as it happens we live in Cambridge, and we don't think we'll ever want to go anywhere else!"