Kloeber celebrates ten years of providing the perfect entry to your home or garden
Celebrating an impressive ten years in business in 2016, award-winning local company Kloeber UK Ltd is recognised as a market-leading manufacturer and supplier of folding and sliding doors and bespoke glazing solutions. Specialising in timber and aluminium, they create beautifully engineered sliding doors, French doors, single doors and many types of windows, as well as fixed glazing, roof lights and more.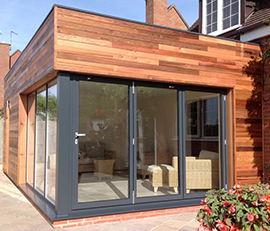 They've built up a wealth of experience, working on some spectacular homes, as well as featuring on television on Channel 4's Grand Designs, BBC's DIY SOS and most recently on two episodes of George Clarke's Amazing Spaces.
Kloeber has recently signed the lease for a new property – the distinctive Bright building in Huntingdon – which will soon serve as the company's new headquarters and will feature an extensive new showroom with a broad range of their products on display.
Estimated to open in July this year, the new showroom will replace Kloeber's current premises in Somersham, which will remain open until the refurbishment of the Bright building is complete.
"We're very excited about the move to Huntingdon," says Matt Higgs, Kloeber's sales director. "The prominent position of the landmark building should make our brand more recognisable locally and the larger space will enable us to deliver our growth plan. The opportunities for recruitment and expansion are now increased and we intend to take full advantage of this."