This Image: Eadenstone Kitchens, POA, offer bespoke options
Achieve the dream kitchen by taking note of the latest trends. Angeline Villa-Clarke talks to the experts to find out what's new
Stylish surfaces
Once you have decided on the essential look and style of your kitchen, you can add another layer of flair in the worktops and flooring that you choose.
Eadonstone, based in Cambridge, is renowned for its handmade kitchens, crafted by artisans, and offers a completely bespoke service. Fiona Phillips, director, gives her advice on what's available: "The surfaces you choose are just as important as the cabinets. Most of all, they need to be hard-wearing yet stylish as these give the finishing touch to a kitchen. Granite, for instance, is extremely durable. It gives a timeless aesthetic and works well with shaker-style kitchens. There are a wide range of finishes available – from polished to Anticato, which has a volcanic texture.
"Leathered and textured granites are now an extremely popular option, giving the worktops a softer, more tactile finish. Marble, meanwhile, is very dramatic and comes in a range of soft chalky muted tones, as well as punchy, bold hues. With distinctive veining and directional structure, Carrara and Arabascato marbles are growing massively in popularity; they work extremely well in both traditional and contemporary settings. Silestone quartz is available in a massive array of colours and textures and, best of all, we can even colour-match to a provided swatch. Our newest engineered surface is Dekton, which is scratch resistant and withstands high temperatures without burning, scorching or cracking."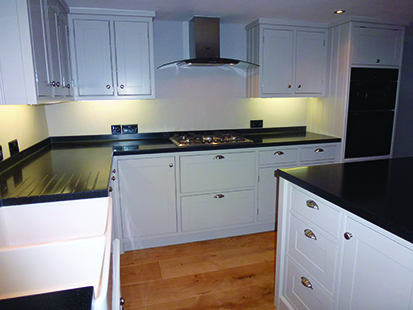 This Image: Kitchen with Corian work surface, prices vary, by Law & Lewis
Corian is another good all-rounder – ideal for kitchens that will see a lot of use. Available at Cambridgeshire-based Law & Lewis, it gives a seamless finish and is a non-porous material, meaning it is hygienic and easy to clean. It is also available in a variety of colours – from brilliant white to canary yellow.
On the subject of colours, black granite has been the staple go-to for a sleek worktop finish. But leading supplier Granite Transformations now reveals that white granite is now the most popular surface.
"Traditionally, UK kitchen customers always plumped for black granite worktops, whereas the US and Canada had a preference for dark browns and a more colonial look," says Granite Transformations's UK general manager, Hayley Fenn. "Only Australia and New Zealand favoured white, possibly due to the sunshine effect. Perhaps now we're adopting a more summery outlook from down under and that's reflected in the way that we style our kitchens. After all, the kitchen is recognised as the hub of the home and closely reflects the family lifestyle and aspirations."
This Image: White Star granite worktops, prices vary, from Granite Transformations
Looking ahead, Granite Transformations also anticipates rising consumer demand for patterned worktops and splashbacks, like its Trend Trascenda dye sublimated collection. Offering the look and classic appeal of marble finishes, without the cost and impracticalities, as well as distinctive graphic and fluid patterns, these designs will lend a whole new dimension to kitchen decor, says the company.
Renowned for its uber-stylish tiles, Fired Earth's creative director, Rob Whitaker agrees that pattern is making a comeback. "There's an ongoing trend for using pattern throughout the home, and geometric designs have a crisp, clean finish that's ideal for kitchens. As an alternative to decorative tiles, create your own patterns by mixing one-colour base tiles in a variety of shades and by using eye-catching layouts such as chevrons and parallelograms for added visual interest. Fired Earth's Futurism tiles are perfect for creating a host of geometric effects. Available in seven versatile colours, as well as in left and right formats, these deceptively simple tiles offer endless potential to design stunning kitchen walls and splashbacks."
When it comes to underfoot, parquet is back in vogue as a stylish flooring option. Urbane Living's Parquet Panel Walnut adds a glamorous touch while at The Stone & Ceramic Warehouse (SACW) porcelain boardwalk tiles, which have a fabulous wood-effect grain texture, are a practical alternative to the real thing.
"Porcelain floor tiles are available in a vast range of colours, textures and tile sizes so you can achieve any look you desire," says SACW's director Stuart Wisbey. "One recent trend is to achieve a continuous flow from the indoors out and porcelain is a great choice for this: it's virtually indestructible. For smaller, darker rooms choosing light-coloured porcelain will help to encourage the light and using a large-format tile will create the illusion of space."
Chic Colours
Forget bright accent walls and saturated hues, the latest paint colours for kitchens have become more muted and 'drier' – think pastel blues, charcoal, pale pink and tinted whites.
David Mottershead, managing director of Little Greene confirms the shift in shades: "Muted colours in a kitchen are the perfect answer for the most hard-working room in the house. A place to cook, socialise and discuss the day's events – a calming tone on the walls and cupboards soothes the day away and helps the room's transition into evening calm and nurturing tranquillity."
Colour experts Farrow and Ball agree that it is these muted neutrals and a range of new 'drabs' that will bring a contemporary touch to your kitchen makeover. "Green hues help to bring some of nature back into the home, especially if you have a kitchen that looks out onto your garden," says Josephine Rance, marketing director at Farrow and Ball. "Cromarty is inspired by sea mist, which is part of the fabric of British coastal life. It is a lighter version of Mizzle and is a beautiful muted pastel that could be used on your cupboards to complement a neutral shade on the wall, such as Shadow White, one of our new nine colours introduced for 2016."
This Image: Little Greene's Herbes Cocktail wallpaper, £52.50 per roll