This Image: The Cocoon Aeris Fireplace, from £2,370, at Go Modern, is a minimalist bioethanol fire, which will give your room the wow factor
Angelina Villa-Clarke talks about the art of cosiness for this month's series, Keep the Home Fires Burning
Ever since primeval times, fire and man have been intrinsically linked. While most of us don't rely on a fire for cooking or warmth any more, it is still an important and desirable part of a home. Whether you love a period fireplace or a contemporary installation – a fire oozes character and is a crucial architectural focal point.
Ben Pellegrini, director of Cambridge Stoves, experts in wood burning stoves, comments: "Man has an obsession with fire. There's a Danish concept – called hygge – which is said to make homes nicer and people happier. It roughly translates as 'cosiness' and having a fire in your home is part of this concept. People also like the thought of having a fire – particularly wood burners – in their home because they are often energy efficient. Burley stoves are among the most efficient – they have a contemporary look, so they fit the style of modern houses. Dean Stoves are also popular. The Dartmoor has a huge glass window so you can see the flames and it is also quite slim making it a practical choice as it fits into most existing hearths. We have something available to fit everyone's needs."
A must for older properties is an impressive, traditional surround that speaks volumes of cosy winter evenings indoors. If your property no longer contains its original fireplace, seek out a classic style from Haddonstone, which stocks a selection of cast-stone fireplaces, mantels and chimney-piece surrounds, from simple and stylish to ornate and decorative in design.
By contrast, a wood burner can also add oodles of character. Experts in modern wood-burners, Morsø UK offers elegant styles, such as the Inserts Stove Collection. Managing director, Declan Walsh, says: "It's never been more popular or fashionable to install a wood-burning stove. The trend has changed from traditional to contemporary, free-standing stoves that are a focal point."
---
"It's never been more fashionable to install a wood-burning stove"
---
Go Modern stocks a range of minimalist bioethenol fires from select international brands. The high-end designs – from Cocoon and Decoflame – feature flue-less designs, that don't require a connection to gas or electricity. Bioethanol is a green fuel from sustainable sources, emitting no smoke or smell, and generating only small amounts of carbon dioxide and water vapour when burning. Simple in style, they provide spaces with a superb focal point and are simple to operate, providing instant heat.
Cambridge-based Cade Wood Burning Stove Installations supplies and fits stoves throughout Cambridgeshire and the surrounding areas. Director Nigel Cade comments: "We mostly install convection Swedish Contura stoves, known for their excellent heat distribution. Considerable savings can be made on heating costs with one of these. Environmentally friendly, burning wood produces the same amount of carbon dioxide as wood decomposing. Choose a high-efficiency stove, burn fuel sourced from sustainable managed woodlands and you are contributing to a cleaner environment."
He continues: "Inexpensive, sustainable wood is generally cheaper than volatile fossil fuels. Aesthetically attractive, your wood burner can become a stylish traditional or contemporary focal point, allowing the seductive power of the flames to enhance the overall comfort level of your home."
For more options on environmentally friendly options, Eco Installer based in Ely, can also help. It has a range of wood-burning and multi-fuel stoves on display in its showroom and can supply and install premium-space heating stoves, as well as stoves which can contribute to the central heating and hot water through either a thermal store or a heating innovations panel.
"Multi-fuel stoves burn wood, wood pellets and coal, and can be used for cooking and heating your home," Eco Installer advises. "They are a cost-effective alternative for space and water heating using renewable or fossil-fuel heat sources. Burning wood from a renewable source is an easy way of protecting the environment. Nothing is more warming than curling up snug in front of your wood burner."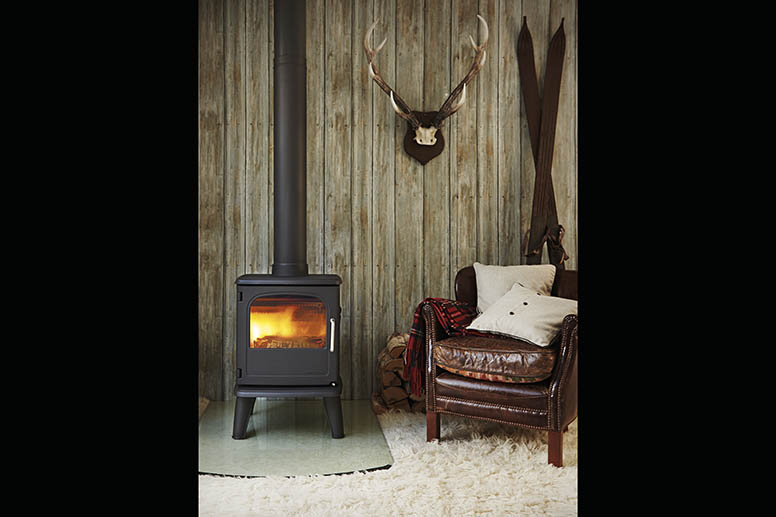 This Image: Morso's wood burning stove, from £1,183, gives focus to a living space