Check out these swoon-worthy new homes from Marleigh
In partnership with Hill and Marshall
Whether you believe in love at first sight or not, it's hard to deny that gut feeling when you know you've found 'the one'. That's certainly true when it comes to finding your next home, which is why it's so important to check out a property fully before you make that big commitment. If you're in the market, housebuilder Hill has unveiled two new show homes as part of the Woodside phase at Marleigh on Newmarket Road, its collection of houses built in partnership with Marshall.
Giving prospective homebuyers the chance to have a nosey and begin to picture themselves living in one of these spectacular properties, the show homes have been meticulously designed and decorated to show off the full potential of each space, with striking monochromatic features and eye-catching details. Marleigh's show homes offer a stylish yet relatable depiction of how your future home could look – with plenty of design ideas to spark your imagination.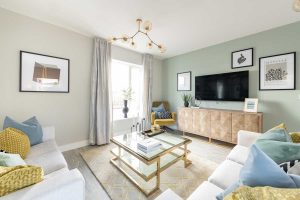 The latest layouts for the Woodside development offer a delightful open-plan kitchen and dining area that opens onto an ample garden – perfect for hosting barbecues and dinner parties outdoors in the summer. The four and five bedroom homes have a  separate living room which provides a calming space in which to switch off after a long day, or, for the home-workers, there's extra room to dedicate as office space without impinging on the main sitting areas. Upstairs, the bedrooms feel light and spacious, with gently sloping walls in several of the homes creating a cosy feel and adding a touch of character.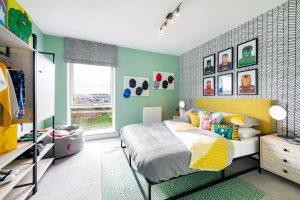 Though an urban development, nature and community are at the heart of what Marleigh has to offer. Each home is just a stone's throw away from lush green spaces and parks, with over 57 acres of beautifully landscaped grounds surrounding the development. Woodside is the latest phase of the development and consists of 1,300 new homes integrated with dynamic public spaces, including a market square, allotments, and sports pitches. Families can also enjoy the benefits of living close to some of the area's best schools, with the option to enrol their children at Marleigh's very own nursery and primary school (opening September 2022).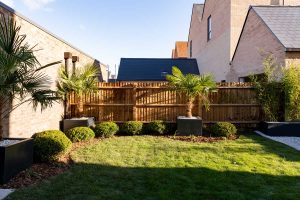 The city of Cambridge is easily accessed via new and improved walkways and cycle paths, guaranteeing plenty of fun-filled weekends and trips to the buzzing city centre. Cambridge Business Park and Cambridge Science Park are a short twelve-minute drive away, whilst commuters can enjoy easy access to the A14 and M11, plus speedy connections to London and Stansted Airport from Cambridge Station.
If the promise of heavenly home design, gorgeous green spaces and convenient connections has got your pulse racing, make sure to book a tour before these attractive properties get taken off the market! For more information about the current phase of homes at Woodside, or to organise a viewing: call 01223 827241; email [email protected]; or visit Marleigh's website here.