Research highlights how much our homes affect wellbeing and happiness as we trundle through another UK lockdown
We've all spent a lot of time at home in recent months, often improvising with the way we structure our working day. With the UK in another lockdown, Northstowe developer House by Urban Splash shares intriguing results from recent research through its Japanese partner Sekisui House, and top tips on increasing happiness and productivity in our homes by bringing in some Japanese influence.
We need our homes to be multifaceted, interchangeable, but relaxing and comforting spaces
Rachel Thomas, Interior Design Manager for House by Urban Splash, says: "It's a time which has put the spotlight on the layout and design of our homes – we need our homes to be multifaceted, interchangeable, but relaxing and comforting spaces."
The research from Sekisui House Human Life R&D Institute found some clues to realising wellbeing and happiness. Highlights include;
Many of us have had to carve out desk space at the dining or dressing table, something that isn't ideal for productivity or for relaxing when the working day ends; the Sekisui House survey found that 87.4% of respondents spend most of their day in their living room – with 58.3% working from their living space.
34% of Japanese homeowners had "no personal space" in their current home. If this is affecting you, think about adding in some small personal items to space where you relax; colourful cushions, favourite books or an object that invokes a great memory, little pieces that will help make a small corner of your home feel like your own.
Being "unable to go out freely" was a cause of stress in 65% of Japanese households during the pandemic
From the findings, the team have come up with a few top tips on how to improve your home/work/space situation;
1 Rethink your space
Try distinguishing your workspace from the living area in any small way you can; use bookshelves or a screen to create partitions and a separate environment that makes it easy to focus even if other family members are in the same room.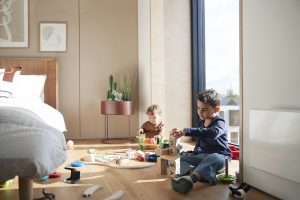 2 Think of the kids
Kids need their space too.  Try and create "multi-learning spaces" around the home, spaces where children can study at any time, but also play, draw and relax. Our Japanese colleagues also reminded us that we could stand up to do learning activities too; no need for desks and chairs when children are keen to learn (and get them up off their bums at the same time! Win-win).
3 The Genius clean up box
To separate work time and private time, create a "clean-up box" where you can put your laptop and work materials as soon as you're done.
This means if you are using the dining table for work, you can put your laptop and notepads in the box at lunchtime and dinner time, and you'll be able to switch smoothly from work to your break, to the end of your day and back again. This habit creates some separation between work time and the rest of your day and should be great for de-stressing and family life.
4 Create a family timetable
Reduce the frustration of online meetings by creating a "family timetable"; ask family members to respect this and be quiet during certain times of the day – thus reducing everyone's stress.
Children (and some adults!) respond better to a known routine and can be rewarded later on their excellent behaviour, so this idea should help all round!
5 Bring the outdoors in
House plants greatly enhance the quality of the air in homes and even aid sleep, so there may be some strong evolutionary reasons why we find them so relaxing to be around. The team recommends using some greenery to bring the outdoors inside and utilising the feeling of wellbeing from just looking at plants and greenery.
Rachel adds: "It's been interesting for us to learn about how households are adjusting to a new normal across the world in Japan. And it's also reassuring to see how common our struggles are and to learn from each others' cultures and ideas. We are certainly looking to reflect the changes in the way we have used our homes in 2020 in our Northstowe Town House show homes; one showcasing 'loft living' where your kitchen and main living area is on the top floor and 'garden living' the more traditional with living space and kitchen on the ground floor." Show homes at Northstowe due to open Spring 2021.
House by Urban Splash is building 406 modern, architect-designed homes at the new neighbourhood 'Inholm' at Northstowe. Find out more and book a visit to the House Pavilion or call today.