Whether you want to totally renovate or simply go for a quick refresh, the latest kitchen designs will easily turn a practical room into the heart of the home. Angelina Villa-Clarke talks to the experts to get the lowdown on what's hot for 2020
A new year is the perfect time to start rethinking home renovations, and when it comes to the kitchen – one of the biggest investments facing a homeowner – it pays to take your time and get it right. Whether you want to create the space of your dreams or simply go for a small update – a new island or countertops, perhaps – it's worth looking around at emerging trends for inspiration. 
This year, colour is key and, while neutral shades provide longevity perhaps, there has been a move towards bolder hues for cabinetry – with navy, forest green and even black becoming increasingly popular. 
Leisha Norman, kitchen designer at Harvey Jones Kitchens, agrees and says: "People seem to be braver than they used to be. Shades of green teamed with warmer taupe tones are popular, with customers moving away from the more neutral shades."
Tomas Hinton at Tomas Kitchen Living, which has a branch in Cambridge, also identifies the same trend: "There is a definite shift away from cooler colours now and many clients are going for bolder and brighter palettes. Our walnut trims look superbly sophisticated against some of our mid-blues and greens."
He also adds that larder storage remains a vital ingredient in the recipe for a perfect kitchen layout. "Our larder drawer features externally presented drawers – which takes the faff out of opening doors to access drawers."
For those after an easy revamp, Ishini Perera, kitchen designer at Neptune Home Cambridge, suggests simply repainting the doors of your cabinets: "This season, we're turning our attention to colour and how it affects the feel of a room. Colour is the element that brings your home's foundations to life. Coming soon is our new seasonal shade – saffron – a grounded, warming yellow, which works well as an accent to a neutral base, in a cabinet's interior, or as your palette's starting point."
For further inspiration, note the latest colours of the year for 2020, which can influence what we purchase for our homes. Dulux is championing Tranquil Dawn (a soft green shade) while Pantone is predicting a bolder Classic Blue.
"Rich colours marry unexpectedly well in a kitchen"
Helen Shaw, director of Benjamin Moore Paint, says both hues work well in a kitchen: "Rich colours marry unexpectedly well within a kitchen setting. These spaces tend to be a busy heart to the home rather than a room for serenity. For many, kitchens are also increasingly becoming places for entertaining, meaning people are seeking a wow factor. Deep green is also effective in creating a natural, grounding feel in industrial, tech-heavy homes, working well to encourage a connection with nature. Similarly, rich blue tones, varying from vibrant teal to chic navy, are perfect for creating a feeling of restfulness and harmony."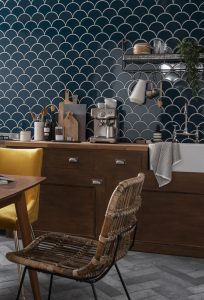 If dark cabinets feel like too much of a commitment, however, you can easily add personality with pops of colour through flooring, tiling and surfaces instead. Ideal for splashbacks or feature areas, for instance, the Syren Midnight Blue tile, available from Topps Tiles' Cambridge store, has a Moroccan feel and draws upon mermaid mythology, taking inspiration from their jewel-toned scales. The Astrea Ink Blue tile, meanwhile, has a crackle glaze and is perfect for creating an inviting atmosphere.
When it comes to flooring, on the other hand, David Snazel, hard flooring buyer at Carpetright, suggests tile-effect vinyl as a practical, affordable option. "Bold colour and expressive style will be seen across homes in 2020. Tile-effect vinyl effectively emulates individual tiles without the price tag or lengthy installation process. In terms of colours, whites, blues and greens will be seen, with texture and layering remaining a way to add a point of difference to a scheme."
"In terms of colours, whites blues and greens will be seen"
For a unique splash of colour, choose a classic Rayburn or Aga cooker, which are now available in a whole rainbow of shades – from blush pink to denim blue. As well as being the ultimate cooking device, the cast-iron appliances provide hot water and heating, making them a practical investment. M&J Abbs, based in Huntingdon, is the perfect port of call, with the company gearing up to open a new showroom where visitors can see the latest models.
For kitchen counters, meanwhile, Granite Transformations in Cambridge has a wide range of granite and quartz worktops that fit over the top of existing surfaces for an easy revamp. On trend are the Calacatta, Carrara and Arabescato marble finishes.
Sally Hinks, kitchen designer at Harvey Jones, endorses the look: "The main trends continue to be marble-look worktops with brushed brass hardware and either darkly painted cabinetry or warm neutrals. Simple open shelving continues to be popular on more contemporary designs as opposed to wall cabinets. The most popular flooring choices are herringbone flooring or patterned tiles, regardless of whether the overall feel is traditional or contemporary."