This Image: Make an investment with John lewis of Hungerford's Shaker kitchen, available in blossom pink and earl grey shades, kitchens start from £25,000
From a new colour palette to inspire you to glamorous burnished metals, this season's new trends will give an elegant feel to your home. Add in botanical prints and a dash of floral decor for schemes that are naturally stylish
With a new season comes a desire for renewal, not least when it comes to our homes. The new interior trends for spring-summer 2016 take their inspiration largely from the natural world with a hint of high-fashion style. Whatever room you want to refresh, take a note from these emerging styles to keep your house looking fresh.
Each year Pantone, the colour experts, announce their 'colours of the year' from which many designers and brands take inspiration. For 2016 the emphasis is on softer shades with Rose Quartz (a warm, rose pink) and Serenity (a cool, tranquil blue) being named as the shades that will dictate the way we dress our homes.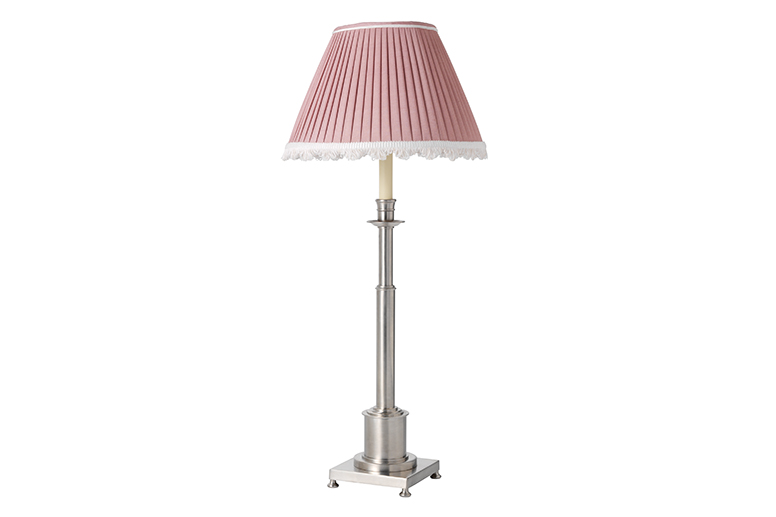 This Image: Small Telescopic Desk Lamp with pink shade, £625, Besselink & Jones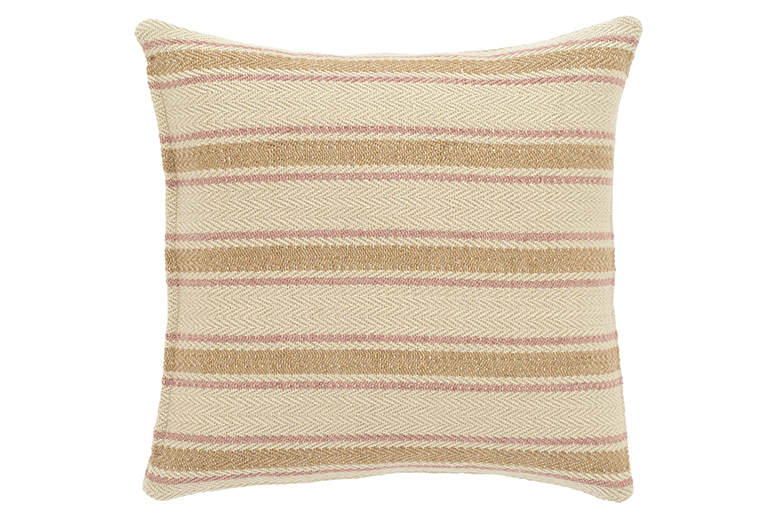 This Image: Fresh American Cushion, £58, Dash and Albert
The high street is awash with accessories in pale pink and hues of blue. Check out the dusty-pink, space-saving wall table at The Scandinavian Shop and the pretty rose light-shades at Besselink & Jones. Bert Frank's stunning matt, petrol-blue Revolve lamps are great investment pieces too.
Specialists in fabrics and upholstery, Cambridge design-house Barker and Barker offers a sky/pink stripe fabric called Serenity that is bang on trend. Janet Dixon, chief designer, gives her advice: "When using colour and fabric try to use something you really like that reflects your personality, even if it doesn't follow fashions. Trends come and go, so choosing something you love is important or you may end up with an expensive mistake! Colour and pattern make bold statements and can liven up a room. One of the easiest, cheapest ways to add these is to use cushions and throws. Adding weaves, patterns and prints in a colour is a good way to make a change so try to incorporate colours that work together and prints that won't conflict. Tone down a bold pattern with a plain, solid tonal colour – this will help to soften the look. Changing your curtains and sofa are another great option, but for a purse-friendly alternative decorative accessories are brilliant."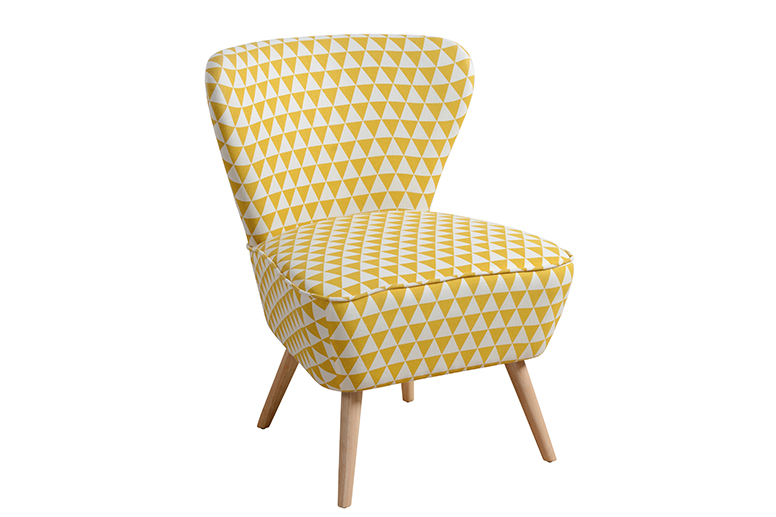 This Image: Delilah Occasional Chair, £74.99, MY Furniture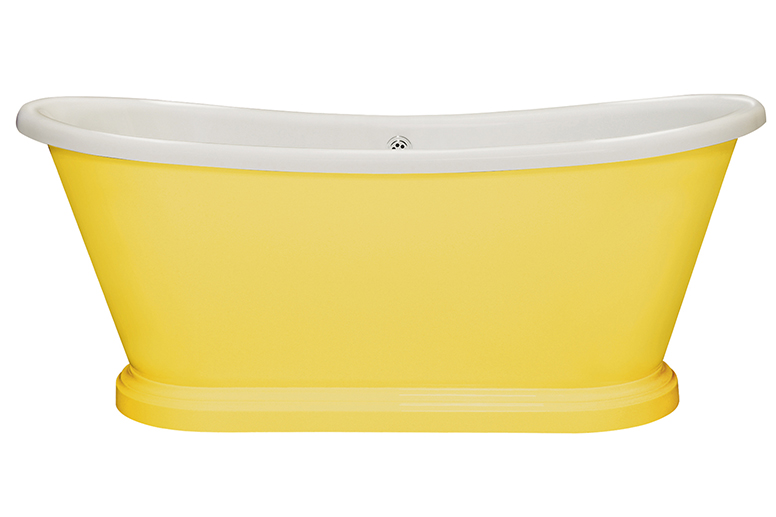 This Image: Acrylic Painted Boat Bath in Citron, from £1,554, BC Designs
Considered a 'new neutral', grey-pink can bring a sophisticated, gentle hue to walls. Teamed with gleaming bronze and flashes of neon yellow, blush tones can look instantly grown-up and elegant. Launching this month, Farrow & Ball's nine new colours for 2016 include the ethereal Peignoir as well as a range of so-called 'muted drabs'. This grey-pink has a romantic feel "inspired by the chiffon gowns in which ladies traditionally brushed their hair in boudoirs".
You can easily add hues of pink in rugs or cushions, or commit further by purchasing chairs and sofas in pale pink, such as those at Sofa Workshop. For lovers of the shade, why not go the whole way and invest in a pink Shaker-style kitchen, as seen at John Lewis of Hungerford?
The blue theme has perhaps more of a universal appeal with Delcor's baby-blue Chesterfield and Pavilion sofas particularly stylish choices. Sainsbury's Moroccan Blue collection is inspired by a bolder, electric blue giving the ultimate summer feel.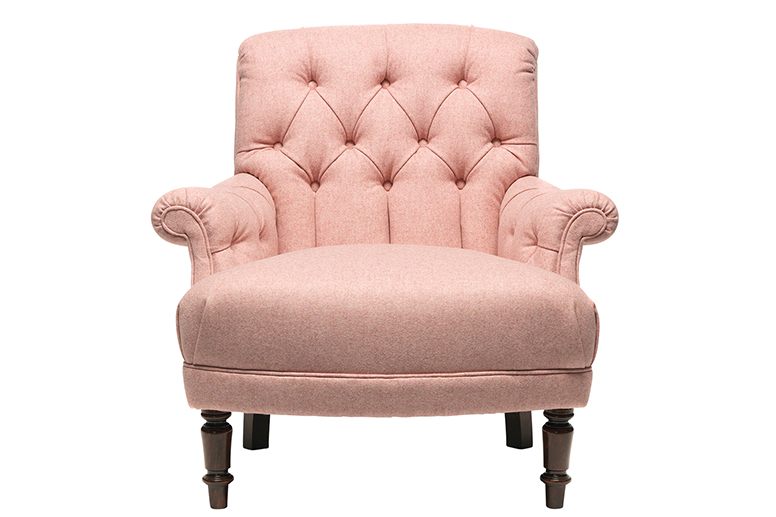 This Image: Sofa Workshop's The Hunter Chair in Moon Earth Candy, £1,699, is a subtle take on pink
Andrew Tanner, head of home design at Sainsbury's, comments: "The timeless pairing of classic blue and white invites us to embrace summer style. We've updated it by looking to the city of Casablanca, picking up prints and patterns from elaborate tile work, ikat and batik fabrics. This melting pot of influences resulted in a collection of beautiful ceramics inspired by decorative textiles that you might expect to find in Morocco."
For a fresh, modern feel, add touches of citrus yellow or bright white, in the form of accessories or one-off pieces of furniture, such as the occasional chairs and ottomans available at MY Furniture.
"Nothing adds a burst of sunshine to interiors like yellow. It blends well with pastels as well as darker shades making it a great choice for any room," says Sally Cutchie, sales coordinator at BC Designs, which sells a citron-painted Boat Bath that will give the wow factor to a bathroom. As part of its new collection of Architectural Paint colours, Paint and Paper Library offers Chinese Emperor – a dull yellow that contrasts the equally striking Plaster V (a mauve-pink) and Blue Blood (petrol blue).
Championing the return of white is Helen Shaw, marketing director at paint specialists Benjamin Moore UK: "White is transcendent, timeless and has an unrivalled versatility, that is why we chose Simply White OC-117 as our 2016 colour of the year. From the elegance of layered whites to bold contrasting schemes and warm rustic textured settings, white is not just a trend, it is an essential."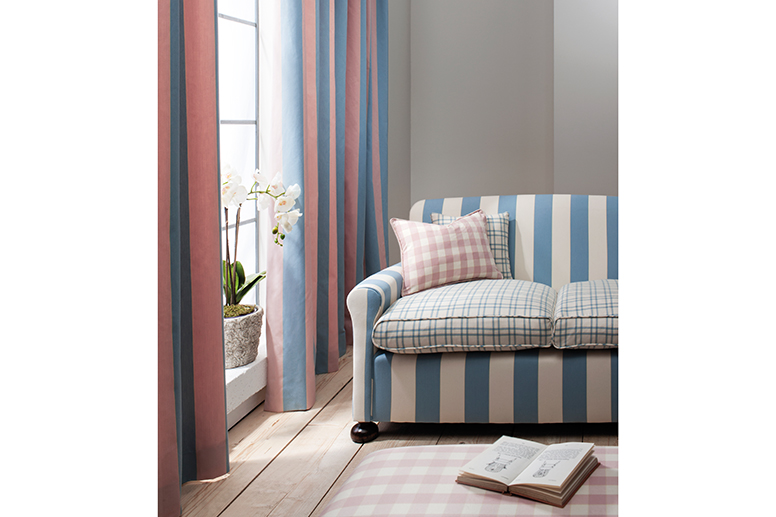 This Image: Barker and Barker's Serenity stripe fabric, £39 per metre, channels the trend