We look at what's been happening in the unique, new Cambridgeshire community
For some time now, Northstowe has been emerging as a thriving hub of activity in the area. Slowly, but surely, it has started to integrate with neighbouring towns and villages, improving life across the county. Whether you've never heard of it before, or want to find out more, you'll be pleased to know there's plenty going on. In fact, Northstowe is set to be the first 'proper' town built since Milton Keynes, and will have 10,000 homes once finished. 
Situated just over ten miles north of central Cambridge, the Northstowe community can be reached within half an hour by car, and the emerging town is about to become even more well-connected, thanks to a new road to the A14 roundabout (due to open in September). Northstowe also has its very own guided busway park and ride, with free parking, and a cycle path running alongside all the way to the Science Park, Cambridge North station and city centre. 
In terms of demographics, the residents are incredibly diverse. The thinking behind Northstowe, and its commitment to going green, is especially attractive to younger generations; House by Urban Splash is responsible for constructing Northstowe's eco-friendly homes, and each new one built is being thoroughly questioned in terms of its sustainability.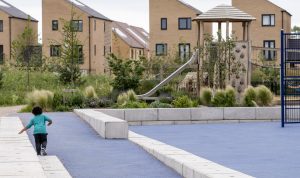 There's also a bustling community centre at the heart of the town, with lots of activities for both children and adults – and two more kids' parks opening soon. Northstowe's outdoor gym at Pioneer Park is already open, and with an electric bike hire service on the go, there's a myriad of ways to keep up an active lifestyle. And what's more, two new waterparks are opening this year (one in August and the second in September), offering lovely walks, open-water swimming and – in time – watersports.
Lots of small businesses are popping up in Northstowe, too, and the neighbourhood has become an integral part of the fantastic food scene we're accustomed to here in Cambridge. With lots of upcoming events, featuring some of the best local food and drink trucks (follow @northstowefoodies on socials to find out more), it's really worth keeping an eye on.
"It's exciting to live in a community that so many people want to get involved with," says Firouz Thompson, county councillor for Northstowe. 
"There's a real opportunity to do things differently and be sustainable. It's just a pleasure to be part of a place so diverse."