Gaze at the city skyline while you graze on gastronomic delights
A couple of months ago we brought you news of the new restaurant at The Varsity Hotel on Thompson Lane, which is now open for your feasting pleasure. Sitting pretty on the sixth floor of the boutique hotel, it boasts panoramic views of Cambridge, beautifully showcased by the floor to ceiling windows. Diners can enjoy 360 degree views of the city's skyline from their table at the restaurant, which is the result of a £2 million renovation and every inch the sleek urban eaterie.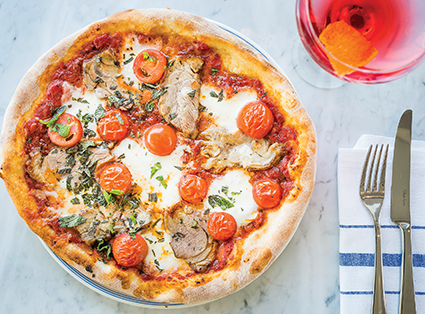 Chic monochrome tiles are matched with mustard bar stools, gleaming copper pillars and a hugely well-stocked bar that's straight out of a vintage Hollywood film.
Complementing The Varsity's existing restaurant, the River Bar Steakhouse & Grill, Six will offer a relaxed, informal menu created by head chef Angus Martin. There are authentic wood-fired pizzas, lip-smackingly good rotisserie chicken and a selection of small plates that include burrata cheese, bruschetta and maple roasted figs.
The pizzas are the jewel in Six's crown, and are handmade by a chef who hails from Naples, the pizza motherland. Created to a traditional recipe, they feature artisanal toppings including sugar cured salmon, veal meatballs and cream and fresh sage.
There's also an indulgent ice cream menu with sundaes like The Dusty Road: decadent coffee and chocolate ice creams, butterscotch sauce, cream and chocolate flakes. It's a great spot for drinks too, with a huge cocktail list, a large gin selection and an impressive wine list. We'll drink to that!