Charlotte Griffiths meets the duo behind the Cambridge Distillery, the local gin-makers putting our city on the map
After a conversation in a field while walking their much-loved Labrador Darcy, Lucy and Will Lowe decided to quit their jobs, start making gin, and set themselves up as the Cambridge Distillery. At the time Will was working in London as an educator in the wine trade, while Lucy worked at the Judge Business School in central Cambridge: but despite their 9 to 5 careers the couple were confident they'd eventually get round to creating a business for themselves. "We always knew that we'd end up powered by our interests," says Lucy. "Ever since I was little I'd wanted to do my own thing: I always hugely disliked routine, and didn't want to be at a desk from 9 to 5, and I loved the opportunities and freedom offered by working for yourself."
The couple started out by distilling gin in their living room in Histon, which certainly was one of the UK's smallest distilleries if not the tiniest (a shed in Scotland also claims to be in the running for the crown). The lack of available space played a part in their choice to approach distillation via vacuum, rather than large, hot, splashy copper stills, but it also gave Will and Lucy fine control over the process, and enabled them to extract maximum flavour from even the most delicate of botanicals. Each is distilled individually, in volumes of less than two litres at a time, to ensure that the freshest possible characteristics of the plant, flower, spice, fruit or berry – or whatever – are preserved: it's not the fastest route to creating gin, but it does guarantee something rather special at the end of the process.
"We were working every evening and weekend at the start: it was exciting – it was this little secret we had," Lucy says. That same year, the couple presented Will's father with his very own gin as a birthday gift, created specifically to challenge his long-standing complaint that no gin was dry enough. The couple gave their creation the fitting name "Professor Lowe's Raspingly Dry Gin" – and it was this spirit which caused the moment when the Lowes realised they'd struck on something special. "Will's uncle was staying with Will's father, and they'd run out of the gin we'd made," Lucy explained. "They offered Will's uncle any one of all the many other gins in the cupboard but in the absence of ours he refused, choosing a beer instead: that's when we knew…"
First came the tailored gins: created (as the 'Raspingly Dry Gin' was) specifically for individuals to meet their unique tastes and requirements. Tailoring clients sit down with Will to sample different botanical distillates, while he works slowly towards blending the client's perfect gin – a service which they still offer to this day, to some extremely high-end businesses, including British Airways, many Cambridge University colleges and the House of Lords, as well as discerning individuals looking for the 'pinnacle of spirits personalisation'. The couple are steadfastly discreet about which particular famous faces have come through the Distillery's doors, but will reveal that Olympians, actors and "national-treasure-status" TV presenters are amongst their alumni.
After tailoring, came the Seasonal Gins: biannual, limited edition spirits first exclusively stocked by London's Selfridges, created from botanicals harvested in the preceding six months. Lucy and Will had been collecting seasonal botanicals to use in the creation of their clients' tailored gins, but realised these distillates had additional potential as sapid recordings of the passing years.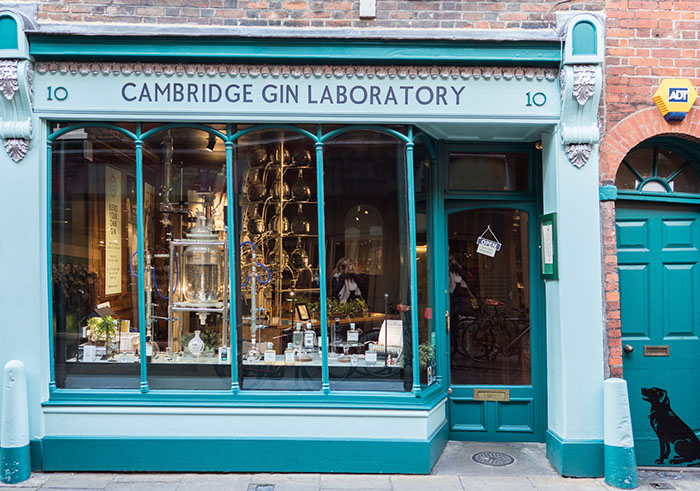 Despite their relatively low profile ("We had a Twitter account for the distillery, and I think this was around the very early days of Instagram, so nothing was happening there yet – and we had a website, which Will had built himself – but that was basically it," says Lucy), the sheer quality of the spirits being created by this duo was starting to attract national attention, and it was clear that the couple would have to make some changes.
"In 2012 Will went part-time with his job in London: I was first to give in my notice, so I could do all the admin behind the scenes," Lucy said. "We needed Will for the tailorings, of course, and then I did everything else around that – the bookings, invoicing and so on – and even distilling while he was still working. I remember giving in my notice and I was shaking, because it was such a big step for us: and my manager just went: "Oh, that's a shame, but best of luck" – it was such an anti-climax!" Lucy laughs.
In 2014 the Seasonal Gins were followed by Japanese Gin, the first in this now hugely popular sector, created from delicate Japanese flavours that were extractable via vacuum distillation and had been previously uncapturable in gin form – and then came their classic Cambridge Dry Gin, created from botanicals found in the couple's back garden, and the fields and hedgerows where they walked Darcy. There's also a gin made from ants – one of the world's most expensive gins – a truffle gin designed as a digestif and a never-ending line of monthly experimental spirits in the form of their limited-edition Prototype series: looking at their list of creations, it's fairly straightforward to understand why the distillery's been named three-consecutive times as the most innovative spirit-makers in the world.
The days of churning rotary evaporators burbling happily in the Lowes' living room are long gone: nowadays the couple head up a team of 30 across two sites: the Cambridge Gin Laboratory in the centre of our city, which teaches keen gin enthusiasts about the spirits they create, how to taste gin like a professional and even blend their very own bottle; and the Grantchester-based showroom and distillery itself. Lucy now heads up the branding and marketing side of the business while Will leads on product development and works closely with his sales team, developing relationships and introducing new clients to their ever-growing range of exceptional spirits – all still distilled, bottled and sealed by hand back in Cambridge.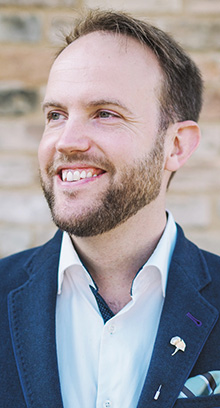 So, what's next? "We've got big plans," says Will (right). "Collaborations with names such as Cambridge University Botanic Garden and Cambridge Satchel Company are helping us speak to new audiences, all the while communicating the message of how we achieve previously impossible quality standards: fresh botanicals, individually distilled and expertly blended.
"We're proud of our beginnings in the living room at home but, whilst we're a local company, we have truly global aspirations. Cambridge has always been an international benchmark for academic quality: it will soon be known for world-leading gin, too."
As you might expect, building a business together as husband and wife does mean it's tricky to keep work and home life separate. "We do have regular meals out together, and we try our best to keep Sunday as a family day," Lucy says, "with big roast dinners and long dog walks – they're as sacred as they can be."
But no matter where the next few years might take this Cambridge-grown success story, there's one thing that's certain: they're still both happiest where the business began, out in the fields with Darcy, watching the seasons change.