Cambridge theatreland is offering a stellar line-up of festive treats for the whole family – here's a taste of what's in store
Beauty and the Beast
After the success of their sparklingly witty take on Around the World in 80 Days, Cambridge-based theatre company New International Encounter are back with a brand-new production of Beauty and the Beast, running from 6 to 31 December at Cambridge Junction.
Brimming with fairy-tale magic, the story follows the fates of a father and his three daughters, who find themselves suddenly destitute and living in a run-down farmhouse on the edge of a mysterious forest. Deep within lies a decrepit castle with a rather unusual inhabitant, who's beset by a terrible curse and soon to be discovered by the most daring of the daughters, beginning an altogether beastly love affair…
"It's just a great story," says director Alex Byrne when asked why they chose Beauty and the Beast. "It's a love story, but it's also an adventure story, and I like that the hero is a young woman – a gutsy female protagonist – who has to go and save the day and find the solution to the problem. I also like it because it's about families – it's about a father and his three daughters. And he has trouble with them; they're not always easy!
"But it's also a story about austerity – people who were very rich becoming very poor – and it asks, what does it mean to be rich? What does it mean to be beautiful? It interrogates those ideas."
In the fashion they're known for, New International Encounter are adding a modern edge to a classic favourite, with knowing winks to the adults in the audience together with a liberal sprinkling of magic dust to enthral children. There's live music, too, courtesy of the instrument-playing cast, while the setting of the production promises to provide a unique, immersive experience for the audience.
"Unusually for the Junction, this show will be in 'traverse', so there will be seats on two sides of the auditorium, with the action in the middle," says Alex of the staging. "There are two settings – the castle of the beast, with its ornamental garden which has fallen into ruin, and then there's the small cottage that the family move to after they go bankrupt in Paris, which will be a beautiful, autumnal clearing, full of autumn leaves and bits of trees hanging down."
Edition was lucky enough to sit in on an early rehearsal for this show and we can promise audience members are in for a treat – it's hilariously funny, a little bit edgy, and totally unlike any other Christmas show in town; a festive family treat you don't want to miss. Tickets start at £10.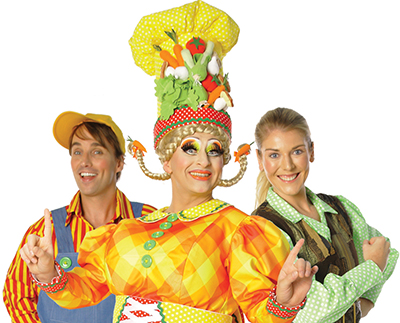 Dick Whittington
Promising to be the "biggest and best Christmas show in town", the Cambridge Arts Theatre presents Dick Whittington from 1 December to 8 January. Blending fantastic singalong tunes, dazzling dance routines, ritzy costumes and plenty of classic pantomine banter, this year's show is directed by West End veteran Carole Todd, whose previous credits include smash hit shows like Jesus Christ Superstar and Dreamboats and Petticoats.
The story follows down-on-his-luck hero Dick as he heads off to the gold-paved streets of London in search of fame, fortune, adventure and true love. When he arrives though, he finds that the city has been overrun by King Rat and his band of evil ratlings, who are causing chaos on their path to world domination.
Leading the cast is soap star Paul Nicholas – who comes to us fresh from playing EastEnders bad boy Gavin Sullivan, in the role of baddie King Rat – a role which the BAFTA-nominated actor is relishing.
"It's more fun to play villains than goodies," he says. "When I was young, I played all the good guys but it's so much more fun to be booed because you always get a reaction. It's easier to be nasty than nice.
"Cambridge is a lovely city," he continues. "It's a beautiful place to spend a panto season. There is a tradition of doing a first-class panto at the Arts Theatre; if you want value for money and an enjoyable time, then this is the best place to come to."
He's joined by Cambridge's number-one panto dame Matt Crosby, who returns to the Arts Theatre to play Sarah the Cook, as well as Robert Rees as Idle Jack and Holly Easterbrook in the title role of Dick Whittington.
Also starring are 20 talented local 'panto babes', who are all aged nine-13 and were cast at open auditions which were held earlier this year.
Tickets to this festive family extravaganza start at £16.50. See the Arts Theatre website for times and booking details.

Scrooge's Christmas
Over at the Mumford Theatre , enjoy an innovative reimagining of Charles Dickens' beloved A Christmas Carol on 20 and 21 December in a production brought to us by Infusion Physical Theatre.
Weaving mime, dance and circus artistry through the narrative, the cast retell the familiar story of miserly Scrooge and his visit from the ghost of his deceased business partner, forewarning him of a miserable fate after death. In an impressive display of aerial acrobats, contortion, juggling and dance, a parade of 'spirits' provide memories of Scrooge's past and visions of his future in a bid to make him change his avaricious ways.
As well as traditional carols, the show makes use of rock 'n' roll and silence to form the soundscape for the story, making for an altogether unique festive spectacle which will leave the whole family awestruck.
Adult tickets for Scrooge's Christmas are £12.50 and shows are at 3pm and 7.30pm on both days.

Saint Petersburg Classic Ballet
Promising to provide a breathtakingly beautiful Christmas treat, the Saint Petersburg Classic Ballet makes a return to the Corn Exchange this month with a pair of classic ballets.
On 30 and 31 December, spectacle and sparkle abound in The Nutcracker, a delightfully festive flight of fancy brought to life by the brilliance of Tchaikovsky's score. Join Clara and her Nutcracker Prince as they embark on a Christmas adventure, encountering fantastical characters and magical lands along the way.
On 1 January meanwhile, experience the heartbreaking beauty of Tchaikovsky's masterpiece Swan Lake; a tragic tale of love and betrayal set against one of the most famous classical scores of all time.
Tickets for both ballets start at £17.75.