Get your literary fix with a round up of new fiction to enjoy this February. Charlotte Griffiths rounds up her top picks 
Her Last Holiday, by C L Taylor
Sometimes you just need a book that you can chomp into and finish in one sitting, and if that's what you've been looking for – C L Taylor is the author for you. A new book from this megastar of the thriller world is always a hotly anticipated event, and Her Last Holiday is no exception: it's  packed with dynamic, highly developed characters, brilliantly unexpected twists that just keep on coming, as well as a totally bizarre – but therefore completely believable – set-up. Two years ago, Fran's sister Jenna disappeared while on a wellness retreat in Malta, and is presumed dead. Two other people died the same day due to the negligence of the charismatic Tom, the 'Soul Shrink' who led the life-changing experience. Having now served his time in prison, he's busily setting up a new retreat in Wales, so – encouraged by her grief-stricken mother – Fran conceals her identity and signs up for the Soul Shrink's latest experience, to try and reach the truth about Jenna. But who's actually calling the shots? Grab a blanket and your favourite bar of chocolate, and settle in for a ride…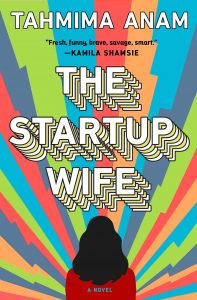 The Startup Wife, by Tahmima Anam 
This rollercoaster of a book begins with computer scientist Asha Ray and her friend Jules pitching their concept for a new social media platform to Utopia, a cutting-edge business incubator in downtown NYC. Their platform is loosely based on her PhD research, expanded by her enigmatic and charismatic husband Cyrus' interest in a replacement for organised religion. The site creates new rituals for people based on their own beliefs and experiences – generating an appropriately alternative take on a marriage, or a funeral for a pet, or whatever ritual was requested – which can then be shared with others with similar passions. Though that concept might sound interesting enough on its own, it's the relationships and challenges faced by the trio that make this book such a hit: questions like choosing business over academia, working with friends and partners, and surviving the media whirlwind that accompanies stratospheric success. It's perfect reading for those involved in start-up life, or anyone who works alongside loved ones.
Lie Beside Me, by Gytha Lodge
Cambridge-based author Gytha Lodge also has a new novel that hits the shelves this spring. Lie Beside Me is the next chapter in her series featuring detective Jonah Sheen, and is just as compelling as you'd expect from any work by this masterful plotter. The stage for Lie Beside Me is brilliantly set when a young woman wakes up hungover and discovers a man lying next to her. There are two things that immediately alarm her about this situation: firstly, the man isn't her husband and, secondly, he appears to be dead. From that explosive opening, this pacy and intricately-woven thriller continues at speed. The bewildered wife Louise quickly becomes Detective Sheen's main suspect – but did she actually do it? Lies pile on lies as the detective digs deeper and deeper into the complicated web of this poor young woman's life, uncovering uncomfortable truths via tricky questions that prod at readers as well as the characters, leaving everyone feeling guilty, though not perhaps of the crime being investigated… And if Louise didn't kill him, then the big question is, who did? 
Kololo Hill, by Neema Shah
"When you're left with nothing but your secrets, how do you start again?" asks writer Neema Shah on the cover of her first book, Kololo Hill. This moving story – inspired by her family background and events in Uganda in the 70s – follows newly-weds Asha and Pran, uprooted from the family home in Kampala and embarking on a turbulent journey which leads them to suburban England as just two of the 30,000 refugees who resettled in the UK. Abandoning the business he's worked so hard to build does not come naturally to Pran, and the young couple must adjust to rapidly changing, increasingly terrifying circumstances. This fascinating and eye-opening tale gives a glimpse into both domestic life and the impossible, life-altering decisions faced by the tens of thousands of people forced to flee Uganda under Idi Amin's dictatorship. Though fiction, Shah's story is extensively researched and rings extremely true: a beautifully written and deeply affecting debut.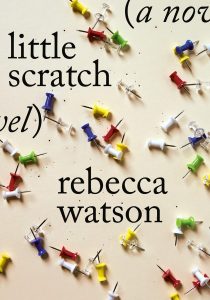 Little Scratch, by Rebecca Watson
A modernist, free-form, stream-of-consciousness ride through a day in the life of a nameless young woman who lives and works in central London, this book is like nothing else I've ever read. Once you get into the flow of the irregularly structured prose, you quickly start to marvel at this entirely accurate (and at times, very funny) depiction of just how many distracting thoughts pop into someone's head as they navigate each day. The choice of layout forces you to slow down – to truly appreciate each feeling that the protagonist experiences. Disjointed text and lines leaping across pages insist upon you paying proper attention to the narrator – but it's not long before her frustration at her perceived lack of success and fury at being on the receiving end of the wrong sort of attention – 'itemised', as she puts it, by male coworkers – bubbles to the surface. The 'little scratch' of the title doesn't sound like much, but it's her self-punishing way of managing the frustration and pain over time. It has scarred her; she is trapped by her trauma, haunted by what's happened to her and unable to shake the thoughts that echo, Groundhog Day style, through her brain at unprovoked moments. An astonishing and truly unforgettable first novel from journalist Rebecca Watson, this book is absolutely not to be missed, especially for the uncannily accurate depiction of pre-pandemic, humdrum, clock-watching life
in a modern office.