Above: Tina D'Angelico, Downing College
A study of key players at Cambridge University, and the characters beneath them, goes on display soon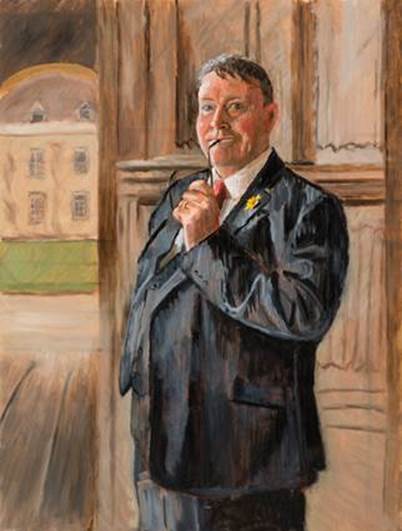 Cambridge University is a world famous institution, but one group of people all too often go under the radar.
Louise Riley-Smith had been painting portraits for 20 years when her husband Jonathan, a Fellow of Emmanuel College and a world authority on the Crusades, came up with an interesting idea, or perhaps challenge, for her latest body of work – to paint all the Cambridge head porters. Most, 22 of them, agreed.
The paintings will be on display at an exhibition at the Pitt Building, Trumpington Street, 18 to 25 June.
The porters are vital in overseeing the security and welfare of students and fellows. Their appearance matters, and wearing a uniform is part of their role.
Louise explained: "Far from being anonymous figures of authority, they each have a different approach according to their unique individual personalities.
"They chose what they would like to wear, medals for valour, top hats, Beefeaters Uniform, or a musketeer cape, sometimes reflecting their past in military service or police force. As with any other portrait I tried to capture each character in depth. I found humour and charm, and no hint of pretension."
Each sitting took six hours. One example, Gordon Murray, of Homerton, was formerly with the Household Cavalry. He runs a team of 12.
www.louiseriley-smith.co.uk Above: Kevin Cash, Christ's College
Below: Louise Riley-Smith, with Gordon Murray of Homerton College