In an unassuming shop down a quiet Cambridge street is a hidden den of decadence. In November last year Isabel 'Izzy' King opened Quiver, driven by her love of dressing up. But beyond the handmade corsets and vintage accessories displayed in her shop are a number of grown-up treats, should you wish to find them.
"The naughtiness in this shop is subtle," says Izzy. "It's primarily a corset and costume shop, but if people want to engage in something beyond these elements, then I've got a little box of mischief, as well as some delightful erotic art books, related literature and reproduction art to stimulate their creative sensibilities!
"I was an editor for a number of years, then worked for two years at Ann Summers, which is where I crystallised my ideas," says Izzy, explaining how Quiver came to be.
"I've always had a passion for period costume and 18th century literature. I did an English degree and became interested in erotic literature and the history of sexuality. I wanted to create a shop where people can come and chat. We're going to do evening events too, like a gin tasting and burlesque night at the end of April. I showed a 70s film called Maitresse a few days before 50 Shades came out. That was very successful."
Incidentally, where does she stand with 50 Shades of Grey?
Izzy pulls a face. "I've not seen the film but I have read the first two books. It's nothing to do with BDSM. It's a Cinderella fantasy: young virgin girl meets rich, powerful man… It's consumer porn. And it's not particularly consensual, nor is there much empowerment of women. I prefer quality erotic literature, like Colette and DH Lawrence."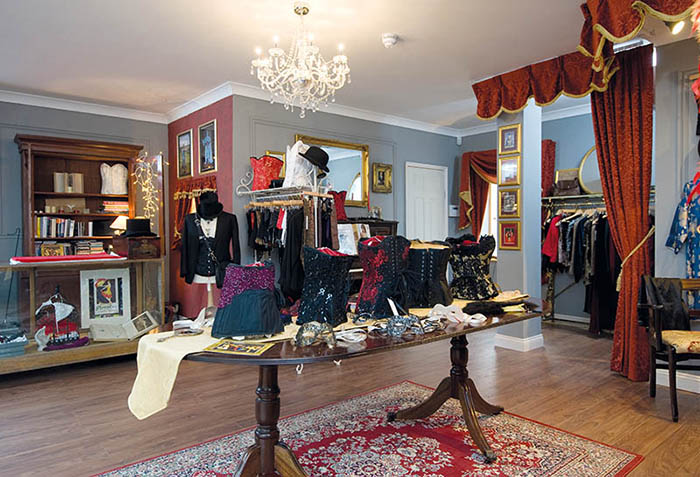 Izzy has exhibited at Neon Moon's burlesque events and is pleased to see such a thriving alternative scene in Cambridge. "Burlesque and swing is really popular in Cambridge, and there's a big Steampunk scene in Suffolk. Because we're all so casual in our everyday wear, I think people are crying out for a reason to dress up and be somebody else for the night."
Showing me round her boutique, she explains: "All my corsetry is made in the UK by companies that have been around since the 1890s. The masks are made in the UK too, apart from the filigree ones, which are from Venice. Our hosiery is made in France.
"Prices vary," she says, "but it's around £50 to hire a corset for three nights, and from £125-£600 to buy. But we've got ties from £4, and Izzie can make anything for anybody at a very reasonable cost."
Izzie Byers is the shop's seamstress extraordinaire: a costume design graduate with a passion for theatre. It's her beautiful creations you'll see in the shop window.
"I've always sewn, though I studied chemistry initially," she says. "But I knew I wanted to create things, and when I found out you could do costume degrees, that seemed perfect, as I love theatre too."
Do they have a typical customer? "Not really," continues Izzy. "We get everyone from students looking for vintage wear to gents wanting something for their wife. People love telling me about their sex lives – and I love listening! I'm quite unshockable," she laughs. "If I wasn't doing this I'd probably retrain as a sex therapist. Maybe that's what I'll do next…"
Despite Cambridge's conservative image – and being refused a city centre premises by one of the colleges – Quiver has been welcomed into the community with open arms.
"Everyone has been very nice," Izzy confirms, adding: "We're happy to chat and there's nothing scary in the shop. There's a playfulness to what we do; I'm definitely not out to shock."