Images by Ellie Kurttz
Nicola Foley steps back into the swinging 60's for the Corn Exchange's latest offering
A new musical shimmied into town last night (15 January), transporting an audience at the Corn Exchange to 1960s Baltimore for an evening of big tunes, big laughs and very, very big hair. It was of course Hairspray, the hit Broadway musical which comes our way as part of a UK tour. It's a story which seems to have a truly enduring appeal for audiences: originally a cult film in the 80s, it was turned into a Tony Award winning show in 2002, reworked for another film in 2007 and now it's back on the stage once more in this colourful and relentlessly energetic production.
It's straight into the action with Good Morning Baltimore, an upbeat, bouncy number sung by the lead, Freya Sutton, who reprises her role as the irrepressible Tracy Turnblad for this tour. She's immediately winning in her role as the big hearted girl with dreams of stardom, who's on a mission to follow her dreams and dance her way onto national TV. After her audition unexpectedly makes a star out of her, her modest life is turned upside down, and before long she's using her fame to fight for racial equality – not to mention the affections of heartthrob Link Larkin…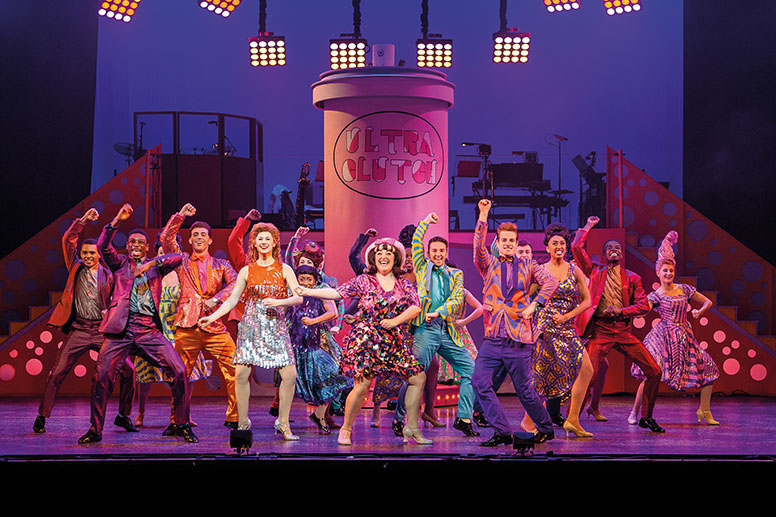 Sutton's vocal performance is effortlessly flawless throughout, and you find yourself rooting for Tracy right the way through – testament to her undeniable charm as a performer, as you get the sense Tracy is a character that might easily grate in the hands of the wrong actor.
Her family are equally well cast, especially Benidorm's Tony Maudsley as gruff matriarch Edna Tunblad – a character who elicits some of the biggest laughs from the crowd. Claire Sweeney, as ex beauty queen uber bitch Velma Von Tussle, belts out her numbers like a seasoned pro but there are powerhouse performances all round, especially that of Brenda Edwards as Motormouth Maybelle – who had the crowd spellbound by her spectacular, soulful rendition of I Know Where I've Been. A special shout out has to go to Dex Lee as Seaweed, too, whose incredible dance moves are magnetising.
There's serious talent all over though: I loved the sassy Dynamites trio, but the entire ensemble is excellent, and bursting with energy. In fact, that's the joy of this whole production ­– everything is charged with an energy that the audience can't help but get swept up in. By the final number, the fiendishly catchy You Can't Stop The Beat, the crowd is literally up on its feet dancing away with a collective cheesy grin on its face (yes, in Cambridge!). I think that's what you call feel good, folks …
Hairspray is at Cambridge Corn Exchange until 20 February. Tickets are £30-£40.