Cyrus Pundole gives the low-down on Watch Out: a festival of boundary-pushing theatre at Cambridge Junction
Do you like your theatre challenging, stimulating, humorous and thought-provoking? All of the above will feature in the offerings served up at Cambridge Junction's annual one-day festival of new theatre and dance, the aptly named WATCH OUT.
The experimental and unusual will feature throughout the venue from 12pm on Saturday 25 May, abounding with risk-taking and new ideas.
Part of the venue's ongoing commitment to the development of contemporary performance from regional, national and international artists, this year's festival is hosted by London-based performance artist Vijay Patel, who is noted for his boundary-crossing cabaret performances.
Finnish-Egyptian artist Samira Elagoz brings Cock Cock… Who's There? to the festival following a successful Edinburgh run last year, where it scooped a Total Theatre Award. Based on her personal experience of rape, Elagoz showcases gender relations and takes the audience on her journey of regaining power and attempting to relate to men. She explores desire, the power of femininity and the female gaze in a world in which the virtual and the real are intertwined.
Award-winning French choreographer Lola Maury returns to Cambridge following her recent performance at the Buddhist Centre with BROUHAHA, a new piece that mixes voice, multi-channel composition and movement.
Back at the festival are the "achingly hip and terrifyingly savage" (The Guardian) theatre company Made In China, with a work in progress of new piece Smithereens, while Belgian dance artist Hannah De Meyer presents Levitations, a piece where hope and despair, being and not being, sexuality, love and death rub shoulders.
Following her hugely popular Triple Threat a couple of years ago, Lucy McCormick is back with Life: Live!, a subversive, immersive narrative concept album about a woman who gets overwhelmed in a supermarket.
The experimental and the unusual will feature
With stadium-chic live visuals from Morven Mulgrew and original music written and performed by Lucy and her electrotrash Girl Squad, Life: Live! is a survival anthem for those of us who can't decide which shampoo to buy. Lucy is performing a 20-minute work-in-progress extract, with the full performance premiering in the autumn.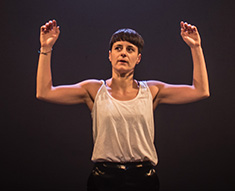 Ira Brand's Ways To Submit (right) focuses on dominance and submission, the ways in which we give in and the ways in which we take control – physically, psychologically, sexually and socially. Through the body, through language, and through structures of power. The piece invites you into a fantasy, a game, a dialogue: a series of duets in which power is at work.
Annoyed with politics? Luca Rutherford will be taking over the foyer with her Political Party Disco. Her attitude is that if you're fed up of talking about politics, dance it out instead.
Tickets for the whole of the festival are £25, and while you're milling around, grab a bite at MeatLess, Guerilla Kitchen's sister van, which will be outside serving food, with cocktails and craft ale available inside the venue.