Looking to meet new people, improve your health or just get out of the house? Here are some of the most active clubs in the city
Words by Alex Fice
Cambridge Phoenix Korfball Club
What is it?
"Phoenix is a friendly, inclusive korfball club based in Cambridge," says the club's chair, Mark Wassell. "What is korfball? Well, it's the world's only truly mixed-gender sport – similar to basketball and netball, but heaps more fun!" 
Is it for me?
"No matter whether you are looking to get fit, make new friends, or take part in competitive matches, our club has something for everyone," assures Mark. "Beginners welcome!" Korfball is an excellent choice for anyone looking for a team-based sport that allows them to unleash their competitive side.
What benefits can I expect to see?
Improve your fitness, build teamwork and release those endorphins!
Sign me up!
Try out korfball by joining Phoenix's weekly training sessions in the sports hall at Cambridge Regional College, every Monday from 8.15pm-9.30pm. Check out @PhoenixKorf on Facebook or visit the website.
cambridgekorfballphoenix.co.uk 
Be Military Fit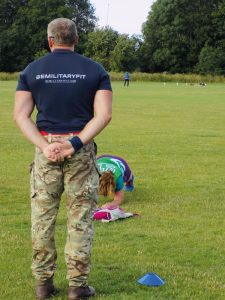 What is it?
BMF – Be Military Fit – offers outdoor exercises with service-trained instructors in inspiring locations. "BMF incorporates the latest military methodology, combined with cutting-edge training programmes to deliver results-driven workouts," explains Matt Culling, franchise owner and operator of BMF Cambridge. "Deeply rooted in community fitness, we provide fun, yet challenging drills."
Is it for me?
Members of the BMF community are dedicated and determined, ready to get stuck in and push themselves, whatever the weather. "Workouts are tailored to all abilities, and the BMF community here is thriving and welcomes newcomers – regardless of your fitness level – with open arms," says Matt.
What benefits can I expect to see?
Improvements in fitness, strength
and flexibility.
Sign me up! 
Classes are held in the picturesque surroundings of Coldham's Common. There's a wide range of subscriptions and packages available online. Try your first two sessions for free.
Blaze at David Lloyd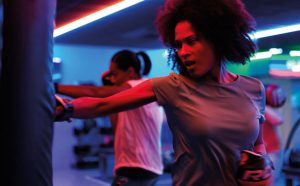 What is it?
These 45-minute classes will push you to the limit, as you rotate through a series of different HIIT exercises, including running, strength training and martial arts! Guided by a Myzone heart rate monitor, you'll be encouraged to work at various intensities throughout the session.
Is it for me?
If you want to lose yourself in an immersive workout that rewards effort rather than fitness, then Blaze
is the class for you.
What benefits can I expect to see?
According to Michelle Dand, group health and fitness manager at David Lloyd: "Blaze will expand your aerobic capacity, increase endurance and stamina – and improve speed." 
Sign me up!
You'll need to take out a membership to access this exclusive exercise experience. Being a member of a David Lloyd Club is more a lifestyle choice than a gym subscription, featuring a spa, pools and bar – so be prepared for higher prices than your local leisure centre!
Clubbercise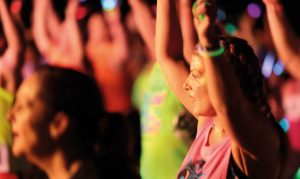 What is it?
Burn calories as you work out to the top hits from the 90s through to 2022! Clubbercise is held in a darkened room and recreates the atmosphere of a nightclub with disco lights,
glow sticks and optional neon attire – the brighter the better. Classes involve fun and
easy-to-follow dance routines that integrate cardio, toning and combat moves to burn
up to 600 calories per session.
Is it for me?
Clubbercise is perfect for anyone who'd rather be on the dance floor than in the gym!
What benefits can I expect to see?
Boosted physical and mental wellbeing, plus improved flexibility and coordination.
Sign me up!
Sessions are held at a host of local venues – locate your nearest by heading to the website and clicking 'find a class'. Each session typically costs around £6, in addition to a one-off £5 purchase of Clubbercise's trademark reusable glow sticks.
Cambridge Barre Workout
What is it?
Barre combines elements of dance with precise isometric movements and strength-building exercises. During the class, you'll use a range of equipment, including a ballet barre, resistance bands and hand weights. "Cambridge Barre Workout isn't a standard fitness class," says founder Emma Cuadrado. "We work every part of the body in an intelligent, intricate way. My goal is to help individuals move and understand their bodies – to live strong lives." 
Is it for me?
This class is suited to all abilities, but will appeal especially to those seeking low-impact training designed to increase stamina and strength. 
What benefits can I expect to see?
Improved posture, flexibility, stamina, core strength and muscle tone.
Sign me up!
Classes are held in person at Colours of Dance on Histon Road, Cambridge. These cost £10 per hour, or £6 for an online class. 
F45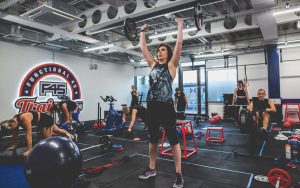 What is it?
The 'F' stands for functional training and the '45' indicates the length of every class. "F45 alternates between cardio and resistance full-body workouts," explains studio owner Sarah Craske. "You never repeat a workout – we have a new class every day, with different movements and equipment. This means you never get bored. With two coaches in our classes and unique technology, we are able to offer a personal training experience in a group environment."
Is it for me?
F45 is a great option if you like pushing your body to the max and really
feeling the burn!
What benefits can I expect to see?  
Improved energy levels, metabolic rate, strength and endurance.
Sign me up! 
Attend your first class in Cambridge for free, after which you can try a two-week trial for £49 – or jump straight in at the deep end, with ten classes for £185. Email [email protected] to book a class or
for further information. 
For more wellness ideas and inspiration, check out our articles on Dry January and Veganuary!