Lisa Clatworthy meets the city's joggers, shufflers and event volunteers, discovering a thriving community that goes far beyond pounding pavements
Not only is running great load-bearing exercise and something we need to build and maintain strong bones, it's also a fantastic way of making friends and bolstering communities. The good news is, there are plenty of established and burgeoning events to join around the area – despite the unfortunate non-return of one local legend, the much-mourned Cambridge Parkrun at Milton Country Park.
For the uninitiated, Parkruns are free, weekly community runs (usually 5k) that take place on weekend mornings, in parks and open spaces all over the world. The philosophy is about inclusivity and getting as many people into keeping active as possible – there's no time limit, no one finishes last and everyone is welcome.
Thankfully, for a guaranteed helping of endorphins on a Saturday morning, Parkrun operates seven events within easy reach of our city, including at Coldham's Common and the Wimpole Estate. The most recent addition to the family is Storey's Field at Eddington. 
When Parkrunners Paul and Helen learned of the site developers' desire to help the neighbourhood gel, they knew Parkrun could help. The event is thriving, with Paul telling us that "Storey's Field is already establishing that community feel".
Hang around at Eddington's cricket pavilion just before 9am on a Saturday morning, and you're guaranteed to meet runners, joggers and chatters arriving on foot – and by car, bike or bus from local residential areas. Stick around after the run, or pop your head into nearby cafes Dulcedo or Kota, and you'll find more Parkrunners. In fact, milling about at Eddington any time between 9.15am and 11am on Saturdays is a sure-fire way of meeting not just joggers, but volunteers for the events, too.
First steps
Without the volunteers, Parkruns can't happen. They're key to staging every event, whatever the weather, and crucial to building that friendly, community vibe. You can't run or watch a Parkrun without being buoyed by their dedication and encouragement, and whether you're trying to beat the course record, walk-running, pushing a buggy, or jogging and nattering – the volunteers will cheer you on.
Storey's Field Parkrun is also playing an important role in setting youngsters off on their running and volunteering journeys. Helpers at recent events have included a four-year-old (accompanied by their mum) as the tail-walker, and six-year-old Flo – who's just earned a T-shirt for volunteering an impressive 25 times. 
Demonstrating that there's community not just within, but across groups, you'll see members of many running organisations at each other's events – from Parkrunners marshalling charity runs, to the Longstanton & Northstowe Limpers helping out with local Parkruns.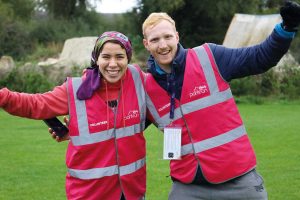 The Limpers, an amateur group with a social feel, is described by member Chris Poultney as "a liquorice allsorts running club", with members of all speeds and stages of their running lives. As he explains, they "arrange monthly away days, visiting local Parkruns both to run and volunteer". Proving the point, I find myself talking to Chris while he and fellow Limpers help out at the finishing line of Storey's Field Parkrun. 
Regular trips to Parkruns aren't their only events. They also organise outings to places like Thetford and Ickworth House, and have regular Monday social runs. They are open to everyone, but Wednesday sessions are for training with coaches – thanks to Living Sport funding. 
Chris explains that his club were originally the Longstanton Limpers, but opened their arms to new town Northstowe, changing their name to embrace the freshly minted community. The club has a place on the Northstowe Sports and Wellbeing committee, and has helped to foster the vibrant scene in the area, through running festivals and other initiatives. 
(Virtually) maintaining pace
Weathering the pandemic and lockdowns saw many groups embrace virtual runs, training sessions and events. Cambridge & Coleridge Athletic Club hosted remote training sessions, the Limpers implemented a remote Couch to 5k programme, and Cambridge Parkrun encouraged joggers to complete their own 5k, then submit their time online. That wasn't Cambridge Parkrun's only virtual adventure during the early stages of the pandemic, though. They also ventured to Cambridge, New Zealand – via Zoom.
Weathering the pandemic saw many groups embrace virtual runs
You could even enjoy the Cambridge Half Marathon virtually in March 2020, during the early phase of the pandemic. Among those taking advantage of this route to invigorate their community was a work-based group: the runners of the Royal Society of Chemistry. 
In more normal times, the group organise a weekly all-abilities run from their workplace. But with the office shut and everyone working from home, they took part in the virtual Cambridge Half Marathon. In fact, organisers Colin Batchelor and Laura Fisher tell me they had more colleagues joining in than they usually see at the in-person weekly runs. And some of them were brand-new employees, who'd joined as the pandemic hit – building on the group's ethos of developing friendships for those joining the company.
While the Royal Society of Chemistry group is just for employees, it's not the only organisation to have a condition for joining. Let's Run Girls, as the name suggests, is aimed at runners who identify as women. 
Dani Guy was prompted to establish Let's Run Girls because she'd felt intimidated by the male-dominated running club at university. She wanted a group for women – to empower women to empower themselves. The first Let's Run Girls appeared in 2016, and began with an initial intake who were tackling the Couch to 5k programme. That was the original concept: get women into running by encouraging and supporting them as they aimed for the 5k mark. "But the first cohort didn't want to leave!" says Dani. "So, we introduced a 'keep going' group and a beginner group." Five years later, many run leaders of the ten local bands started their active careers by getting off the sofa and joining the LRG community.
Each location began organically and operates slightly differently. "They all have their quirks, such as the early Saturday morning start at Sawston," says Dani. "But their commonality is that they all want to run together, for motivation."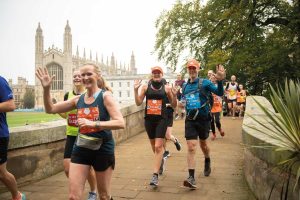 The enjoyment derived from running as one is what fuels Cambridge Running Group, says Chris Pointon. He describes them as "individuals who come together for a great run", whether that's a Sunday riverside 10k or Wednesday 5k session. They don't have a beginner programme, label anything as intermediate or with a certain pace, nor do they see themselves as a drinking club with a running problem. "That's the Hash House Harriers," laughs Chris, proving there's something for literally everyone. Instead, he describes CRG as "a running, chatting group for those who are already runners". 
It surprises me, talking to groups and clubs across the city, how many mention chatting. And I confess to being particularly surprised when Keith Clarke from Cambridge & Coleridge Athletic Club uses the word. They have a reputation for being speedy, after all – member Jonathan Escalante-Phillips won the 2021 Cambridge Half Marathon. But, as Keith explains, the club's community is built on togetherness, in all its forms: "For some, it's about training together – that feeling of learning and developing as one. For others, it's the fun of competing together, in a relay event for example. And some enjoy the communal aspect of simply jogging and conversing along the trails."
The finish line
For so many of our local groups, running is about community, not competition. Yes, there is an element of the racing mindset, but it's "a competitive drive to see you achieve", as Chris from CRG puts it – whether that's getting faster, going further or running more regularly. It's the empowering element that LRG's Dani mentions, and the encouraging vibe of a Parkrun; being generous with advice, experience and voice. It's about being a community of people who support and encourage each other to put one foot in front of the other. And whether you're a first timer, old timer, sub three-hour marathoner or chatty jogger – whether you're four or 84 – Cambridge has an amazing running community, ready and willing to cheer you on. 
Run Together
Whatever your tempo, there's a group or event to inspire you
Cambridge & Coleridge Athletic Club
A group geared towards promoting "community participation in healthy recreation by the provision of facilities for athletics". It offers free coaching and advice, free indoor training during winter at Cambridge University Sports Centre, plus other perks. 
Cambridge Hash House Harriers
By its own admission, "a drinking club with a running problem", this group enjoys non-competitive jogs around the countryside, followed by a few beers. The Hash House Harriers meet every Sunday throughout the year, starting at 11am sharp. 
Cambridge Running Group
A group for those of all ages/abilities who wish to get out and enjoy running with others. It caters to everyone, from total beginners to those training for competitive events, and has regular runs on Wednesdays and Sundays. The Green Dragon is a regular meeting point. 
Let's Run Girls Cambridge
This community of like-minded women welcomes beginners and improvers with open arms. Ideal for those hoping to enjoy a few laughs along their running journey; ten- to 12-week beginner blocks start in January, April and September.
Longstanton & Northstowe Limpers
Meeting each Monday at 7.30pm on the Northstowe Playing Fields, this group of amateur runners meets to train together in a social environment. All welcome, from first-timers to seasoned pros. 
Parkrun
A global phenomenon that brims with good vibes, Parkrun is a free, timed 5k run which takes place in green spaces around the world. Locally, join the fun at Coldham's Common, the Wimpole Estate, Fulbourn Hospital and Storey's Field at Eddington. Sign up at the Parkrun website, secure your barcode and be ready to run at 9am on Saturdays! 
TTP Cambridge Half Marathon
The highlight of the local running calendar, this race offers a beautiful route past famous landmarks. It's also one of the flattest half marathon courses in the UK – making it great for scoring a PB! The next diary date is 6 March.
If you're still not convinced running is for you, check out this article to find out what other fitness options Cambridge has on offer!