In celebration of Love Your Local Market Week (from 17 to 31 May), we sent
Alex Ruczaj to find out what Cambridge Central Market has to offer
I work in the centre of the city, and walk past the market most days and often at the weekend with my family. I occasionally buy flowers and may sometimes be tempted by a watermelon smoothie, or dragged to the Waffle stall by a hungry child (my own – not a random one). But I have to admit that I am more of an occasional market shopper than a regular, and realise by writing the above list that I am also someone who buys mainly from the outside stalls – rarely venturing in to the heart of the market to explore what else is on offer.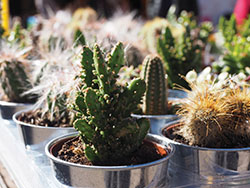 Cambridge's central market has been part of the fabric of the city centre since the middle ages and is one of the only remaining seven-days-a-week markets left in the country. In many ways, it's still a traditional market, offering everything from fruit, veg, and flowers to second-hand clothes and handmade gifts, but in recent years it has also seen a real growth in hot food stalls, meeting the demand for international street food. I resolve to immerse myself in market life for the day, to not just skirt around the edges but to explore all the market has to offer.
On a cold Tuesday morning the market is quiet, but the Rock and Crystal stall is busy. Mal Faloon has seen her business grow over seven years and is about to put herself through university as a result. As I wait whilst she serves a long queue of people who all want a conversation about fossils, rocks and crystals I can see why she's so busy: Mal is welcoming to all, encouraging visiting French students to pick up the stones, even if they don't want to buy, chatting and giving advice and information. She tells me, "the most important thing about markets is that they are one of the last bastions of community – regulars come every day, some have become friends."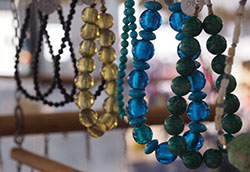 Next door to Mal is brand-new stallholder Sunny Bucktower, from Barley Buzz, who has been in the market for one month. "Our focus is on healthy eating, we do salad boxes and vegan and vegetarian food. All in biodegradable boxes."
The day I visit is a freezing cold 'spring' day and I tuck into a delicious lentil curry that warms me up no end. I ask Sunny what he did before the market. "I worked for a FTSE 100 company in an office. I always wanted to sit by a window." He beams at me and opens his arms wide. "Now my office is the market and I love it. This has been my dream and I am passionate about good food."
I have only been in the market for a short time and I am already inspired by the passion and dedication of the people that work here – the atmosphere between stallholders is very supportive and fun, and this seems to translate to customers too.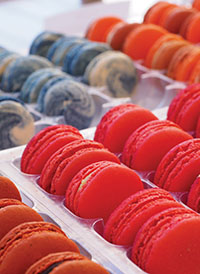 I pop round for a chat to Adam Stevens of Boston, the flower man as he's otherwise known – who tells me that the key to market success is "adapt!". He used to have flowers in cellophane ready to be plucked from the stall – but now he specialises in making up bespoke bunches of seasonal flowers. He didn't stop serving locally-grown tulips and daffodils for a minute whilst we chatted.
Of course, the story is not all of bustling trade. Tracey from the wonderful Emerald Foods has been on the market for over 20 years, and has seen the effect of 'click and shop' on her business. "Weekends and lunchtimes are still busy and we have lots of loyal customers, but there's not the foot fall within the market there once was." Rosie Moore, local councillor, tells me that there are plans to improve the market – "to make it a cleaner and more pleasant place to be, to make it more accessible. We want everyone's view on how to improve things and keep our market thriving."
Market Manager Dan Richie echoes this, and also tells me that these days the success of a market is more about customer service than pricing. "That is the traders' speciality – the friendliness of the market, their knowledge and customer service."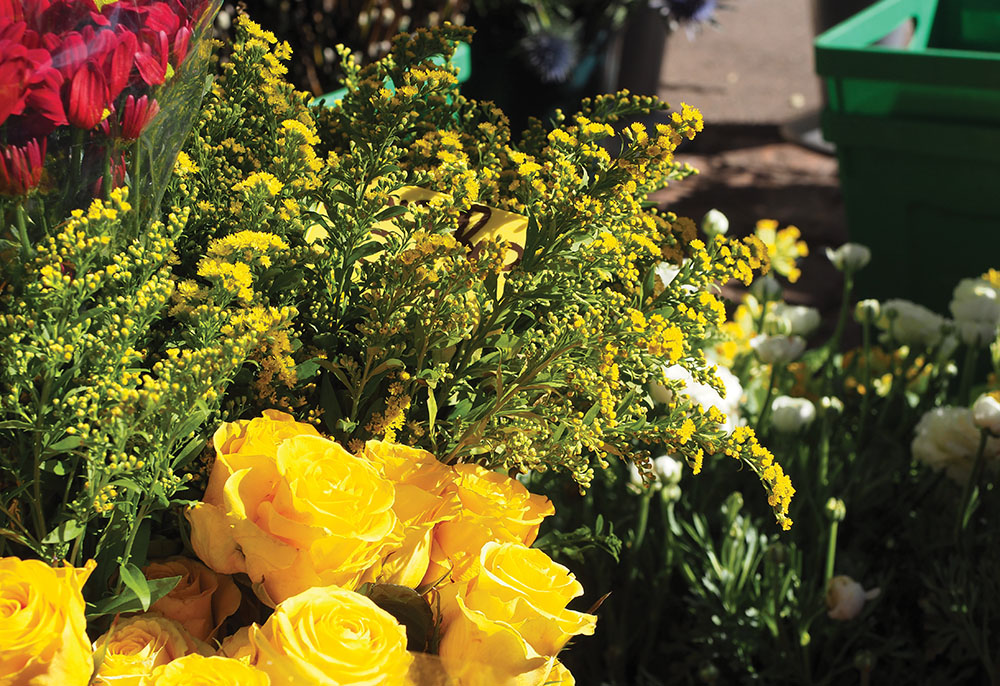 I see this for myself as I walk around and notice the different types of customer, from residents to day tripping students, that are chatting and laughing with stall holders. People are more inclined to stay and talk and to ask questions in the market environment. Different languages float around the market along with the mingle of different aromas from a multitude of countries, Nigeria, Spain, China, Brazil – the list goes on.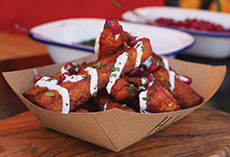 Dario, a brilliant Tuscan chef, chats with some Italians about his delicious pulled pork rolls. Mr Alison Cardosa assures a lady that his curries are not too spicy for her young son and informs her they were made fresh by his own mum that very morning. On the food side, much of the produce is sourced locally and seasonally, and then the hot food stall holders source their salad, veg, and bread from the market too – all working together to bring wonderful local, seasonal food and produce to customers.
When on holiday abroad, we often marvel at how Italian or French towns have fantastic markets and lament our own supermarket-led lives, but Cambridge is lucky enough to have its own market, brimming with local produce right in the centre of the city.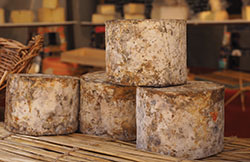 Side by side with the food and produce are some great services. You can get your phone fixed, trousers taken up, or your bike mended. The Bikeman stall has been on the market for 26 years, and bike mechanic Dima Tretjakov tells me they have customers that have been coming for that long. "We are busy all year around. We compete on price and we offer services that many bike shops don't."
Craft and gifts are also an important part of the market's offering, and along with the All Saints Market (Great British Market award winner 2018), the central market is brimming with handmade toys, picture frames and ceramics. I ask Dominique Leighton, from Peacock's Jewellery – part of the market for 12 years – why people buy from Peacock's rather than shop online. "With pearls and some of the special beads we use, people need to be able to see, touch and feel the product, so the market is the perfect place. Our designs are unique too. When people shop here they know they are getting something special." Dominique is another one who left corporate life to come to the market, but prefers the community spirit and the friendliness of market life. "Being outside, the atmosphere, the customers, and the support from the other stallholders, is why I love it."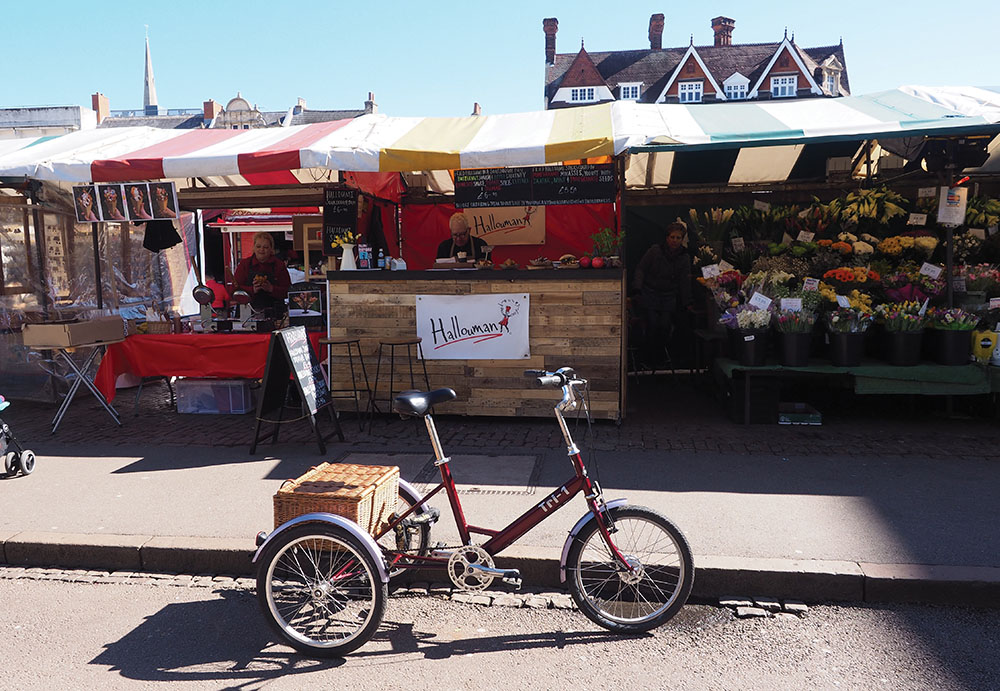 What strikes me is the fun customers and stall holders alike seem to have. There is an element of stepping back in time, when shopping was not about head-down rushing through the supermarket but a sociable, enjoyable day out to  see friends and interact with the community. With planned improvements to the way the market looks and to increasing places to 'dwell' a little longer, the future looks bright.
Cambridge market is an ever- changing patchwork of artisan offerings, run by passionate stall holders with a vast array of goods and services to choose from – you can shop cost-effectively in a sustainable, plastic-free way right in the centre of your city. Do yourself a favour and spend some time exploring, and fall back in love with your market.
HIDDEN GEMS
FOOD Dario Corrias, Grazie Cambridge, taught to cook by his grandmother in Sardinia, trained as a chef and making amazing fusion food (meat and vegan). Simon Currey, from Smoking Cow, all things beef: burgers, hot dogs and beef-dripping chips – mmm!
TOP VINTAGE Not one, but two great vinyl stalls: – North South Records and Matrix Vinyl. Great pre-loved books from Buckle Books, beautiful vintage clothes from Cambridge Market Retro.
ARTS/CRAFTS & GIFTS Wooden toys made with loving care by Ted Banuch combining his Polish heritage with his love of Cambridge; or check out the delightfully kitschy, quirky gifts from Lorraine Cheeseman's Three Little Birds Stall.
SUNDAY FUNDAY A change of style on Sundays with a mix of produce and craft. Brownbread stall for fine, non-processed fresh bread. Wild Country Organics – incredible local organic salad and veg. Red Poll Cattle – buy meat grazed a stone's throw away: plus an amazing array of art and crafts.
ELY MARKET
Cambridge isn't the only great local market on your doorstep. Ely, too, has a vibrant market with stalls selling everything from crafts to food. The team is launching mini-markets on Tuesdays, Wednesdays and Fridays, with stalls selling essentials such as fruit, vegetables, bread and coffee.
"They encourage people to shop locally and support small producers," said Julia Davis of Ely Markets. Buying little and often isn't just convenient, it cuts down on food waste and packaging.
"We want our markets to lead the way in helping residents take a more thoughtful approach to their shopping. We'd love to see people bringing their own containers." The mini-markets run from 8.30am to 3.30pm and complement the main markets on Thursdays, Saturdays and Sundays.