Children's theatre, fun, outdoor events and more kid-friendly activities in May
1 and 2 May
Truckfest
Celebrity guests, thousands of monster motors and live bands are just some of the highlights of Truckfest, which returns to Peterborough's East of England Showground on 1 and 2 May.
The showground will be home to truck races and a motorcycle stunt team for the weekend. Among the celebrity line-up will be Lisa Kelly and Todd Dewey from TV's Ice Road Truckers stars and Amy and Ronnie from American TV series Lizard Lick Towing Krew.
There's an extensive funfair featuring dodgems, zip wires, go karts, big wheels, zorbing and ghost trains. A Back to the Future star car and Star Wars characters will also be at the event.
www.truckfest.co.uk/peterborough
8 May
South Suffolk Show
The South Suffolk Show promises a relaxed rural family day out on 8 May at Ampton Racecourse, near Bury St Edmunds.
It's the 128th edition of the agricultural show that features sheep, pigs, horses, cattle and a whole host of attractions. There will be a craft marquee, food hall, countryside area, vintage farm machinery, trade stands and plenty of children's entertainment. Gates open at 8.30am and pre-show discounted tickets are available.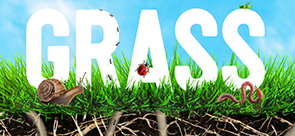 8 May
Grass
Combining dance with puppetry, projection, stories and audience interaction, this colourful and quirky show explores the micro world of grass and all its wriggly inhabitants. It comes our way courtesy of Second Hand Dance, a company which works with artists from a variety of disciplines to produce participatory and interactive dance experiences.
With just the right balance of silly fun and educational, insect-related facts, the show is designed for younger children and features worms, slugs, snails, dancing ants and more to inspire children to look closely at the world around them, get mucky and play.
It takes place on 8 May, at 11.30am and 2.30pm and costs £10 per adult and £6 per child.
12 May
Caution – Safety Goggles Required
Answering all life's big questions (such as why do beans make you fart? Why do our fingers go all wrinkly in the bath?), this science-tastic show will delight inquisitive minds, young and old. Taking place at Cambridge Junction on 12 May, Caution – Safety Goggles Required!, is presented by Greg Foot, celebrity scientist and regular on Channel 4's Saturday Brunch.
The format of the show is decided by the audience, who are invited to bring along their science questions or tweet them in advance to @gregfoot. He'll then stop at nothing to give answers, be it creating an indoor rainbow, launching a space rocket or using a giant flamethrower!
Suitable for all ages, the show starts at 7.30pm and costs £17.
22 May
Three Little Pigs
Join the mischievous Stuff and Nonsense Theatre Company this month for a performance of The Three Little Pigs at Cambridge Junction on 22 May. Through physical action, fantastic puppetry and a good dollop of imagination, they'll be discovering that building your own house isn't as easy as it looks. What's the best material to use? Will it keep out the rain? And most importantly, can it withstand the huffing and puffing of a big bad wolf?
Designed for ages two years and up, there's also a drop-in arts and crafts session just before the show free of charge.
Tickets are priced at £10 per adult and £6 per child. The show takes place at 11.30am and 2.30pm.
28 May
Space Jam Kid's Club Screening
With a bargain ticket price of just £1.50 (for adults and children), the Kid's Club screenings at the Arts Picturehouse are great value, as well as being a chance to introduce your little ones to some classic films on the big screen. This month it's the turn of 90s basketball romp Space Jam, which plays on 28 May at 11am. Combining live action with animation, the colourful comedy tells the story of NBA star Michael Jordan teaming up with the Looney Tunes to play a basketball game against aliens to determine their freedom. Nostalgia guaranteed.
29 and 30 May
Past Times Down on the Farm
Step back in time to the 1940s at Denny Abbey Farmland Museum, with the return of their celebration of the era on 29 and 30 May.
Re-enactors will be dressing up as members of the British and American armies plus the Home Guard, to bring the era back to life, and children can get creative with 1940s crafts and handle some of the museum's objects from the decade. There will be 40s tunes performed by Mike Ruff, plus vintage cars and vehicles. Don't miss this chance for a fun and informative look at the past.
www.dennyfarmlandmuseum.org.uk
29 and 30 May
Animal Attractions
Three arenas and a huge range of animals make Burghley Game and Country Fair an event that is not to be missed.
On 29 and 30 May at Burghley House, near Stamford, you can see disobedient ducks shepherded into a pen by sheepdogs, enjoy an impressive falconry display and be thrilled by the heats of the 2016 horse-boarding season.
Dogs can take part in chase the bunny contests (not a real bunny!) and there's an arena dedicated to our four-legged friends, with a huge range of pooch displays. Meanwhile children can meet alpacas and hamsters, ride a donkey and even pan for gold!
livingheritagecountryshows.com

31 May
Parents and Kids Baking class
If you've got a budding Jamie or Nigella on your hands but dread the mess that arrives whenever you let the kids loose in the kitchen, listen up! On 31 May, Cambridge Cookery School will host a morning of making and mastering the perfect macarons. Creating these delicate sugary globes in the prettiest of colours might seem ambitious for younger kids (and adults, frankly, if we're being honest), but you'll be in safe hands at Cambridge Cookery School. The talented team reckon they've created a foolproof recipe for these notoriously tricksy, but melt-in-the-mouth delicious little sweet treats.
There will be coffee, soft drinks and cake to enjoy at this hands-on class, and everyone will receive plenty of cake boxes to take home.
The class is suitable for parents and kids or teens and takes place from 10am to 12.30pm. Priced at £36.87-£77.87.
www.cambridgecookeryschool.com
31 May
Animal Carer Experience Day
The Wood Green Animal Centre in Godmanchester will host an Animal Carer Experience day on 31 May, giving animal lovers aged seven to 11 the chance to get hands-on with essential duties, whilst having loads of fun.
Taking place 10am-3pm, activities on the day will include health checking the guinea pigs, making enrichment toys, visiting the vet surgery and even having a go at dog training! The ticket price of £75 includes one free space for an accompanying adult, plus a goody bag and vouchers for lunch and the Wood Green shop.
31 May
Muddy Fingers
Got little ones that love nothing more than getting mucky in the great outdoors? We've got just the thing! On 31 May, wander over to Wandlebury Country Park where they're hosting a morning of fun for kids, taking place from 10am to 12pm. Suitable for ages from three to six years, accompanied by adults, the activities will include den building, basic tracking and making tree faces.
Bring along a snack and drink and dress for being outside and getting muddy! Costs £8 per child and £6 for members.