Images: Charlotte Griffiths
As Alex Rushmer cooks his last meal at the Hole in the Wall, he indulges in just a little nostalgia
On the evening of 30 June I cooked my final service at The Hole in the Wall.
Every table had been booked for weeks and it was a joy to see so many familiar faces filling the dining room of the restaurant that has become a second home to me over the previous six years. My initial instinct was to cook a menu of classics, a nostalgic nod to the dishes that I've created since 2011, but for some reason this glance to the past felt wrong and retrograde. I've never really been one for navel-gazing and, as everyone knows, nostalgia isn't what it used to be.
Instead, the chefs and I worked in the same way we always had: speaking to suppliers about what was good, and utilising the best produce we had available to create a menu that was of the moment rather than trying to recapture a time already gone.
I'm not ashamed to admit there were a few tears – and not just from myself but from every single member of the team who worked tirelessly by my side right to the very end. But there was also a sense of completion. The Hole in the Wall has been providing a place to eat, drink, laugh, socialise and celebrate for over half a millennia. To have viewed myself as anything more than a custodian for a brief moment in its awesome history would have been self-important and wrong.
I have always seen my role as one of stewardship, a short chapter in the lifetime of this wonderful establishment. I did the very best I could at making sure my tenure was successful and was able to do so by surrounding myself with people who cared about it as much as I did. By all accounts, we did a good job: glowing national reviews, awards aplenty and a great many very happy customers.
---
"I remain intensely proud of everything that was achieved"
---
But part of successful guardianship is knowing when it's time to move on. There was no one factor, single occurrence or lightning bolt moment at which my decision was made. Rather – in much the same way as our menus would shift from week to week until they were unrecognisable to those from three or four months previously – it was a creeping change brought on by factors internal and external.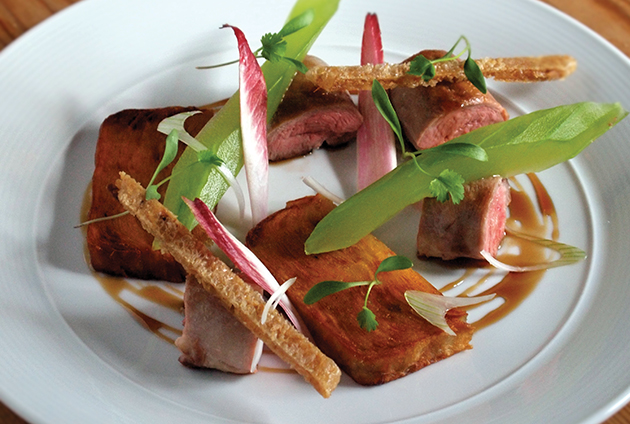 I remain immensely proud of everything that was achieved at The Hole in the Wall and would like to thank the thousands of you who supported our endeavours since we opened our doors. As a student of archaeology I learned that one theory of evolutionary progress goes by the name of 'punctuated equilibrium': long periods of stasis marked by short, but significant, moments of change.
Consider this a punctuation mark and definitely not the end.