Ingredients
For the Compote
• 1tbsp olive oil
• 2 medium red onions, sliced
• 20g brown sugar
• 1tsp red wine vinegar
• 20ml port
• salt and pepper
For the Dough
• 4g instant yeast
• 50g sugar
• 150g warm water
• 2 large eggs, whisked
• 400g bread flour
• 1/2tsp salt
• 60g softened butter
For the Filling
• 150g chorizo, thinly sliced
• 1tsp dried oregano
• 50g grated parmesan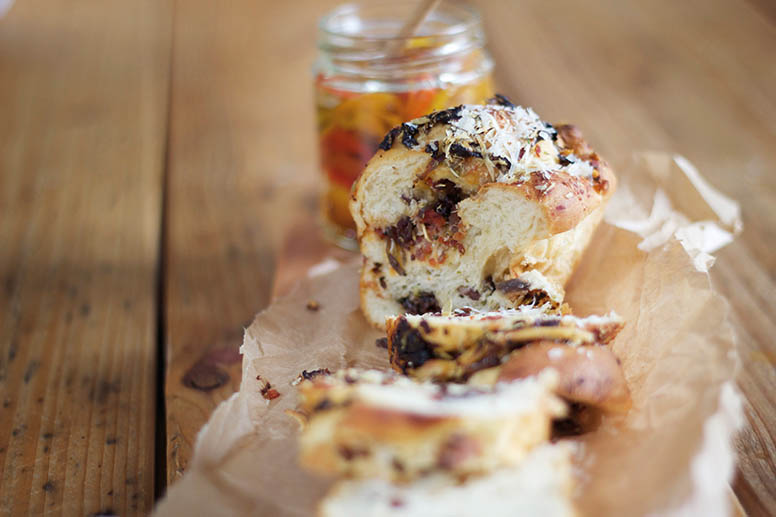 Step by step:
Compote
Place a large frying pan on a low heat. Add olive oil, onions, sugar, vinegar and port. Stir often until the onion is soft and translucent. Season with salt and pepper to taste. Set aside to cool.
Dough
In a large bowl mix together yeast, sugar and warm water. Let it sit until the yeast has dissolved. Add the eggs, followed by the flour and salt. Mix on low speed with your mixer's dough hook. Slowly add the softened butter. Increase the speed to medium and knead until the dough is shiny and stretchy. You should be able to stretch it enough to see through a 'window' in it. Oil a large bowl and place the kneaded dough in it. Cover and allow to rise in a warm place, for 1 hour or until it has doubled in size.
Making the babka

After the dough has risen, turn onto an oiled surface and thinly stretch with your hands to get a large square. Layer with the chorizo and the onion compote. Sprinkle with dried oregano and grated parmesan. Roll the dough tightly, as you would a swiss roll.

Line a loaf tin with parchment paper and place rolled dough in it. With scissors, snip sections of the dough to expose the filling. Allow to rise for a second time.

Preheat oven to 220°C. Brush with egg yolk and bake for 25-30 minutes at 180°C (convection oven, 200°C in a conventional oven) until golden brown.
Words and images by Stella Pereira
Stella Pereira is a cook, cake designer and artist, originally from Portugal and now living in Cambridge.
Visit her website at www.littlecakepot.com