Dining out should be both an experience and an education. It's all too easy to go for the same tried-and-tested favourites – at the same old restaurants – every time we venture out for a meal. I want to know what an establishment can do creatively with its resources and how it differs from the pub or restaurant down the road. And if they can serve me something I've never tried before, even better. Added to this, it's a rule in the Shelton household to never order anything you could easily make for yourself at home: if you're dining out, go all out.
As such, I was delighted by the exciting menu put before me on my recent visit to The Three Horseshoes, Madingley. I was met by an encyclopaedia of new terms and poetic phrases, from snow peas and milk shards to sea trout burnt in hay. The lamb cooked in a water bath also set my imagination ticking (for the similarly uneducated, it involves vacuum-sealing the meat with a little stock, then leaving it for in a temperature-controlled water bath. And I don't have one of those at home).
The smart conservatory restaurant, which could have come straight out of the pages of Period Living, was almost full when we took our seat for Sunday lunch. A step up from your local gastro pub, The Three Horseshoes is owned by Richard Stokes and focuses on fine dining with a British flavour. The menu changes with the seasons, so radishes, asparagus and spring lamb featured prominently on the afternoon of our visit. Having spied an excellent selection of desserts, I decided to go easy on the starters, choosing a bowl of plump, juicy Puglian olives, served with lemon zest to nibble; though I couldn't refuse the home-made sourdough with fennel butter, which arrived with a garnish of glistening, just-plucked radishes. My partner picked the Portland crab, a light, refreshing option served with squid ink.
Tempted though I was by everything on the 'Large plates' menu, I chose the Asian-inspired duck dish. There was lots to get your chops round: three pink duck breast morsels with crispy skin, tender scallops, pak choi and delicate pea shoots, sprinkled with crispy rice, adding a touch of chargrilled crunch, like a more serious, savoury popcorn. My partner's lamb dish was equally packed full of interest, with roasted sweetbreads (offal with a creamy flavour) and violetta artichoke, girolles accompanying succulent chunks of spring lamb, marinated in spring herbs. We'd ordered a side of grilled asparagus (buttery and delicious, with Parmesan shavings), though we'd add a serving of potato or some other carbohydrate next time.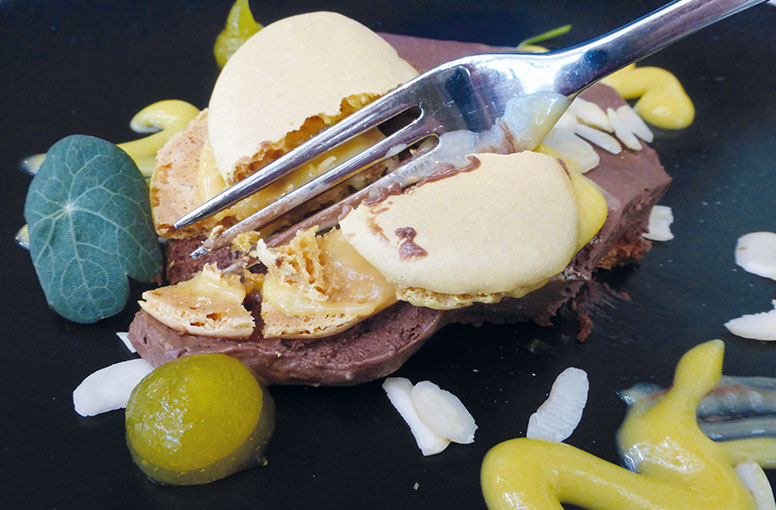 Happily, we had just enough room to order a chocolate mousse (with almond base, macaroon and passion fruit jus) and lemon posset (served in a glass with fresh raspberries and blueberries) apiece to round off our excellent meal.
A visit to The Three Horseshoes is a treat of an experience: imaginative dishes full of flavour; attentive, friendly staff; a wonderful atmosphere and a picturesque setting in one of Cambridge's prettiest surrounding villages. The restaurant itself is housed in a charming thatched building – you can't miss it. Prices are a reasonable £17-£20 for a good quality main, and we're sure to be back next time we've a family member who needs impressing. Plus, I still need to find out what milk shards are.
The Three Horseshoes, High Street, Madingley, 01954 210221
www.threehorseshoesmadingley.co.uk