Charlotte Griffiths checks out the latest addition to meat street
A lot can happen in seven years. 2010 is when Cambridge was infamously branded "the worst clone town in Britain", causing outrage on all sides – and though there are undoubtedly still many branches of popular chain stores in our city centre, these days you'll also stumble on no end of independent shops and eateries doing a roaring trade to residents and tourists alike. We're a discerning bunch, us Cambridgeites: we'll no longer just accept a flat-pack roll out. It has to be something special to earn (and keep) a place on our high street.
It was also back in 2010 that Phil Eeles and Tom Barton, two friends based in Brighton, started dreaming about a burger restaurant that would keep it simple and focus on two things: quality ingredients and quality burgers. The pair called themselves Honest Burgers, and started testing their concept at local festivals before taking the plunge with a permanent home in London's Brixton Market. The rave reviews poured in and other outposts quickly followed around the city, building a small and successful empire of meat-based burger goodness. Flash forward to 2017, and the chain has come of age with its 21st site (and first outside our capital) at 1 Corn Exchange Street, slap bang in the centre of Cambridge.
---
"The chutney is made to a secret recipe"
---
Fans of "Meat Street", aka the Bene't Street area, will remember Reys, a relatively short-lived fried-chicken restaurant backed by Pizza Express, who took ownership of and renovated 1 Corn Exchange after the legendary Red Cow pub closed its doors. Honest moved in during the spring of 2017, and has kept much of the interior look and feel of its predecessor, while still bringing their own contemporary and welcoming style to the space. If you look around the restaurant, you can find a single survivor of Reys' branding that's been kept for posterity – but we're not giving away the secret: you'll have to visit Honest to uncover that particular Easter Egg for yourself.
All of Honest's restaurants have a small but perfectly formed menu of around seven classic burgers which appear in every one of the chain's locations, but it's definitely not a rubber-stamp exercise: there are subtle variations between establishments which – for the Cambridge branch – comes in the form of a burger that takes our city's name. The Cambridge Special consists of one of Honest's beef patties served medium pink with a melting slab of Baron Bigod Brie, crisp smoked bacon, apple and onion chutney plus pickles and mixed leaves, all served up in a lightly-toasted brioche-ish bun. As well as being delicious, it's also a great example of the group's desire to celebrate local produce and suppliers: the brie and the chutney comes from the Cambridge Cheese Company and is fetched weekly from the store on All Saints Passage, then walked back across the city to Honest's kitchens. The chutney is made to a secret recipe, specially and exclusively for Honest: if you want to try it, you'll need to order this burger.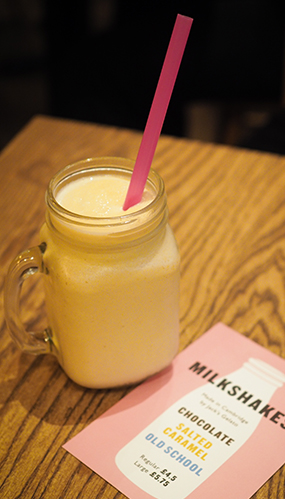 The drinks we chose continued the Cambridgeshire theme: I had a Local G&T made with gin crafted for Honest by The Cambridge Distillery using six locally foraged botanicals including rosemary and lemon verbena. This was served with Fever Tree tonic, plus a slice of pink grapefruit and aromatic mint: perfectly refreshing and a great counter to the juicy burgers. My friend had one of Honest's milkshakes, which are designed by Jack's Gelato from further up the road – she went for the salted caramel version and after she'd got over her brain freeze, declared it like "drinking ice cream". No bad thing at all.
Alongside her milkshake, my veggie pal was enjoying Honest's cauliflower-based Market Vegetable Fritter, which was lightly spiced with a cumin-type flavour, drizzled with cooling yoghurt and served in the same toasted bun as its meaty cousins. Though the star of the show is definitely the beef-based burgers which made them such a success, Honest are accommodating of dietary requirements: gluten-free buns are available and there's a kids' menu which consists of the same food as the adults' menu, just half-sized and half priced accordingly.
Every burger on the menu comes with chips as standard, and while you can now pick up skin-on rosemary-salted fries at various different burger joints, there's plenty of evidence to suggest that it was actually Honest's early restaurant in Brixton that helped propel this side into the spotlight. They're part squidgy, part crispy – a halfway house between a roast potato and a classic fry, and designed well for dipping in errant burger juice or a sploodge of sauce. Restaurant manager Rocci was also quick to point out that the legendary finger-lickin' side is created fresh by their kitchen team every day, and not frozen or shuttled around the country from a central base.
In the interest of research we added even more sides to the table: a nest of onion rings plus a refreshing apple, beetroot and red cabbage coleslaw – which was a nice balance to the meatilicious burger – and a bacon gravy for chip dippage. "I find you can only really have one onion ring," my friend declared, while picking up what would be her third of the evening from the rustling stack. These were good: chunkily cut, just the right amount of greasiness, with well-cooked onion enclosed in crisp batter – everything you want if you're hungry enough to need sides.
These days you're spoiled for choice on Meat Street, so a place has got to be worth it to draw you in. Although Honest might have more than one branch, calling them a chain feels like a misnomer: they've embedded nicely by working with exceptional local suppliers and still have that commitment to quality which earned them their reputation. A visit is well worth the time, money and calories involved.