Image: Daisy Dickinson
Charlotte Griffiths discovers that this in-hotel eatery is much more than a handy option for out-of-towners
Dining in a hotel can sometimes be a risky venture. Within the UK's larger cities you'll often find high-profile chefs nestling within hostelries, but the further you travel from the metropolises, the less likely you are to encounter such pleasing pairings. You're never completely sure if the level of attention paid to decor is matched by the quality of the offering from an establishment's restaurant, so many travelling foodies often disregard their hotel's in-house option, choosing to venture forth rather than risk a disappointing experience. Of course, bold culinary adventures should never be discouraged – but if you're arriving late, if you're tired, or if you just don't want to roam further than your hotel's front door, an on-site restaurant is a welcome feature.
Thank goodness, therefore, for the Hotel du Vin group, which prides itself on offering reliably delicious bistro-style eateries that more than live up to the high expectations set by their hotels' opulent interiors; and Cambridge's outpost is no exception to the rule. The Bistro du Vin that's found within our city's Hotel du Vin isn't just for resident guests: their small but perfectly formed restaurant is regularly packed with locals enjoying the hotel's dependably tasty dining options, all heavily influenced by both French and British culinary traditions.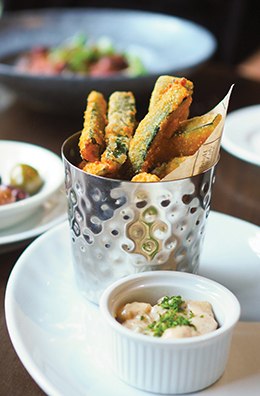 My dining partner and I visited the Cambridge Bistro du Vin on a Saturday evening, and although the cosy restaurant was empty upon our arrival, the room swiftly filled with other guests until a lively buzz filled the air. We sat near the establishment's windows to people-watch, and enjoyed the recommended aperitif of a sloe gin champagne spritz while the summer evening dwindled outside. The hotel's idyllic location on Trumpington Street gave us plenty to gaze at: cyclists skimming past, wedding guests decanting from the hotel itself and even a bride and groom making their way to the next stage of their celebrations.
I opted for the bistro's signature Severn & Wye smoked salmon to start, followed by the unusual-sounding porchetta 'French onion soup'; while my companion plumped for the salt-baked beetroot with whipped goats' cheese, and a main course of aubergine caponata and grilled halloumi with flatbreads. A perfectly chilled bottle of Duc de Morny Picpoul de Pinet was a fruity yet elegant accompaniment to our midsummer meal.
Silver-service breads swiftly arrived tableside, and our dishes followed in quick succession: my friend's beetroot starter was deemed delicate and ideally suited to summer dining, while my salmon arrived in unexpectedly dramatic style under a glass dome filled with woodsmoke, which wafted its way around our table and lent a theatrical note to proceedings. Image: Charlotte Griffiths
Our main courses were hearty and delicious: the aubergine caponata was warming without being overpowering, while my intriguingly-titled porchetta arrived under a blanket of sticky sweet onion soup, topped with a single strip of crackling and a wafer-thin parmesan crisp. We split a bucket of courgette fries, which retained a delicious crunch and came in very handy for mopping up the last remnants of caponata sauce.
For dessert my friend chose an elegant white chocolate and pistachio parfait which arrived topped with a dramatic tuille crisp and zingy blackcurrant jelly cubes. For my own final course, I followed a personal belief that when dining in the city which put the burnt cream on the map, one should never turn down a crème brulee – and once again, this was proved to be a wise strategy. The Bistro du Vin's version is a classic, with just the right depth of vanilla-speckled creaminess and a perfectly crackable sugar lid.
If you're looking for an eatery in which to while away a summer evening over dependably delicious food, you couldn't do much better than the Bistro du Vin: the intimate dining room has a wonderfully relaxing atmosphere, and the staff couldn't be more attentive. And of course, if you do find yourself wishing the experience wouldn't end, you could always extend your stay by checking in to one of the boutique suites just a few steps upstairs – possibly the perfect conclusion to a night out in this charming corner of our city.
Hotel du Vin, 15-19 Trumpington St, Cambridge