Cambridge isn't slacking these days in the sandwich department, but those served up at Bread & Meat are held on something of a pedestal by local foodies, and rightly so.
Located in the heart of the city centre on Bene't Street, this hip little eaterie can be found in the building formerly home to Benet's Café. It first opened for business last October, joining a clutch of other fantastic independent cafés and restaurants in what's fast becoming known as the new foodie quarter of Cambridge (known as 'Meat Street' for the heavy emphasis on meaty dishes served up by the likes of Bread & Meat, Pint Shop and Smokeworks).
Behind the venture are Simon Cheney and his wife Michelle, who, keen to escape the corporate rat race, had long harboured ambitions to set up a restaurant together. Their search for the perfect premises was a long one, but they both knew they'd struck gold when they eventually happened across number 4, Bene't Street.
On the Monday lunchtime of my visit, Cambridge was unseasonably drizzly and grey, making the cosy glow of Bread & Meat even more appealing than usual. There's something immediately welcoming about the place, with its retro red and white tiles, vintage style furniture and smiley staff. Grabbing a table at the window (FYI, one of the best spots in Cambridge for people watching), my lunch date and I perused the menu.
Bread & Meat is focused in its offering, with just a small selection of gourmet sandwiches, the odd salad and soup, and a few sides to choose between (we didn't try it but loved the look of the poutine – a Canadian comfort food which consists of chips, gravy and cheese curds).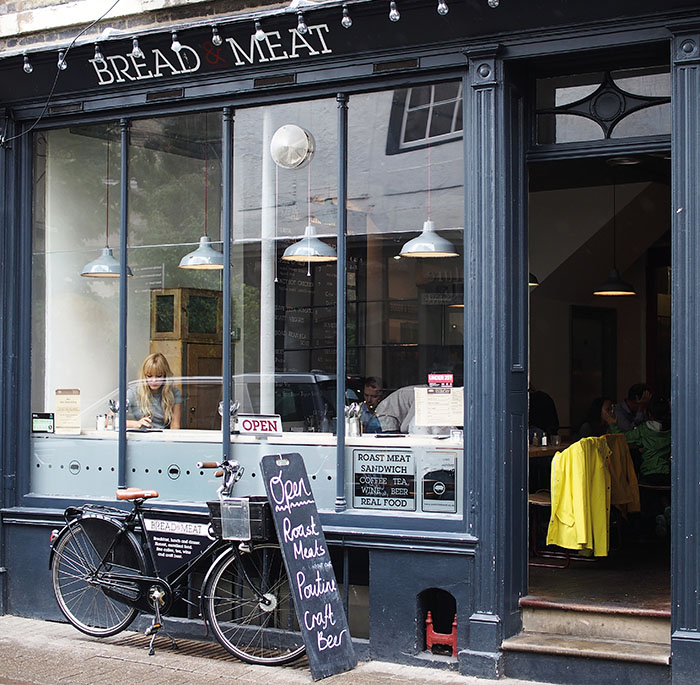 First up, I sampled the house speciality, the porchetta – which sits impressively by the counter and fills the café with the delicious aroma of roast pork. Traditionally, this Italian dish (which hails from the Lazio region) uses the body of a whole pig that's been deboned, stuffed and roasted. The Bread & Meat take uses just the middle of the animal – tender and juicy – which is slow-roasted overnight and rolled with garlic, rosemary, thyme, sage and white pepper. The chunks of roasted meat are succulent and full of flavour, topped with light-as-air crackling and served with a deliciously piquant salsa verde that cuts through the fatty meat, adding a freshness.
On the recommendation of owner Simon, I also sampled the staff's current favourite: the jerk chicken ciabatta. Another triumph, the charred flavour of the chicken with its lip-smacking marinade had a kick of heat, nestled in with a generous heap of creamy homemade slaw. It came in a freshly home-baked ciabatta, which masterfully struck the balance of slightly chewy crust and a spongy, airy interior. Clearly a simple dish but also one which could so easily have been let down by a single component being slightly off (ciabatta too hard, chicken too dry, wrong balance of ingredients, etc), but Bread & Meat totally nail it.
Given the name of the place, you might justifiably assume that the options for my vegetarian dining partner would be scant, but there's a few solid choices on the day of our visit. She opted for the roast vegetable ciabatta, which came loaded with herby, oily Mediterranean veg and hunks of tangy feta, drizzled in Bread & Meat's salsa verde.
We didn't expect to be blown away by our shared side order of wedges, but again the café has elevated this simple side dish into something to write home about. Made with Desiree potatoes, the huge hand-cut wedges are steamed, then cooled, cooked again, making for a perfectly squidgy texture, then seasoned to perfection – served with a dollop of homemade garlic aioli. I implore you to try these and tell me you can find better in Cambridge.
Sadly we didn't have room for a pudding, but if you want something sweet you can choose between treats like brownies, pastries and Eton Mess. There's an excellent selection of craft beers and wines too.
Overall, I was yet again impressed by Bread & Meat; their concise vision and the panache with which they execute it. The menu is small, which means less choice, but also, crucially, that each and every offering is perfectly honed and consistently excellent. They get extra points for being available for home delivery on Deliveroo.co.uk too, and the café is now open late till 9pm Tuesdays to Saturdays, making it the perfect place for an evening pit stop, perhaps before you meander down the road to the Corn Exchange for a show or gig. Highly recommended.