Celebrate in Mexican style at The Snug as they launch their 'Day of the Dead' celebrations across the weekend from Friday 31 October through to Sunday 2 November.
Both the Grafton and Lensfield Road bars will be transformed to offer a little taste of Mexico during the festivities from 6pm till late every day.
All Day of the Dead cocktails, using premium Mexican tequila, will be two for the price of one for Happy Hour (and all day Sunday): choose from the B-52 or Black Bull shots (£4.45) to get the party started, with longer drinks only £7.50 each. The Voodoo Child (Olmeca, Kahlua, Orgeat and Lime Juice), Hog's Breath (Olmeca, Kahlua, fresh lime and cola) or El Diablo (Kahlua, Olmeca, fresh lime and topped with lemonade) are all long drinks made using premium Mexican spirits.
Day of the Dead is a traditional Mexican celebration which crosses over with Halloween. In Mexico families and friends gather to remember friends and family who have died and to celebrate life.
Indulge your wicked side at Neon Moon's grand Halloween Ball, taking place at The Guildhall, central Cambridge, on 1 November, 8pm-2am. Step through the double doors, tip-toe up the sweeping stone staircase to join in a decadent, glamorous evening reminiscent of the romance of times past. Drink and dance with wild abandon until the early hours and discover the glittering spectres that appear at the thirteenth hour… Whirl across the spectacular Victorian dancefloor, gasp at impossible feats of trickery and illusion and encounter ethereal enchantresses in the moonlight…
Performers will include emerald-haired dynamo Bruise Violet, illusionist Equador the Wizard, pin-up darling Tabitha Taboo and Khandie Khisses, back by popular demand. As well as exotic performances, there'll be a photo booth, vintage boutique selling gorgeous garments, treats and trinkets to adorn your outfit or take home, plus a 'Steampunk Insectarium', featuring creepy crawly critters. The dress code is vintage and burlesque with a Halloween twist: let your imagination loose! Tickets are £28 in advance, £35 on the door.
Explore the haunted history of Cambridge with an eerie evening of ghoulish gastronomy and ghastly ghosts. This event will start with a guided tour of the haunted walkways of this ancient city then, as dusk settles, the tour will return to the hotel's in-house restaurant, The River Bar Steakhouse, where the evening will finish with a three-course feast including devilled chorizo, severed loin of beef and pumpkin patch & pecan nut pie.
The evening will be hosted in partnership with the Cambridge Tour Company, providing a completely unique way to explore this fascinating city. The tour promises to be both chilling and informative, revealing Cambridge's hidden history. Cambridge has an exceptional history packed with ghoulish happenings, gruesome deaths and the unexplained, all of which feature in this terrifying tour. Populated for over 3,500 years, the city has been occupied by the Romans, Saxons and Vikings and, in the 1300s, the area was ravaged by the Black Death, which wiped out almost all of the area's inhabitants.
Both hotel guests and locals are welcome, and tickets with dinner are available to book at £40 per person. The first of the evening's tours will begin at 6:30pm, followed by dinner at 7:30pm and the second tour will commence at 8.30pm in a circular tour that starts and finishes at the hotel.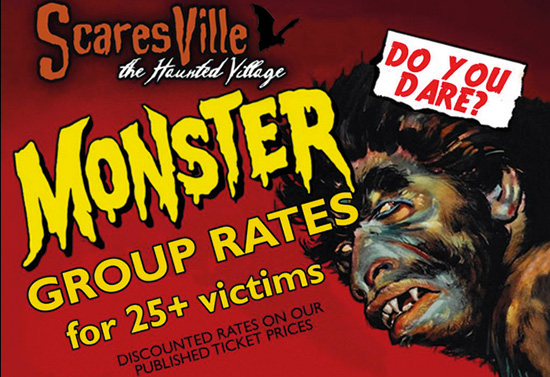 Possibly the most fantastically frightening event in the East of England, Scaresville returns to Kentwell Hall for another year of live scaring from 10 October. Running over selected nights until 1 November, it sees an entire haunted village constructed in the grounds of the Elizabethan Hall. Guests then set off for an hour of adrenaline- fuelled excitement as they journey through dark rooms, forests and open farmland, all the while hoping to avoid the 'scarers'. Scaresville is strictly for over 14s, but little terrors are invited to Scaresville's Little Monster, an event involving Halloween fun in the house and grounds. Dress up in your best Halloween outfit for double the fun.
Take to the water for a spooky, moonlit tour of Cambridge with Lets Go Punting, offering 'Spook-tacular' Halloween Ghost Tours. Punts depart all day until 9pm, though for the full effect make sure to book for the hours of darkness. Learn about the various supernatural sightings that have occurred in our historic city over the centuries as you glide under bridges and pass by towering trees silhouetted against the night sky. Even if you've punted before, a night punt – silent and atmospheric without the daytime crowds – is an experience not to be missed.
Says Lets Go Punting's Adam Elliot: "The last one we did there was a beautiful eerie mist which perfectly settled around the colleges as well as a great white full moon. We couldn't have asked for more." Prices are £150 per boat (seats 11).
READ MORE
:: Top ideas for families in Cambridge this Halloween