This image: Simon Munnery
Gags galore and surreal laughs for January

There's a busy month of laughs planned at Cambridge Junction this month, kicking off with Miles Jupp, who brings his Songs of Freedom show to the venue on the 8th. Miles, who you might recognise from the television show Rev., will be attempting to make sense of identity, manners, hipsters, social media and the opposite sex in his own inimitable style.
He's followed on the 13th by Andrew Lawrence, who's show is billed as "full of morally repugnant, borderline criminal material in the very poorest taste." Not one for the easily offended then, we'd venture, but one thing's for sure – you can expect some very close-to-the-bone comedy.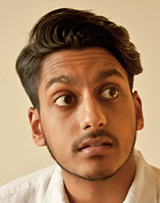 Next up, on the 20th, catch Ahir Shah (left), who's bringing his Machines tour to town – offering a politically-charged dose of stand-up which takes a frank and funny look at the more alarming elements of international politics.
Finally, the award-winning Simon Munnery stops by on the 27th, serving up his brand-new show Standing Still. Described by The Guardian as a "must-see for any comedy connoisseur", his new show features skits, poems and plenty of wry observations.