As the first anniversary of the lgbtq+ night approaches, we caught up with Diarmuid Hester to find out what Club Urania has achieved over the last year
Words by Alex Fice
Club Urania first landed on Cambridge's nightlife scene in February 2022. It set out to provide a space for Cambridge's queer people and their allies to meet, watch performances by members of the LGBTQ+ community and dance the night away. It joined a legacy of queer club nights such as Dot Cotton and the more recent Rebel Rebel, promising to create something almost otherworldly, where all expressions of gender and sexuality would be welcomed.
One year on, Club Urania has a cult following – attracting newcomers and regulars (self-professed 'Uranians') to its events at Cambridge Junction, which run once a month during its spring and autumn seasons. These take the form of either a more intimate, cabaret-style affair or a large-scale club night with live DJs and dancing until 3am – both of which have become instant hits with Cambridge's LGBTQ+ community.
"When we started, we didn't have much of an idea about who would like the thing we had imagined. As it turns out, a lot of people did," says Diarmuid Hester, who helped create Club Urania with Ema Boswood (arts producer at the Junction), Rosie Cooper (director of Wysing Arts Centre), Hannah Wallis, Chloe Page, Celia Willoughby and Roeland van der Heiden.
"Many were really eager to have another queer space – one that would come back every month; others were interested in seeing a diverse range of LGBTQ performance," he continues. "When people think about queer performance, they often think of the likes of RuPaul – which obviously has a place – but queer culture is richer than one commercial example on the Beeb."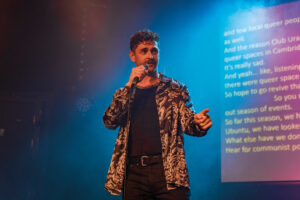 Club Urania offers a more alternative line-up of queer performance that's often mesmerising, sometimes bizarre and always diverse. Each show includes an open mic, which allows locals to come and try their acts on a supportive audience. "We've had some interesting performers come forward, some of whom have gone on to play the main stage at Cambridge Pride," says Diarmuid. "We're happy to be broadening people's perspectives on queer culture, as well as offering a space where people can try out new things."
Club Urania's organisers have also worked hard to ensure their nights are as accessible as possible. "We provide live captioning – we do this every single night, regardless of whether it's a big event in J1 or one of the smaller nights in J3," explains Diarmuid. "We've also got variable pricing, with a 'pay what you feel' option – so nobody's turned away for lack of funds."
Having succeeded in what it set out to achieve, Club Urania is keen to keep growing as it moves into its second year. In April, Club Urania will be collaborating with the disability arts festival – I'm Here, Where Are You? – and there's talk of a queer arts festival under the banner of Club Urania in Cambridge this summer.
For its organisers, another long-term priority will be to create a permanent physical space for Cambridge's queer community, such as a bar or cafe. "We're eager to continue collaborating with people and groups to try and achieve a place where local LGBTQ+ groups can gather and feel welcome at any time – not just once a month," says Diarmuid.
Club Urania returns on 17 February, featuring a show by class act Katie Greenall, who will be testing out her new work-in-progress show, Blubber. For more information and to get tickets, head to junction.co.uk.