Wesley Freeman-Smith highlights local singer-songwriter Will Robert as one to watch in 2016
It's proving a good start to 2016 for singer-songwriter Will Robert. Recent years have seen the musician gradually working his way to being one of the most accomplished musicians of the genre, slowly but surely building a dedicated fanbase through countless live shows, immeasurable hours busking and his excellent debut LP, Transitions, in 2014. It's only fitting then that all this hard work culminates with a headline UK tour, opening this very month, as Will continues his upward trajectory after being playlisted by none other than BBC Radio 1 recently.
Starting in January, he'll be bringing his well-honed songcraft first to Norwich and then onwards to the rest of the country; home town Cambridge falls somewhere towards the end on 11 February. As attendees of open mic nights everywhere know, the male soloist is something of a common feature in most music scenes. It's possible to think that if you've heard one guy with an acoustic guitar you've heard them all, right? Not so. To echo the words of Fatea magazine's wonderful online review, Will Robert is "not only an exceptionally proficient guitarist who has developed a very specific percussive guitar style; he is also an admirable multi-instrumentalist, a wonderful singer and a remarkable producer." This praise can be extended to include his lyrics – songs with a positive, optimistic outlook that rise from the darkness, eschewing much of the navel-gazing usually associated with singer-songwriters.
---
"It's this talent that's led Will to bridge the gap between stage and street"
---
It's this talent that has led Will to bridge the gap between stage and street, having earned his wings busking to strangers – intercepting them on their ways to and fro where you can catch their fascination and/or indifference towards your existence. The pipe dream of being heard by a passing record company boss and signed there and then is rarer than a friendly swan, but the benefit of busking is in the serendipity of it all – the connection you can build through music with an audience you'd never otherwise meet.
In Cambridge, where you can't walk five minutes without some plum covering Hallelujah, it's easy to take street music for granted. Perhaps it might be best to view the disparate multitude of entertainers as forming a competitive market rather than as oversaturation; no matter how many people are standing on street corners with their instruments in hand, you still stop entranced when someone's doing something truly special with theirs. For Will, taking something so personal out in such a public way was a voluntary baptism of fire. "I had no idea if people would want to listen to my songs. Busking seemed like the ultimate test in a way – just putting yourself out there on a street and playing music is a terrifying thing to begin with."
It's also the best way to develop your confidence, your craft and a good rapport with audiences. People's reactions are instantaneous: "when you see a positive reaction from people who quite often aren't expecting to see music it's quite an amazing feeling."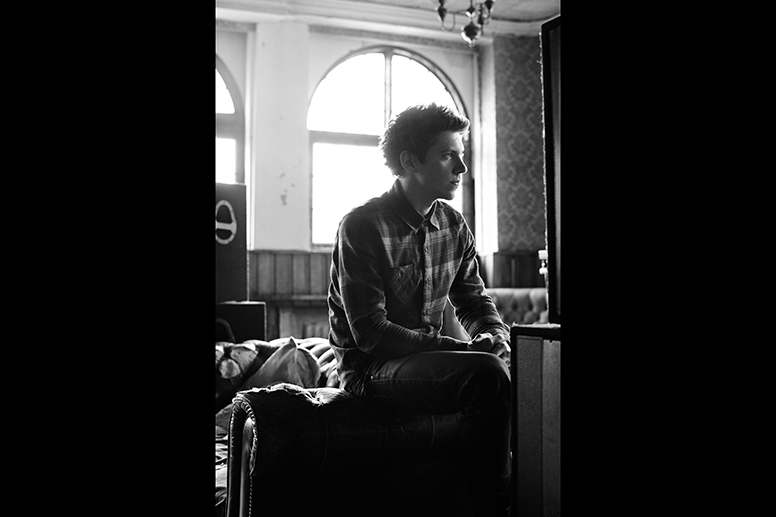 It's a feeling that's taken him all over the UK and to Europe (Germany, at the time of writing). People on the continent are exceedingly welcoming to street musicians, says Will, Germans especially. "I've made some great friends over the last year or so, people who have helped me out with places to stay and putting me in contact with promoters and venues." He was even spotted in Hamburg by a presenter from Radio Hamburg, who swooped in to invite Will to record a session in his studio – excitingly close to the myth of being stolen from the wilds by some wealthy benefactor with a record contract for you to sign. A quick search on YouTube will reveal plenty of similar sessions – acoustic takes captured on film in kitchens, studios and in one 12th century Cambridge chapel. What's immediately apparent to anyone who's heard but not seen Will do his thing is that his playing is incredibly tactile; holding his guitar in lap, he uses the body and face of the guitar percussively, fingers tapping strings as well as the usual strumming, pecking and plucking. While not alone in this style of playing, the pairing of this with his accomplished writing is what makes his performances so distinctive.
"I write everything on an acoustic guitar," Will tells us. "That's the way I always perform the songs live. When I start recording I always put the guitar track down first and then build other instruments around it if I feel it will add something to the recording… sometimes that process will influence how I then perform the tracks live." True to his word, if you were to listen from album to live performance there's never a sense that his songs lose anything in translation; his music puts the guitar at the centre of everything he does, his playing ably encompassing all the songs need to be.
---
"I'd like to think there is hope and optimism in my songs"
---
And these are songs that have been about for a long time. Transitions collects together material written and developed over a period of many years, providing plenty of time for them to grow into themselves and mature. Each song was developed individually, not necessarily with the idea of making an album – consequentially they're not songs that second-guess themselves or compromise for the sake of fitting into an other whole. How does it feel to have them all down? "To get the finished and packaged product back was quite satisfying. They were written over a such a long period, so it represents a lot of time and effort to me." I bet it feels marvellous.
"I suppose the hope for most artists is that people will want to continue listening to your music for some time. But for me I write a lot about problems or challenges in my life that I've had to deal with, and I'd like to think that there is a hope and optimism in my songs that others might take from them."
Sounds like exactly what the world needs right now. Will makes the return flight from his touring adventures in early February, alighting on Cambridge Junction on the 11th; tickets are £8.50 in advance. Be sure to show him a warm welcome that will give the Germans a run for their money