Have you ever met the man or woman who never gets stressed, has no aches and pains and sleeps like a baby every night? I haven't, and if I did, I'd give them something to worry about.
We all have busy lives, be it with work or family, and it's easy to forget to schedule ourselves some time out now and then to reset our lives to 'normal'. I'm currently neck-deep in wedding planning, which is exciting and wonderful, but involves more than a healthy amount of time thinking about tablecloths and bunting. Baby brain? I think Bride Brain might also be a thing.
With just under two months to go until 'I do', husband-to-be and I decided to whisk ourselves off for a much-needed weekend away. We love the picture-postcard Suffolk town of Lavenham, with its wonky timber houses, antique shops and cute cafes; and with a new spa just opened at The Swan hotel, we didn't need much more persuasion to return.
The Swan is one of the most iconic of Lavenham's wonderful jumble of listed buildings, many of which have stood for over 500 years: a reminder of Lavenham's history as a prominent wool-trading town. It already boasts a two-AA Rosette restaurant and 45 luxury rooms, and in March this year the former posting house added Weavers' House Spa to its offerings. Happily, this new, serene space slots in nicely with the building's heritage, with wooden beams used amongst the full-length glass walls and polished, pristine floors.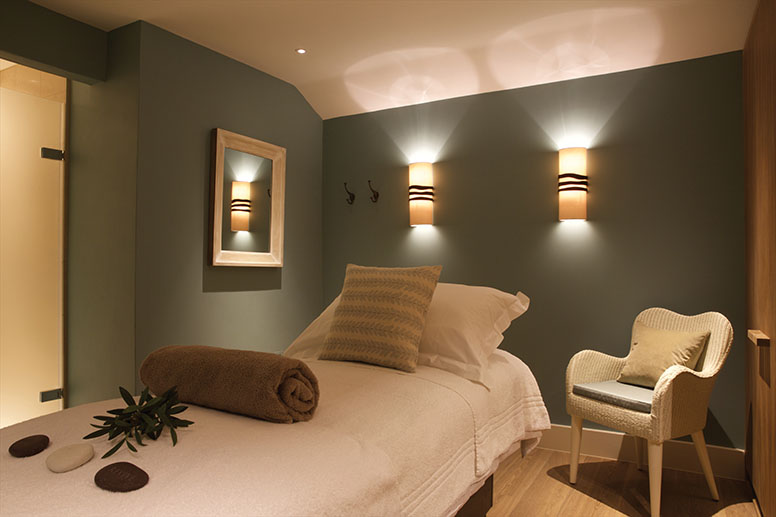 After slipping into a cloud-like robe (seriously, it took fluffy to whole new levels) and slippers we joined our therapists for a friendly consultation and a cleansing avocado smoothie, already feeling like we'd escaped into our own little bubble of tranquility. Upstairs, in our couple's treatment room, there was just time to take in the beautiful décor (restful blues, creams and natural wood) before climbing onto our individual beds, warm and topped with a cushiony Hydrotherm mattress for a truly float-away feeling.
The list of treatments is extensive, including the Weavers' House Hug (for face, head, hands, feet and body), Mediterranean Sea Massage and the sweet-sounding Outer Glow, using a sugar-buff body scrub. We had chosen the Work It Out full body massage for two, which began with a deep steam inhalation of eucalyptus, tea tree and lavender to clear the tubes. Next, our therapists set to work on legs, arms and back, using their zingy Work It Out massage oil to soften knots and loosen tight muscles. After our blissful hour was up, I felt thoroughly rested and rejuvenated in both body and mind.
(By the by, if you've never had a joint massage, do it. It's great for bonding, and you can swap notes afterwards in the conservatory over a pot of herbal tea and lemon biscuits – or take a dip in the steaming, outdoor plunge pool. Bliss!)
Weaver's House Spa, with its stylish, modern interiors and exciting range of treatments, is a significant new addition to our local spa scene. A relaxing haven of calm and luxury, it's the perfect place in which to take a breather, take stock and emerge ready to face anything life throws your way. Bring on those wedding breakfast seating plans…
:: To book an overnight stay at The Swan in Lavenham and/or a treatment at Weavers' House Spa call 01787 247477. Rooms start at £185 per night B&B for two sharing and a 60 minute Work it Out Massage is priced at £65 per person.