Auburn Hill Orangeries share their expert tips on how to bring the outside in this summer.
The addition of a conservatory is often a more cost-effective solution than moving, and when built in-keeping with the style of the house, a conservatory can help to expand the living space available and create a relaxing place for the entire family to retreat. A conservatory can help to accommodate a new kitchen, create an open plan living area and bring in the natural warmth that the summer sunshine has to offer. We all want to make the most of our British summer time, and it's unfortunate that the sun isn't always shining, but by bringing in a light interior style to a conservatory space you can still get a sense of escape from simply surrounding yourself with nature.
Decor
Whether it's a more modern conservatory or a traditional orangery, the key to creating a smooth transition from garden to home is all in the interior design. A natural colour scheme can soften the space around you and make it feel like a warm calming place to relax in. Soft putty coloured paints work well contrasting against delicate florals. From tea-stained neutrals to muted greens, natural hues will let the light bounce around the room, and not be absorbed by darker colours. If you have a small space to decorate try adding a feature wall of your chosen wallpaper to increase the feeling of space. Companies such as Laura Ashley are well known for designing understated prints in traditional colour palettes, so if you're looking to stay in keeping with your existing decoration, the transition can be complimentary to the rest of the house.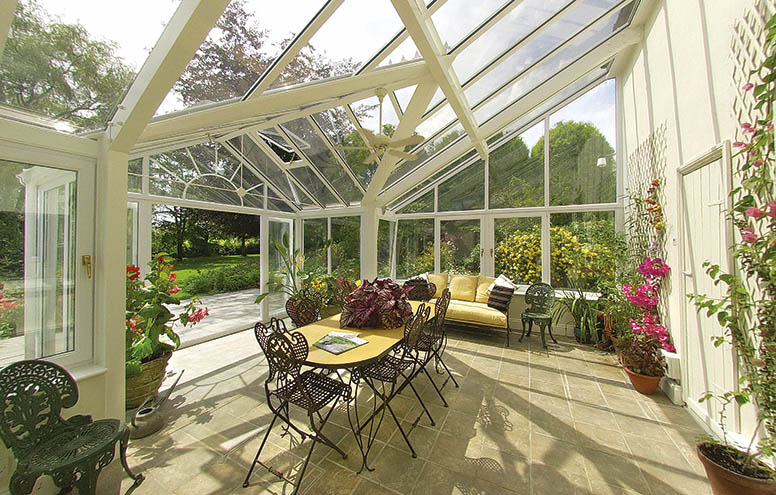 Furniture
As the destination for relaxing or 'almost' alfresco dining, the conservatory can provide a space for a multi-tide of occasions, so it's essential that the furniture you choose not only serves a purpose but also doesn't clutter your light and bright new room. Lightweight, pale wooden furniture is the best option for reducing the feeling of a crowded space, and can add an element of warmth even on the cold rainy days. When it comes to your chosen upholstery, large comfortable sofas and armchairs are a favourable option for creating a space for relaxation. Opt for pale linens and calico fabrics that won't be faded by the sunlight. Floral prints are the most popular, as it continues the theme of bringing the outside in. There are now many luxury furniture brands such as Made.com that can offer bespoke choices for those of you who like to create a truly unique space.
Accessories
Adding blinds can help control temperatures on hotter days when you want to use your conservatory to escape into the shade. Venetian blinds in natural wood or bamboo are popular choice, but if you're looking for something more delicate, sheer voiles or muslin panels can create a cosy atmosphere. Of course there's no better way to bring the outside in than with vibrant plants and flowers that can give the room mother nature's touch. Certainly don't go overboard with greenery as you won't want the room becoming a greenhouse, but adding an earthly element will give a grounded feeling to the room when you're relaxing. Uplift your mood and make a place for the whole family to enjoy with a nod to nature in your interior styling.