This Image: Cambridge-based Kitchenology can help you achieve the ultimate kitchen, such as this ALNOsign model
Achieve the dream kitchen by taking note of the latest trends. Angeline Villa-Clarke talks to the experts to find out what's new
The kitchen is probably the biggest investment you'll make in your home. As well as being a practical cooking and eating space, the room has evolved over recent years to also be somewhere for all the family to meet, talk, do homework, watch TV or just hang out. Getting the cabinetry, colours and convenience-factor spot on is essential. That way you will have a kitchen that will stand the test of time – continuing to look fresh and contemporary as the years pass by.
Clever cabinets
Simplicity is the new luxury when it comes to the latest cabinet design. Handleless models, a streamlined look and new hydraulic-opening functions mean that even the smallest spaces can look uncluttered and modern.
A trend leader is Italian kitchen company Rossana Kitchens, now available in the UK. Creatively led by top architects, Massimo Castagna and Vincenzo De Cotiis, Rossana produces timeless, contemporary kitchens with professional functions and a strong emphasis on unusual, luxurious materials.
It was one of the first companies to develop the stand-alone island concept, as well as being the first to propose the all-white kitchen in the 1970s.
The company's Atelier System allows customers to personalise their material and finishes preferences. The architectural range has an emphasis on natural materials treated in innovative ways. There is a selection of heat-treated timbers, for example, which retain their natural colours and characteristics without staining, thus giving a matte effect. There is marble with a tactile, leather finish and portland cement finishes, which can be used on doors and worktops. Elegant treated metals, such as the flawed "pewter" finish steel, also give a striking appearance.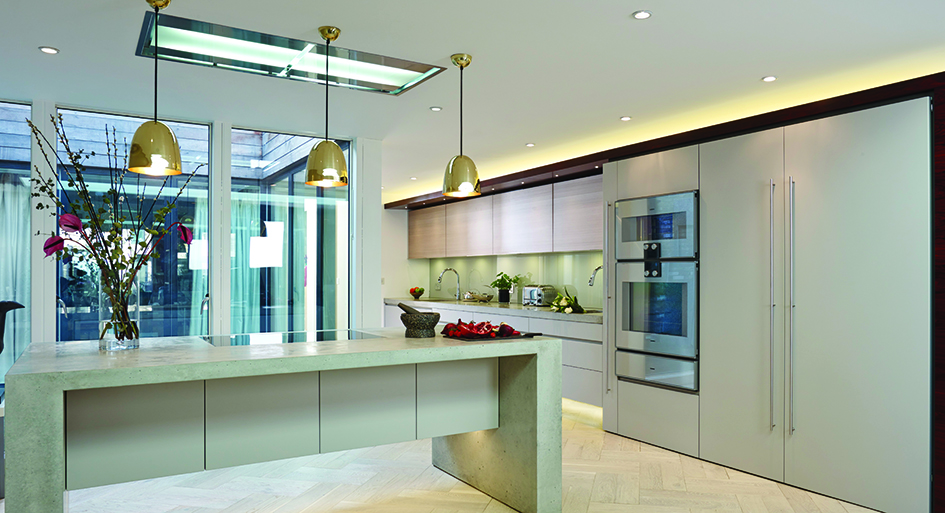 This Image: David Hall's Accordia Kitchen, from £15,000, is the ideal match for technology lovers
For something closer to home, look to Cambridge-based Tomas Kitchen Living, which specialises in modern yet classic kitchens. Founder Tomas Hinton says: "Not everyone is looking to be fashion forward with an item as large and permanent as a fitted kitchen. With that in mind, our emphasis is on offering modern functional design, simple clean lines, quality of materials and a reasonable price tag."
Tony Jones, owner of Langtry Fitted Furniture, also based in Cambridge, agrees that a pared-back design will last the test of time: "The modern kitchen has to suit a variety of needs – from cooking to spending time with the family. Sleek, plain cabinets work well and handleless models are very popular – it gives a clean aesthetic and stops the room from looking too fussy. Muted colours – think stone, grey and cream – are on-trend for this year. These shades also give longevity, and they also work well if you wanted to add a splash of colour elsewhere in the room, in the form of accessories or a statement wall perhaps. Our units are fairly unique as the insides of the cabinets actually match the doors, which give a contemporary and sophisticated look. To add the wow-factor, is all in the lighting. We like to advise putting LED lights along the bottom of units and insetting them on top of breakfast bars and worktops. We can also put in lights inside cupboards, which is great on corner units and hard to reach spaces. From clever lighting features to hands-free taps, technology is a growing area for kitchens, resulting in intelligent spaces that aim to take some of the hard work out of cooking.
"Technology continues to drive innovation," confirms David Hall, director of David Hall Kitchen and Furniture Makers, based in Cambridge. "From wireless charging and connectivity for smartphones and tablets to induction hobs, worktop extractors, or a boiling water tap, now available in a four-way configuration – no designer can afford to be left behind. However, we are also noticing a demand for more traditional features, such as walk-in pantries that can be enveloping spaces to store ingredients."
It's this blending of advanced technology with practical ideas from the past (such as the return of the larder) that inject a touch of personality in the modern-day kitchen. One way to achieve this is to adopt a mix-and-match style. Commit to sleek fitted cabinetry but then add in a few stand-alone pieces of furniture for instance, such as the French-style painted cupboards available at Shabby Store and Pastel Lane or the rustic consoles at Shimu. A two-tone look – where floor models are in one colour and wall units are in a contrasting shade – can also be effective. While glass-fronted cabinets, mixed countertop materials and open shelving – just one long shelf along a wall is particularly eye-catching – can all give added interest to a scheme.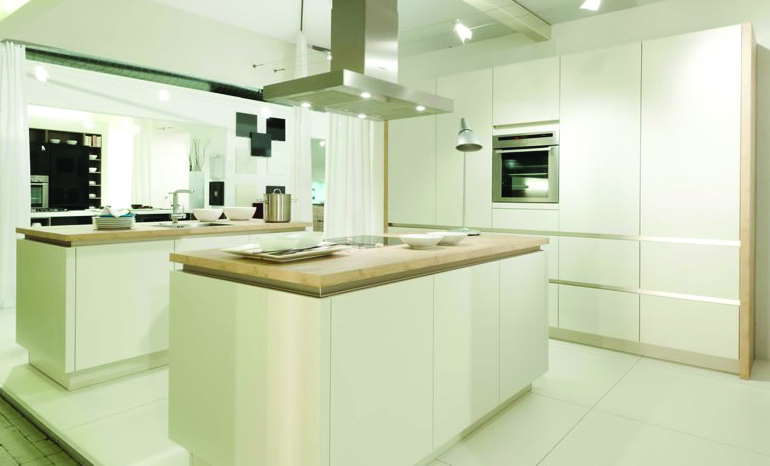 This Image: The handleless cabinets at Langtry Fitted Furniture give a sleek look, from £5,000
"We are finding that clients are requesting a clean design with warm touches and points of interest to stop the room being sterile and generic," David Hall agrees. "This can be achieved through mixing materials, introducing wood and veneers, stainless steel and glass, copper and brass, stone and acrylic, as well as through lighting, composition and detail.
"We aim to achieve timeless design in our kitchens, which lies in knowing where a design should stop – not just in its components, but in the overall architecture of the space. As designers we consider kitchen furniture to be an integral part of the architecture, blending seamlessly into the spatial scheme, and including hand-selected focal points – it is designing the kitchen in the context of a whole interior space that excites us."
Jennifer Shaw, director at Kitchenology, luxury kitchen design experts, gives her view: "Kitchen design has come on in leaps and bounds over the past few years. Kitchenology specialises in contemporary kitchens and so it is important to be ahead of the curve. But importantly, we work with all our clients to ensure their kitchen reflects their personality, lifestyle and that it sits comfortably within the ambience of their home. As an ALNO Premier dealer, a leading German kitchen manufacturer, it means we can offer the latest looks and trends. ALNO Kitchens are available in a wide range of colours and finishes. One of our favourite kitchens at the moment is the ALNOsign light grey model with ALNOclass carbon oak. It's very on-trend as it mixes up textures and materials – think high-gloss surfaces which are beautifully contrasted against wood."
Alternative accessories
For full impact, continue this blended look by layering in carefully-chosen accessories – it is often the finishing touches that make the room look it's best. Sainsbury's Arabian Nights collection of textiles and crockery, for instance, includes copper-finish cutlery and stylish black and white kitchenware.
"Atmospheric and bohemian, this collection has a glamorous edge. Copper accent pieces really shine when paired with monochrome. Geometric graphics give way to sophisticated ethnic-influenced mark making. Update your everyday essentials with hand-decorated dinnerware, chic copper-finish cutlery, co-ordinating table runners, place mats and napkins all in Spice Trail shades," says Andrew Tanner, head of home design at Sainsbury's.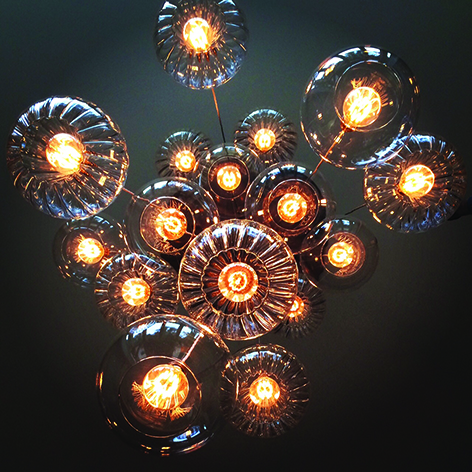 This Image: Light up your space with Fritz Fryer's Hereford Globe Chandelier, POA
Nicely contrasting against a glossy, modern-style kitchen are rustic Scandi textiles, like the Bedeck Murmur range, or Hamptons-inspired stripes, denims and checks at the Lexington Company. Meanwhile brightly hued mugs from Scion and the new English Heritage-coloured Dualit Toasters (a result of a collaboration with Little Greene, and available at John Lewis) bring a stylish edge.
"This year for the kitchen it's all about blending contemporary and rustic elements to create that relaxed yet sophisticated aesthetic with a hint of Scandinavian chic," says Julie Hall, head of design at Murmur. "I recommend using subdued shades, from indigos and linen to grey and charcoal, so that you can mix in small geometrics and graphic patterns that lend a unique, personalised look that works for both summer and winter."
Lighting is another way to bring in a quirky touch to an otherwise clean design ethos. Source unusual jar pendants, birdcage and feather shades and giant lightbulbs at Mineheart. While Fritz Fryer is a one-stop shop for glamorous illumination – stand-outs include the glass Hereford Globe Chandelier, industrial pendants and the Laboratory Vessel Pendant. VITA Cophenhagen's brushed copper pendants are also particularly chic.
"All kitchens need to feel inviting and inspiring – kitchens are often used not only for practical reasons, but also as a hub for social interactions, entertaining friends and family," comments Soren Ravn Christensen from VITA Copenhagen. "Each situation needs different lighting – functional or ambient. Functional for obvious reasons – to enable completing the tasks at hand in the kitchen, but the most important is the ambience that a more decorative, accent lighting can create."
Remember that while the kitchen is packed full of appliances and practical items, you can still 'furnish' the room like any other in the house.
Jess Broadhead, B&Q's content stylist reveals: "Gone are the days when everyone's kitchen looked the same. With new innovations in colour, design and functionality, modern kitchens can be as distinctive and individual as every other room in the house. You should reflect the style of your kitchen in your accessories. Maybe you'd like to add the flavour of a certain era or a particular place – think French colonial with ornate decorations or American log cabin with a focus on wood. The style scale is so wide-ranging that there are plenty of options along the way. You can go full-on with one style for a very coordinated look or mix and match elements to create something more quirky and eclectic".