This Image: Hartham Extending Table,from £499, and matching chairs, from £250 per pair, both Harveys

Angelina Villa-Clarke discovers that – from contemporary garden furniture to modern florals – it's easy to freshen up your home and garden for laid-back summer living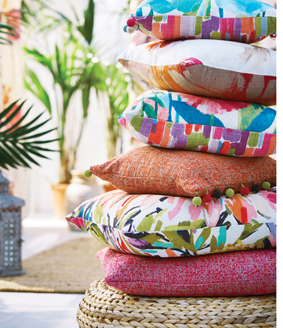 There's nothing like long days, balmy weather and bright sunshine to make you want to revamp. Whether you want to make the most of your garden or brighten up a key space, summer decorating is about a breezy design ethos. Flowers have long been popular, but forget ditsy prints, the new take on 'grandma chic' is all about impact with big blooms and bold colours.
Nicola Sanders, a Cambridge-based interior designer at Parsons Gray, sees incorporating florals as the first step in a summer revamp: "I like to accessorise with painterly florals, such as Bluebellgray cushions or Jessica Zoob's pixelated floral prints, designed for Romo Black Edition fabrics. Both will give a modern take on a classic theme and pretty up a plain space."
Renowned for its luxury, modern fabrics, Harlequin's Amazilia range has large-scale tropical flowers, hummingbirds, stylised foliage and botanical references at its heart. Scatter a few cushions for a burst of colour. The brand's Fauvisimo collection is based on the vibrant, bold colours of the Fauvist art movement. Overblown peonies, foxgloves, tulips and sprays of blossom are contrasted with abstract stripes and ombré colours. Curtains and chairs in these fabrics will give a summery feel all year.
Harlequin's design director, Claire Vallis, comments: "In today's interiors we are looking for exotic locations and bolder colour combinations, taking inspiration from, for example, the flora and fauna of rainforests and patterns far-flung locations."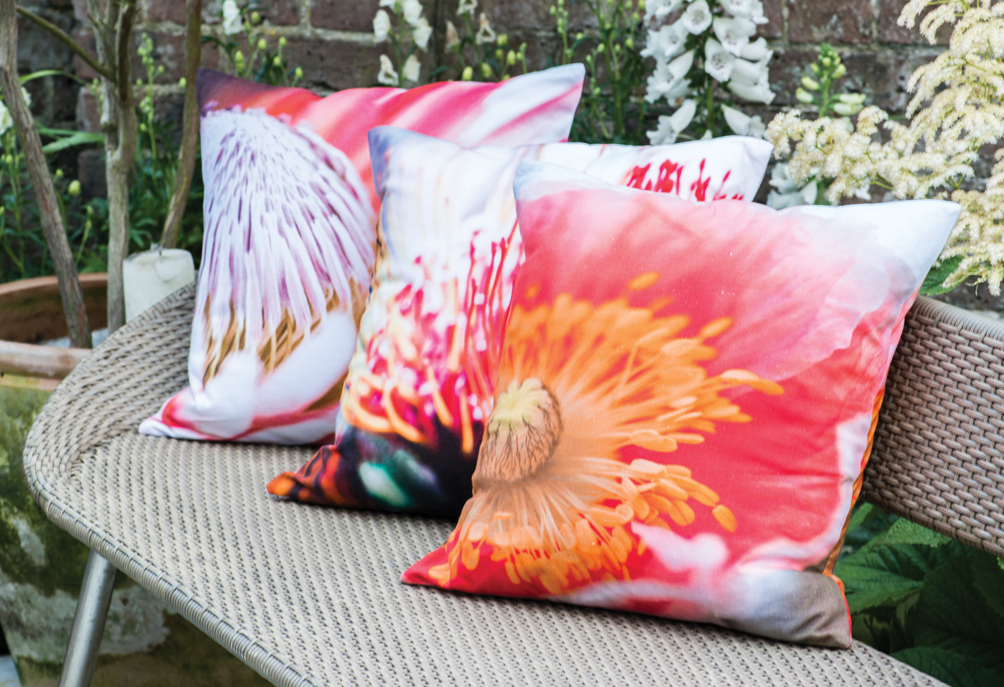 This Image: outdoor floral cushions, £65 from Botanical Cushions, at Grow London

Also taking its lead from nature's best, with cushions featuring birds, butterflies and bees, Rume's bright and interesting accessories in bold colourways also contrast beautifully with a floral design scheme.
Another way of reflecting nature is to mirror a view with a similarly themed wallpaper. So, for instance, if a room looks out onto a lawn, use a bright green, or if you can see flower beds, choose a wallpaper that picks up on similar blooms or colours.
Galerie Wallcoverings has a range of English-inspired floral wallpapers, and Scandi Living's muted flower prints work well with most schemes. Artist Gillian Arnold's zingy Floral Dance and Autumn Flurry wallpapers are perfect for statement walls and she says: "Florals don't need to try to have a brightening effect, or depict summer, they inherently have these qualities about them. They bring an instant freshness and spark of life to any surroundings, symbolising both growth and harmony."
Floral upholstery is making a return with statement chairs and sofas in bold fabrics looking modern again. Sofa Workshop's Botanique Chair combines a contemporary shape with a garden-inspired print. Contrast with a pared-back room for total impact.
Suzanne O'Flynn, creative director at John Sankey, comments: "The exuberance of the Loseley Park Lime fabric on our Crinoline Chair injects a joyful burst of colour into the house. The many colours within this floral are easy to use as a creative palette for the rest of the room."
This Image: Miss Behaving Sofa in Romo Pleasure Garden Velvet, Sofa Workshop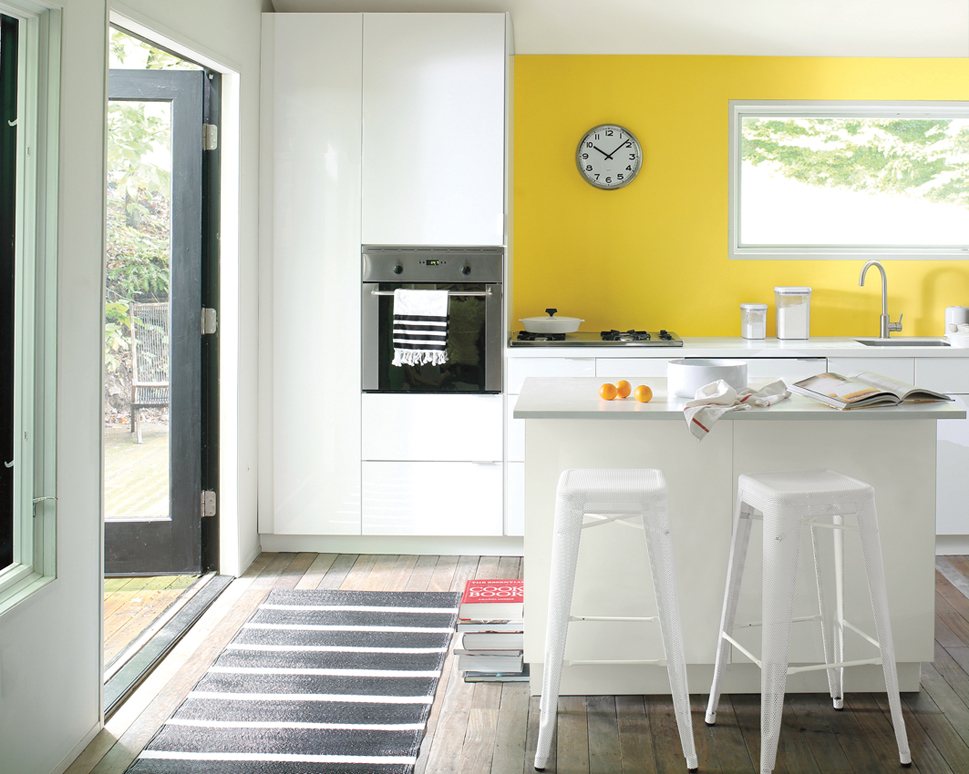 This Image: kitchen painted in Banana Yellow paint, Benjamin Moore
Harvey's coastal-themed furniture is perfect for reminiscing of summer days by the sea. Lisa Broad, head of buying, gives her advice: "Living rooms shouldn't shy away from being bold. Fabric is a great way to experiment with iconic patterns and can be incorporated through a graphic print armchair and matching scatter cushions."
Using flowers can lead to a maximalist approach, so tone the overall look down by carefully choosing the colour palette. Helen Shaw, marketing director of Benjamin Moore UK, comments: "Consider how colours complement the hues around. For an endless summer feeling, opt for cream walls with accents of blue or green to create an extension of the sky or garden, delivering a restful and calm feeling. If you want to make more of a statement use bold contrasting colours as accents. An accent colour can look fantastic next to a crisp neutral wall."
Modern Rugs' Hortus and Tulipani rugs bring the outside in with bold designs. Ben Dale, founder of Modern Rugs, says: "Combine bright florals and shades of green. If you are choosing vibrant floral accessories, then combine them with muted shades for furniture to prevent the room from looking too busy. Go for a colonial theme using wood furniture and bold green botanicals."
Fill your home with fresh flowers for an instant freshener. The Cambridge Flower School offers courses for those wanting to perfect the art. Sarah Clerk from the school comments: "We all love flowers in our home, whether it's a simple jug of garden flowers or an impressive, formal arrangement. If you mix flowers with seasonal foliage and use complementary containers you will be amazed at what you can create."