This image: Oliver Bonas's Luxe Round Bamboo Trolley, £395
There's nothing better than opening up our doors and celebrating summer with friends and family. Angelina Villa-Clarke considers how to host in style
Drink up
With retro cocktail bars, gin gardens and rum shacks popping up across all the UK's cities, the stylised drink is having a moment. Needless to say, the fashion is being echoed in homes all over the country – with sales of chic drinking accessories rocketing and drinks parties all the rage.
For the ultimate cool accessory for any drinks party, a drinks trolley is a must. Echoing the must-have home accessory of the 60s, the modern day versions vary from the uber-chic brass, marble and mirrored cart at Oliver Bonas to the round 1920s-style at MiaFleur. Atkin and Thyme's Riley Drinks Trolley, meanwhile, made of nickel-plated iron with glass shelves, is stylish enough to double up as a feature side table in any dining room.
"Entertaining and making cocktails at home is a huge trend," agrees MiaFleur's Hollie Brooks. "For styles, think the decadent 20s, with key materials for the look being marble and brass. A retro drinks trolley is the only way to serve drinks these days!"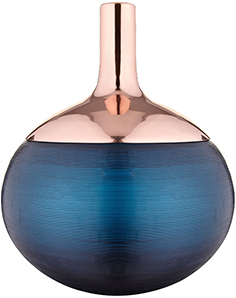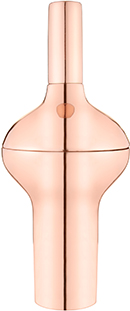 For on-trend accessories, it's all about referencing the tiki bar vibe. Factor in pineapple motifs – such as the Tom Dixon copper ice buckets and copper Plum Cocktail Shaker at John Lewis (pictured right). Or go the whole hog and install John Lewis's bamboo Tiki Bar, or Out There Interior's wicker San Marino Serving Bar, in your garden, and just the thing for drinks parties al fresco.
For stylish glasses, Cambridge-based Susie Watson Designs has pretty hand-blown tumblers, wine vessels and carafes, while Villeroy & Boch's new Boston textured glass range is available in a range of colours, including a summery rose.
"For a truly stylish summer drinks party take a generously sized hand-blown wine glass and offer your guests a choice of white or pink," says Catherine Mansel Lewis at Susie Watson Designs. "Add fruit to sparkling water or Prosecco and flavour with chopped strawberries, sliced peaches, slithers of melon or whole raspberries. Why not add a cocktail umbrella to match? And decorate a gazebo with bunting and flowers."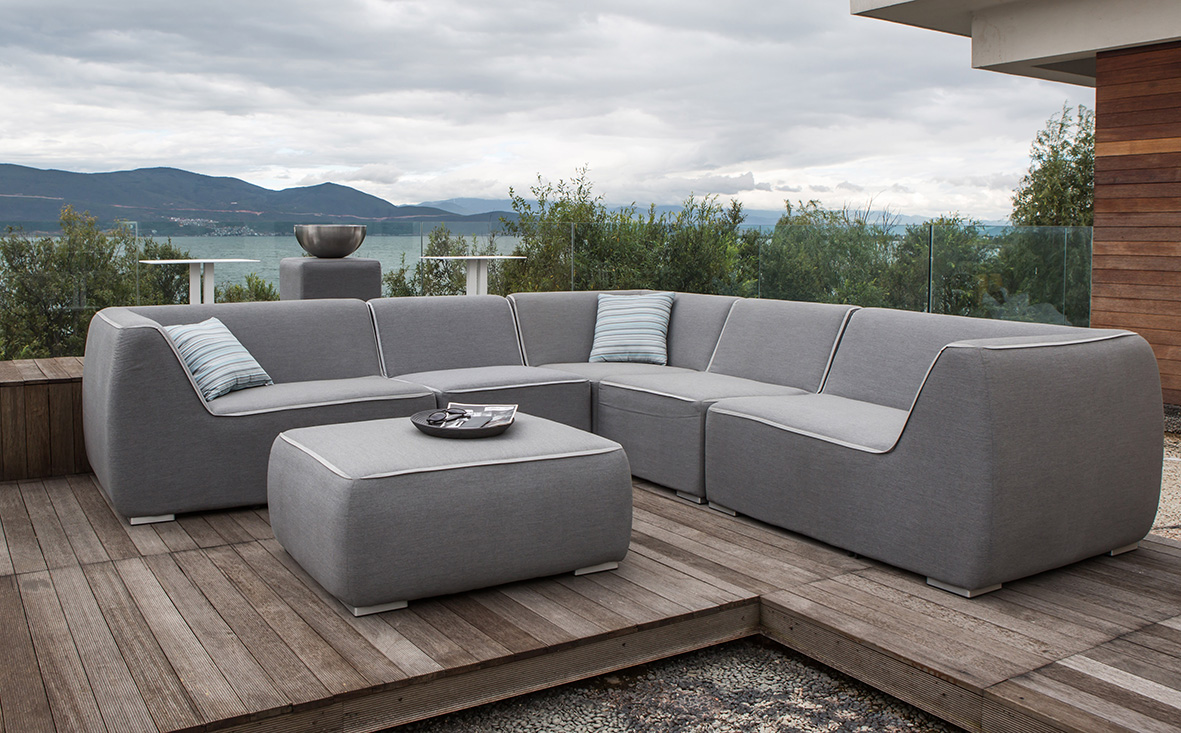 This image: Maze Living's Nadi Ottoman Corner Sofa, from £2,549
Turn up the heat
The perfect summer parties come into their own in the garden. Create a second living and dining space with fashionable outdoor furniture. Maze Living's Nadi Ottoman Corner Sofa and Paris dining sets look more suited to summers on the Med, while Sweetpea & Willow's Crocodile garden furniture is just the thing to reinvigorate an urban garden.
"The latest fashion is for rattan sofas that combine with dining tables, like our Kingston Corner dining set," says Edward Babbington, managing director, at Maze Living. "They combine comfort and practicality and have become the latest must-have outdoor furniture."
Jaquie Dunton, co-founder of Sweetpea & Willow, gives her top tips on sprucing up the garden. "Think about the size of space available and how you want to use it. If you prefer casual entertaining, consider a sofa set and a coffee table. Alternatively, if you're looking for somewhere to relax with your favourite summer tipple, a comfortable lounger will be best.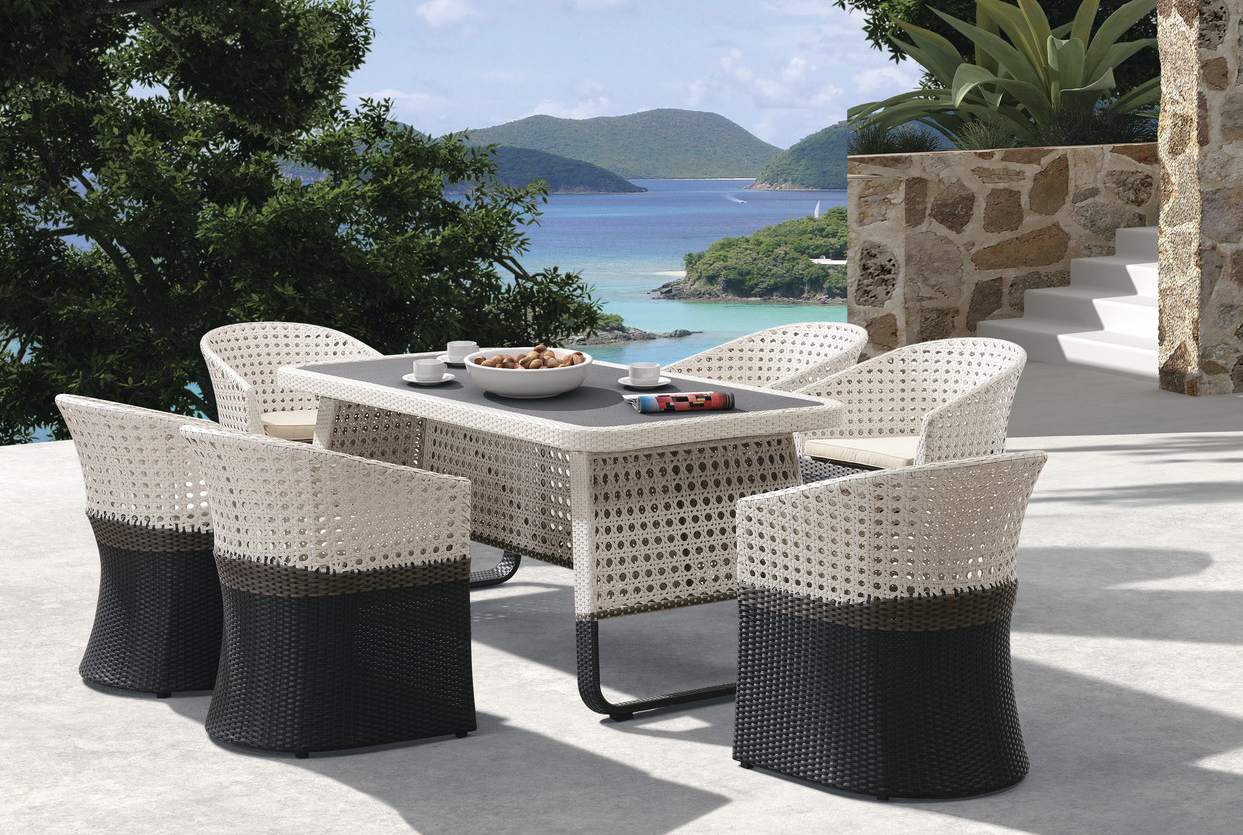 This image: Sweetpea & Willow's Crocodile Dining Set, £3,545
"If you have a larger garden, create zones with different styles of furniture. Have a lounging area with comfortable sofas and cushions and invest in a table and chairs for entertaining over dinner."
From Marks and Spencer's popping magenta and turquoise Capri Chairs to Out There Interior's 60s-style blue hanging chairs, this year garden style is all about retro colour.
Jenny Hurren of Out There Interiors says, "When it comes to outdoor dining, you can't go wrong with bold, vibrant colours and a clash of textures. The garden is a room so use this as an opportunity to be playful and creative."
Nicola Gidlow, John Lewis's Outdoor Living buyer, agrees: "Fresh pops of colour instantly brighten a space and vibrant greens and deep blues are in for 2016. Add interest with natural greenery and white accessories or ramp up the colour factor with pots and cushions in citrus shades and neon brights. It's a contemporary, playful look and we're seeing occasional seating playing an important role in outdoor design."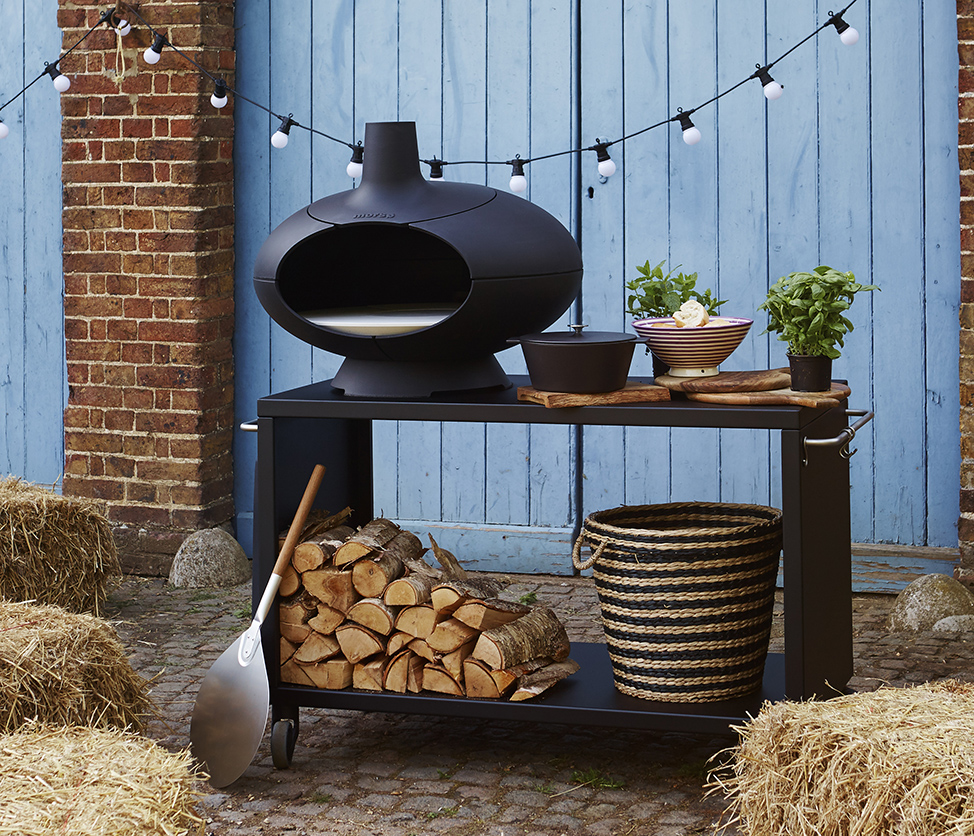 This image: Morsø's Forno Outdoor Oven, from £1,099
Under the stars
From The Secret Garden to Cutlacks, Cambridge is full of places to source pretty garden accessories and furniture. The Secret Garden is good for sourcing romantic items, such as pastel-coloured kissing seats, tree benches and etageres. These never go out of style and can be used for pretty corners.
Finishing touches are key to any garden party. Source lanterns and pretty lighting to create a magical atmosphere come sundown. For the wow factor, install an LED cherry or maple tree from Twilight Trees.
Permanent illumination is a good idea for spaces that will be used often and styles like the Konstsmide Lucca Outdoor Floor Lamp at John Lewis reflect living room designs.
"Clean lines and style-conscious designs epitomise Där Lighting's outdoor lighting collection," says Nicola McGuirk, managing director. "Our hard-wearing stainless steel outdoor range will resist corrosion and withstand unpredictable conditions."
Sarah Lister, director at David Hunt Lighting, says, "Even in cold weather, people stand outside at parties. Add character with fairy lights or tea lights or consider investing in a chimenea or wood burner to keep guests warm and bring people together. Even if people don't go outside, the lighting can still add ambience to a party." Morsø's outdoor stoves are perfect to add a stylish touch, while Chesney's outdoor fires, conceived by furniture designer Matthew Hilton, bring modern-day glamour outdoors.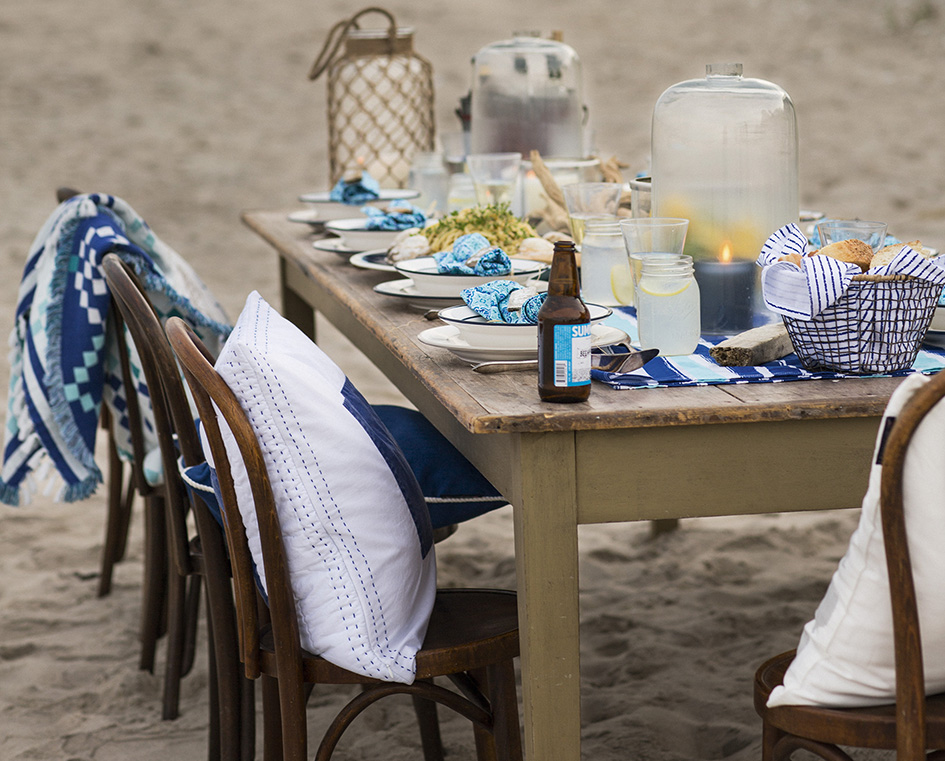 This image: Lexington Company's Hamptons-inspired tableware, from £12
Paul Chesney, managing director of Chesney's, said: "People are keen to maximise space and spend time outdoors. Our designs are organic and sculptural and would fit well into any garden or terrace. They are ethanol fires that burn better outside with a glass shield to protect the flame."
Patio heaters, like those at Maze Living and Out There Interiors, are sleek and contemporary, while Ernest Doe have multicoloured LED patio heaters, ideal for parties. Earthenware crockery, giving a tactile, homespun feel, is great outside. Check out the terracotta tableware from Oggetto and the organic-style ceramics at Pastel Lane. The final flourish comes with textiles – from Dash & Albert's indoor-outdoor rugs to Extex's latest Moroccan-inspired cushions – there's a host of weatherproof styles to choose from.
Tandine Rawkins, design director at Extex, says, "Incorporate eye-catching fabrics and soft furnishings. From cool blue hues to majestic purples and pinks, glamorous textiles will add exotic charm to any space."
Scion's playful fabrics are perfect for summer days, while Lexington Company's denim range is straight out of the Hamptons. Kristina Lindhe at the Lexington Company says, "A nicely set table can make any dinner party pop. Use things in nature and combine with colourful accessories. Don't overcomplicate the decoration; it's about people coming together, having a good time."