Find out what's going on in the world of property with our real estate rundown
Grand designs
The housing market has seen a surge in activity recently, with demand far outstripping supply. Much of this is attributed to the stamp duty holiday and a change in attitude as homeowners look to move to the countryside, driven by a change in lifestyle choice. However, as unemployment bears down on the economy, some owners are looking at ways of adding value to their existing homes. Despite recent government initiatives, moving house is still an expensive, stressful and uncertain business.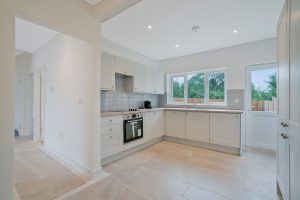 It remains to be seen as to whether the market will continue to prosper or is short-lived from the pent-up demand and continued government assistance, which is set to taper into the autumn. An alternative to moving to a new house is to look to refurbish and improve, which can be managed while still occupying the home, albeit with some disruption. As Jason Frost of Bloomhall explains: "We are often engaged by clients wishing to improve while adding value to their house. This involves replacing the kitchen and bathrooms, through to structural changes by transforming houses to a more practical open-plan arrangement or adding volume by an extension or loft conversion." Jason cites a recent example currently on the market with Cooke Curtis & Co in Toft. 
"Our client was looking to upgrade a rather dated chalet-style dwelling situated on a good plot. Much of the garden was positioned to the side of the plot and did not currently perform a function or add value and desirability. Bloomhall advised the client to undertake a full refurbishment of the main dwelling, reconfiguring the accommodation and offering flexibility likely to appeal to a young family or downsizer." A planning application was undertaken to the side garden and permission obtained for an additional detached chalet-style dwelling, now in the course of construction. 
Contact Jason Frost at Bloomhall (01223 653183) for a free consultation or contact Cooke Curtis & Co (01223 508050) for details and properties in Toft
Brand-new bespoke homes in Cambridgeshire
Award-winning property developer Laragh is upping its game this year, with several new schemes set to satisfy the needs of prospective homebuyers across the county. The Cambridgeshire-based company champions architecture that blends seamlessly with its surroundings, striving to incorporate eco-friendly features wherever possible.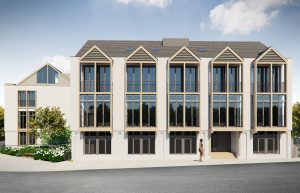 In these times of uncertainty and financial anxiety, purchasing a home has become an increasingly stressful prospect for many. Luckily, Laragh is part of the £100K Homes initiative, working alongside Cambridgeshire and Peterborough Combined Authority to deliver affordable homes across the region. The initiative aims to make it that little bit easier for first-time buyers to get their feet on the first rung of the property ladder. 
Laragh currently has four exciting new projects on the go, each offering something different to accommodate a variety of lifestyles, with properties that will appeal to everyone, from first-time buyers to growing families and downsizers. Many of the homes boast a whole host of fancy features, including designer kitchens with integrated appliances, en-suite bathrooms, bespoke fitted wardrobes, oak doors and underfloor heating. 
The first of these schemes is Emerson Park in Great Abington. Traditional, but with a contemporary twist, the scheme fits in with the character and charm of the area, offering 15 ideal family homes overlooking the scenic parkland surroundings and the historic Abington Lodge.
Only seven miles out of Cambridge, the village of Great Abington is in incredibly high demand due to its attractive combination of amenities and commuter links, which is why these three- and four-bedroom homes are sure to be snapped up quickly.
There's also another 27 new high-quality homes in the form of The Mews. Located within a two-mile radius of central Cambridge on Histon Road, the unique cul-de-sac development is made up of a mixture of two-, three- and four-bedroom homes, and features electric car-charging points, rainwater harvesting, as well as heat pumps and solar systems for all properties. The impressive list of eco credentials isn't all The Mews has to offer either; each property also comes with a generous-sized garden space. 
Manor Farm in Stretham is the third scheme Laragh currently has on the go. Designed for modern living with a country style, the new development is built around a large village green, giving it a sense of openness and a community feel. Offering two-, three- and four-bedroom homes, the countryside location and convenient road and rail links make it a perfect choice for those looking for the best of both worlds.
Last, but certainly not least, is Laragh's transformation of The Old Tannery building in Ely. The development will create luxurious one- and two-bedroom apartments in the heart of Ely, with private parking and stunning views of Ely's famous cathedral. All 25 properties have been designed by prestigious architects Haysom Ward Miller, and offer the sort of high-specification luxury that anyone with exacting standards will be sure to appreciate. 
For more information about any of these developments, head to laragh.co.uk 
Country living meets city life
Sycamore View, an exclusive new build development by Bushmead Homes in Meldreth, is an ideal location for buyers looking to enjoy the laid-back lifestyle of a country retreat – without having to sacrifice easy access to local amenities and the bustling city centres of Cambridge and London. The new builds are an attractive prospect for first-time buyers looking to get on to the property ladder, as well as young families seeking to settle down.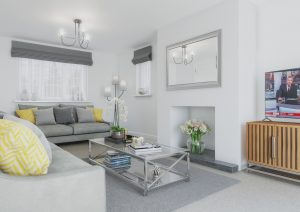 There are two-, three- and four-bedroom houses available to reserve, all of which can be tailored to your taste. Paul Murfin, marketing manager at Domovo Homes, says: "One of the best things about these homes is that buyers can make decisions on the interior design before they move in. There are many options to change colours and styles of furnishings and fixtures, as well as upgrades to help you feel even more at home." Each of the homes feature either a red brick or a soft colour facade, complementary natural roof tiles and a stylish yet neutral interior that you can, of course, alter according to your preference. 
Meldreth boasts a variety of handy shops for everyday essentials, a quaint village pub and excellent transport links to both Cambridge and London. It's also home to its own primary school, and there is a reputable secondary school just a mile away. The location is surrounded by peaceful countryside, offering residents an ever-desirable sense of calmness and an escape from the busyness of city life. "It's worth mentioning that the bustling market town of Royston is also only a five-minute drive away," adds Paul. "There are some lovely restaurants and bars there, and it's a great shopping location should you not wish to travel to Cambridge or London. Everything you need is within easy reach of Meldreth – you'll never be short of things to do."
For more information or to reserve the properties, visit Bushmead Homes' selling agent and contact a member of the team on its website, domovohomes.co.uk
On the horizon for Hill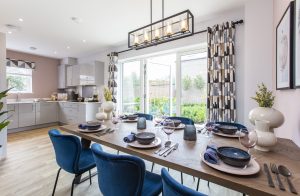 Award-winning homebuilder Hill is gearing up to reveal its latest collection of homes in the city,  as Timber Works on Cromwell Road begins to take shape. Within walking distance of many popular eateries and shops both on Mill Road and in central Cambridge, these modern homes will offer beautiful design and mod-cons. It promises to be the perfect place to put down roots,  with expertly designed landscaping and plenty of open green space, as well as a local nursery and community room. The sales office and show homes are due to launch this October, and the first new homes will be ready to move into by spring 2021 – visit timber works-cambridge.co.uk for more information.
Marleigh, meanwhile, Hill and Marshall's new collection of homes on Newmarket Road, is now open to take a look around. Within an emphasis on culture and community, this neighbourhood offers a sense of belonging, with all the amenities you need plus sports pitches, play areas, and the community's focal point, Gregory Park. The homes at Marleigh have been designed with space in mind, featuring up to five bedrooms, and their large and airy kitchens and family rooms create distinctly social environments to live and work in. You can find out more information on the website.
marleigh-cambridge.co.uk