This image: Valencia teak daybed, £1,995, at Jo Alexander
Get your garden ready for the new season. Chic furniture? Stylish accessories? Angelina Villa-Clarke considers the options
Room to breathe
From outdoor rugs to stylish daybeds, there is a wealth of garden furniture and accessories to choose from to make your garden more than just a green space outside. The new generation of designs enables us to extend our homes and use the garden as a second living room – once the weather warms up, of course. But what are the first steps in prepping the garden?
George Seabright, owner of G&M Landscapes, says, "Spring is the busiest time of year as the garden wakes up from winter. Digging over is a good way to break up compacted heavy soils, allowing air and water in, as well as improving drainage. Weed and feed your lawn in early spring and over-seed sparse areas. For the first few cuts of the season make sure the mower blades are not too low. If you're using a spray weedkiller, try to do it when rain is not expected and on a calm day, to reduce the risk of spray blowing onto any plants you want to keep."
Think about how you will use your space outside. For a practical patio area, opt for Stone and Ceramic Warehouse's sophisticated Altea Paving, which is perfect for a seamless home-to-garden transition. For more of a relaxed way to spend the long days, invest in modern, modular sofas and chairs, such as the Egg chair available from Wyevale Garden Centres or Neptune's Harrington sofa. The safari-themed Lene Bjerre collection, available at Sweetpea and Willow, includes the chic Judith hammock and Clara couch. For something even more glamorous, Bridgman's Hampstead Jewel daybed brings a touch of Ibiza to your lawn.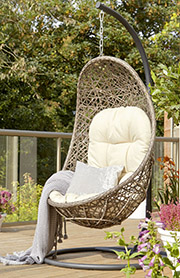 Sian Lowri Allpress at Jo Alexander, a Cambridgeshire-based garden furniture specialist, gives her advice: "Think of the garden as an extension of your home and install comfortable sofas and daybeds with big, plump cushions and parasols to keep cool this summer. At Jo Alexander, we are influenced by a Far East design ethos – and our pieces, such as the reclaimed teak furniture range, are designed in Indonesia, China and Vietnam."
Meanwhile at John Lewis, a tribal, Amazonian theme is on trend. "Go for global-inspired prints in earthy colours and woven textures for a bohemian edge," says Vicky Angell, Outdoor Living buyer at John Lewis. "Consider statement pieces of furniture paired with vibrant oversized floor cushions in leafy green shades, to truly embrace the jungle fusion vibe in your own garden."
This image: Egg Chair, £399, from Wyevale Garden Centres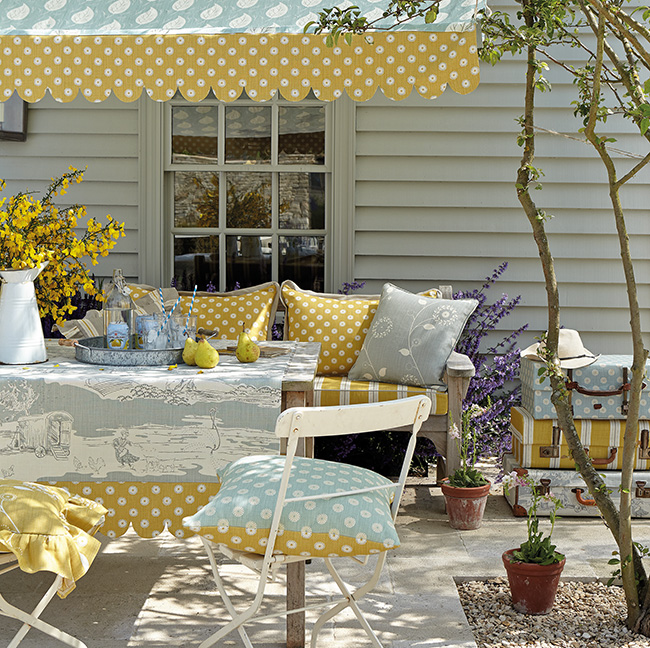 This image: Vanessa Arbuthnott's Bohemian collection of fabrics, from £49.50 per metre
Eat al fresco
Once the weather gets balmier, dining al fresco is one of the joys of the summer season. Vanessa Arbuthnott, textile designer, agrees: "Outside entertaining should be as comfortable and stylish as indoor dinner parties. Create comfort and style with fabric canopies, oilcloth-covered tables and an abundance of cushions. The fabrics in my Bohemian collection lend themselves well to summer entertaining due to their breezy colour combinations."
Extex's huge range of outdoor textiles are weatherproofed and practical for outdoor gatherings without skimping on the style factor, while Lexington Company's Hamptons-inspired tablecloths and crockery give a smart aesthetic.
Kristina Lindhe, founder of Lexington Company, says, "Eating al fresco with cotton napkins, light colours and tea lights is the ultimate way to spend an evening – all you need is good company."
Whether you choose a rattan-style dining set, a modern metal look or a traditional wooden style, go for furniture that is practical, hard-wearing and something that can easily be stored away or covered in the winter months.
This image: Extex's range of outdoor fabric from £48.75 per linear metre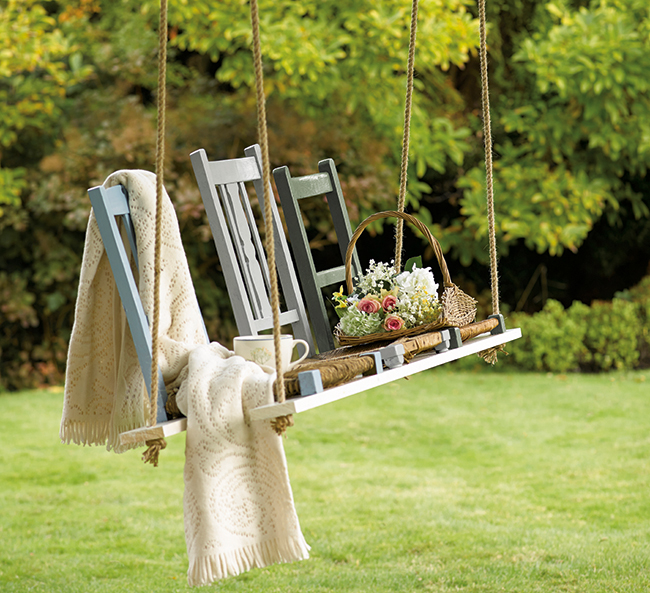 This image: Sandtex's exterior satin paint in Gentle Blue, Cloudy Day and Fern Canopy, from £17.64 for 450ml
Garden in colour
Look again at paint colours for the garden – there's now more choice available than ever before so opt for newer shades than the standard brown, black and forest green. Sandtex's 10 Year colours are exceptionally long-lasting and come in contemporary hues, such as Hot Mustard and Cloudy Day (a pale grey).
"Make an ordinary garden extraordinary with upbeat paint colours inspired by nature," advises David Mottershead, managing director of paint experts, Little Greene. "Look to colours that create a contrast to green foliage – our Atomic Red works particularly well."
Charlotte Cosby, head of creative at Farrow & Ball, also agrees that being creative when painting outside features helps to add a sense of style to the garden.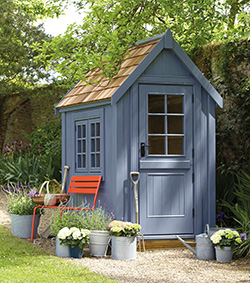 "You don't need acres of land or lots or garden furniture to create an inspiring outside area. If you have minimal space to play with, look at metal railings and masonry walls as an opportunity to freshen up your garden. Soft multi-tonal blues, bold greens and greys, like Pigeon, have a relaxed feel and are perfect for gardens."
Finally, don't forget that stunning lighting features do not have to be confined to the house. Chris Jordan, managing director at Christopher Wray, says: "Decorative exterior lighting is really essential in creating a relaxing outdoor space. Architectural plants are most conducive to lighting and multi-stem plants allow the light to travel through the canopy creating volume and depth. Add drama to an exterior space through lighting tall trees, up lighting the trunk and the canopy from multiple locations."
This image: Little Greene's Juniper Ash and Atomic Red, from £29 for one litre
What's blooming
James Swayne, of garden designers The Dirty Digger, gives his top three tips for garden trends for 2017
1 Rustic materials: The rustic look is very popular. Use natural products, such as sandstone and oak sleepers, to create an organic feel. These are materials that will age well with the garden and will not have to be replaced.
2 Dramatic topiary: Hedge cutting is an art form and there is a definite demand for box hedges and large shrubs with that wow factor.
3 Dense areas of bulbs: With good selection, bulb planting provides an all-year coverage of colour as they pop up at different times. Bulbs are zero maintenance and with well-thought-out planning, they give dramatic results throughout the year.
Talking points
Three must-haves for a stylish garden

Give the eye something to look at with a modern garden sculpture,
like the metal spheres at Moore Designs

Add innovative lighting in the form of Exo's
glow-in-the-dark furniture at My Furniture

A Morsø firepit gives a welcoming
ambience and can be used to
barbecue food